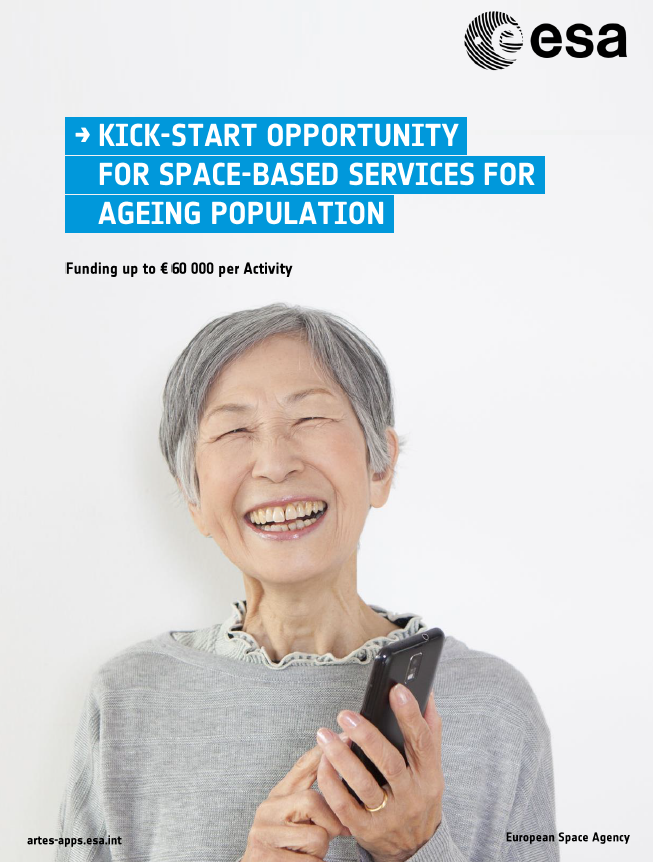 Europeans are living longer and healthier lives. The European population aged 65+ is projected to increase from 93 million to 125 million by 2030. Shrinking labour forces and skills shortages are other concerns caused by changing demographics. As the population ages, more public spending in healthcare, long-term care, pension spending and infrastructure is required to take care of elderly people.
Innovation and technology represent key ingredients to deal with the challenges of these changing demographics and to take advantage of opportunities that they create. The ageing society requires new approaches to meet their needs, with an improved efficiency of service provision. Ageing in good health can be achieved through appropriate changes in health and social care, which allows seniors to travel, work longer, continue to learn, share knowledge and live independently.
Under the thematic area of Ageing Population, ESA Business Applications launched a Call for Kick-start Activities in May 2017 aimed at fostering innovation in this field. The Call was open to ideas for services for the ageing population offered by local authorities, carers, the (national) health and social care system, residential homes, technology and service providers and others in this sector. Types of services include, for example:
Healthcare: mobile health, tele-home, remote monitoring, fall prevention, wearable devices;
Independent living: smart home, home automation, lifestyle intervention, remote workplace, personal assistance;
Safety and security: surveillance, emergency response, extreme weather and pollution alerts;
Social, leisure and education: social interaction, remote education, remote occupation, entertainment, (outdoor) mobility.
As part of the preparation for the Kick-start competition, ESA presented at the Neighbourhoods of the Future (NotF) conference held at NatWest HQ in London on 10th to 11th May 2017, organised by the Agile Ageing Alliance and Swiss Re.
Following evaluation of the proposals received in the Call, 11 activities are now being supported, led from the UK, Poland, Austria, Belgium, Switzerland, Germany and Luxembourg. A brief overview of each of the projects and the project prime is given below.
AgeSpot (Geoville, Austria): Based on land-use information extracted from EO data, the service will provide location-based information on the distribution of the ageing population to help efficiently target critical services.
Assure (Envisage Space, UK): GNSS-driven dynamic safety-net application (smartphone) that will provide advice, support and reassurance to the ageing population to guard against social isolation and loneliness.
dYbydX (Satellite Applications Catapult, UK): Mapping service to support people with reduced mobility, in particular the elderly. EO data combined with computer vision and machine learning solutions will be used to extract and interpret features such as route gradient, surface type, mobility enablers (e.g. ramps and crossings) and mobility impediments (obstacles).
GoWalk (Adept Communications Systems Ltd, UK): Fitness system and app for elderly people, collecting location and movement information using inertial and GPS sensors built into a smartphone.
NAPPI (Telocate GmbH, Germany): Navigation of ageing population in public infrastructures using smartphones and stationary acoustic receivers installed inside the public infrastructures.
NaturAgeing (siHealth Ltd, UK): Smart healthcare tool consisting of wearable sensors measuring personal health parameters, and using real-time and nowcast environmental data extracted from EO satellite imagery, with a geolocation alert in case of a fall.
SHOW (Mesh Metrics, Poland): GNSS-based support service to involve the ageing population in helping others by connecting people in need with elderly people willing to help.
Sleep Apnoea (Ectosense, Belgium): Scaleable sleep apnoea self-diagnostics and self-treatment system in the home environment.
TILQ-AP (Blue Dot Solutions, Poland): Support to city authorities in managing the impact of extreme temperature events such as heatwaves on senior citizens.
Watch Out (Gait Up, Switzerland): Information service using satellite navigation and inertial sensors for enhanced clinical-grade activity monitoring of elderly people in order to better understand fall mechanisms and support fall prevention measures.
WELLACTIVE (Cybercultus, Luxembourg): Fitness and leisure platform helping seniors to organise and perform outdoor activities tailored in real-time to their personal abilities and interests.
More information will be presented on the ESA Business Applications website as the projects develop.
Last updated at 08 November 2017 - 15:43