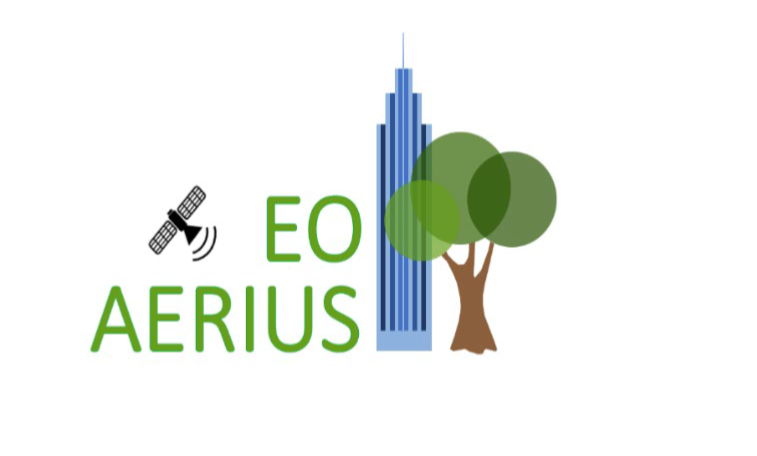 Objectives of the service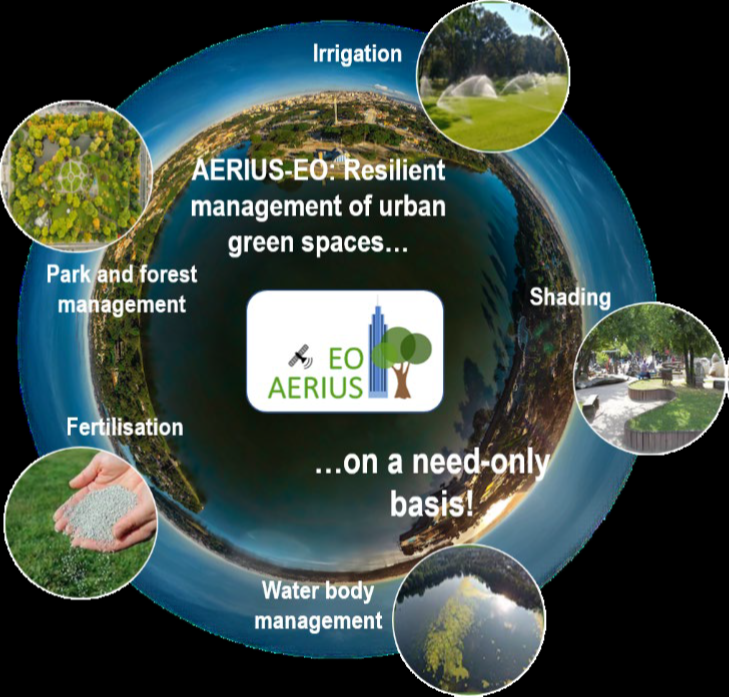 The management and planning of public urban green spaces fall within the remit of the city authorities. They monitor the condition of these areas and implement appropriate maintenance operations like watering, fertilising, mowing, pruning and restructuring and planning measures such as replanting of vegetation. The preservation and maintenance of existing and the planning of new resilient urban green spaces also pose some challenges. Competing urban priorities, economic considerations and market forces, but also changing environmental conditions caused by climate change are the driving forces here. Therefore, urban planning has to balance the desired health benefits with the needs of the community and the functions that urban green spaces should fulfil in a sustainable and future-oriented way. The envisaged SatEO-based services will provide the city authorities with tailored information. These include water and nutrient deficiency monitoring to control irrigation and fertilisation in a timely and appropriate manner, water parameters recordings to detect any algal blooms and the quantification of the ecological stability of urban green structures in the past to derive resilient and sustainable UGS structures for the future.
Users and their needs
The AERIUS-EO project targets primarily all stakeholders that are responsible for the planning and management of urban green spaces – primarily city authorities and associated units. Currently, three city authorities of one of the most populated cities in Germany, are actively involved in the project. Following user needs have been identified since the start of the project end of June 2022:
City authorities need to sustainably optimise (need-only basis) their irrigation practice of urban green spaces against the background of water scarcity and economic limitations

They need to sustainably optimise their fertilisation practice against the background of economic limitations and to reduce environmental impacts caused by over fertilisation

They need to schedule and execute measures against algae blooming (e.g., waterweed, Elodea spec.) in public water bodies

They need to assess the ecological stability of different urban green structures to evaluate former planning activities and to derive sustainable and resilient solutions under aspects of climate change expected for the future

They need to have knowledge about the shading degree of their managed playgrounds to possibly enhance the usability also during hot and sunny summer days.
Service/ system concept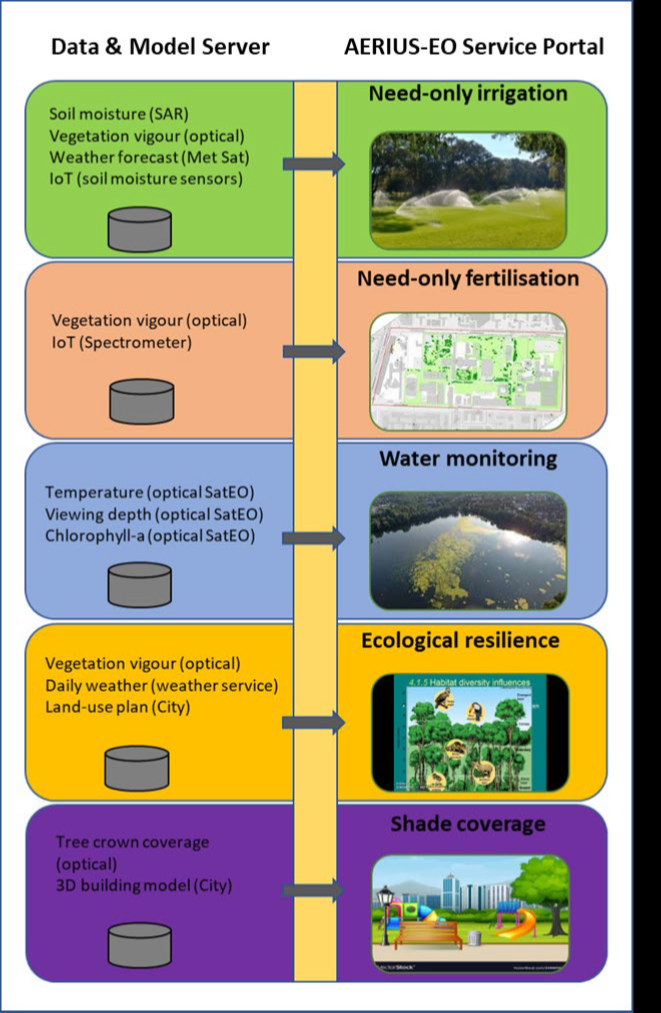 The AERIUS-EO service is a solution that combines optical and synthetic-aperture radar (SAR) earth observation, weather forecast data derived from meteorological satellites like Meteosat and MetOp and geographical information data into a cloud-based processing environment and provides value-added information products to the end-users. The system integrates thereby all required input data and computes the information products through an automated processing chain.
The envisaged services aim at providing the following information:
Actual soil moisture maps of grass and lawn areas, sports facilities and cemeteries in conjunction with weather forecast information for enabling city authorities to timely schedule irrigation measures

Actual nutrient supply maps of urban green areas supporting timely and, on a need-only basis fertilisation

Vitality assessment maps of street trees and urban forest stands to schedule site-specific watering

Ecological stability assessment including days of greenness, soil coverage, vegetation height and density of selected urban green structures to enhance future planning

Remotely sensed water body temperature, viewing depth and chlorophyll-a concentration measurements to timely detect algae blooming and schedule maintenance measures

Quantification of shade coverage of playgrounds to pinpoint facilities that need more shading during hot and sunny summer days.
Space Added Value
The proposed services will utilise satellite-based earth observation (SatEO) data, including optical and Synthetic Aperture Radar (SAR) and information captured by meteorological satellites for weather forecasts. For the maintenance work of water bodies, city authorities currently rely on random algae blooming observations from citizens as an information source for sending out their mowing boats. SatEO imagery such as Sentinel-2 allows for continuous monitoring of potential algae spreading with timely alert notifications. SAR data, for example, provided by Sentinel-1, in combination with satellite-derived weather forecasts, will be utilised to determine the soil moisture and detection of potential drought stress of open green areas to timely schedule watering on a need-only basis. Yet, city authorities mainly apply predefined irrigation schemes with a fixed amount of water.
Very-high resolution optical SatEO imagery will be employed to monitor the vigour of single street trees and perennial herbaceous borders to timely plan necessary irrigation and fertilisation to maintain vegetation health. Finally, historical time series of SatEO data offer the opportunity to elaborate on the stability and vitality of different existing urban green structures under varying weather regimes to conclude how to design resilient and sustainable ecosystems for the future.
Current Status
In this study, the user needs of three large German cities maintaining a total area of around 400 km² of urban green and blue space have been elaborated. Based on these findings, six services were defined that use SatEO, IoT and weather data in combination with appropriate processing algorithms to remotely assess the health and vitality of urban green structures and water bodies. These services additionally support management units to timely schedule maintenance measures on a need-only basis including irrigation, fertilisation, pruning, and algae control and give advice on resilient tree species and grass varieties for future planning.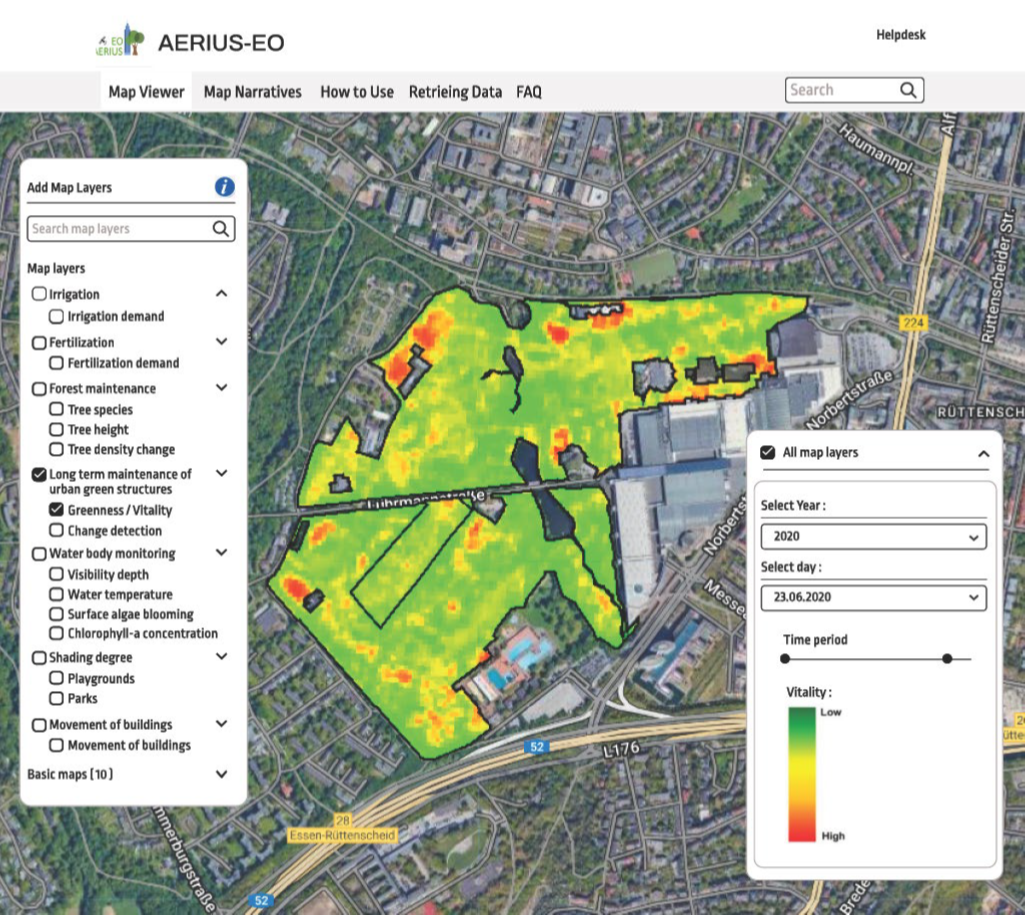 The required SatEO data and other input data were identified, suitable system components for sustainable service provision in the cloud environment were elaborated, and a pricing model was developed. The next step is to implement the service components in an operational environment, to gain pilot customers and funding resources to eventually bring the service operationally to market.
Prime Contractor(s)
Status Date
Updated: 14 February 2023
-
Created: 14 February 2023