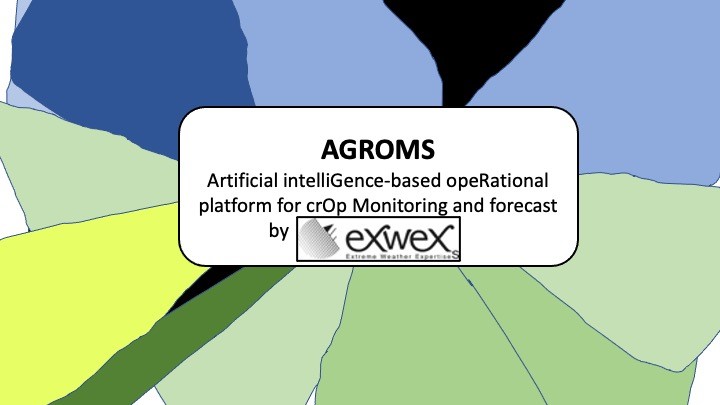 Objectives of the service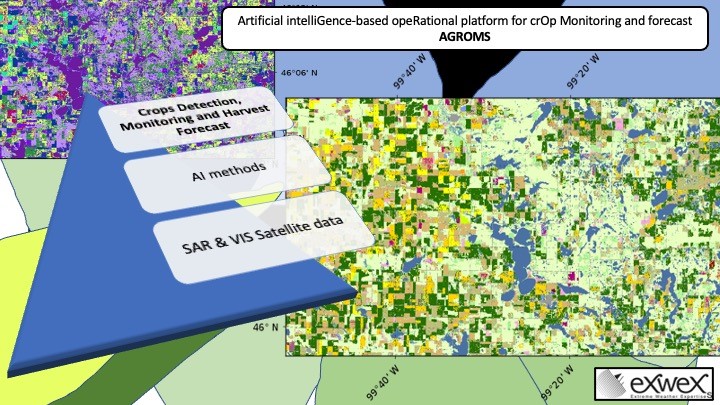 Most solutions currently 90% is roughly the best precision obtained for estimate ing and forecasting "crop size", i.e., the percentage of the area actually harvested cropped compared to the pre-estimated one with an accuracy of roughly 90% thanks to high-resolution satellite images.
For the agriculture actors, this accuracy is too poor. A minor gain in this accuracy may lead to a huge economic gain. As a result, increasing the accuracy of the crop size estimation/forecast is the actual issue addressed by AGROMS.
The most recent scientific methods gather optical and SAR data supplemented by Artificial Intelligence (AI) to increase the precision of estimation.
AGROMS integrated these up-to-date methods by using both image types from the COPERNICUS program and also other data sources. Preliminary results are very encouraging and show an obtained As a result accuracy obtained reaches between 95% to 97%.
Users and their needs
AGROMS addresses four market segments listed as:
Agriculture operators (farmers, operators),
Trading companies,
Governmental agencies for attribution of agriculture public funds,
Insurance (parametric for instance).
Their needs may be listed as below by order of importance:
accuracy (error under 5% is expected),
data quality: better resolution in space and time, better quality of added value products
low cost
data exploitation and management: facilitate interpretation by data visualization, on-demand processing, compute, display and report, secured web-interface
data delivering also through a images flux to their own systems
The targeted users are spread worldwide.
AGROMS addresses all the user requirements by integrate its AI innovation dedicated to increase accuracy and solution.
Service/ system concept
AGROMS outputs integrates a panel of other satellite derived services in an Software as a Service (SaaS) – DATUM. The Agriculture function become a new functionality dedicated to Accurate Agriculture and Agriculture trading.
DATUM SaaS is developed by EXWEXs and dedicated to satellite imagery exploration, order and processing. It provides batch archive and near-real-time (NRT) processing of satellite data available on an Area of Interest (AOI). The system is based on a distributed cloud architecture and exposed through a web application. The application allows the user to explore the datasets, to order and process the source data (extraction, enrichment, processing levels etc.), to monitor his orders and to exploit the results in real-time on an interactive map, to download or export the outputs through standardized interfaces like a Web Map Tile Service. It is already in use in a commercial mode and a freemium will thus be opened for easy access to prospects.

Space Added Value
AGROMS is based on information coming from several space assets. Service's core, crops detection monitoring and harvest forecast are based on earth observation data mainly provided by LEO satellites from COPERNICUS and other satellites fleets.
Current Status
The study has ended. The methodology is deployed by gathering several data source from SAR to Visible electromagnetic spectra while AI is trained to reach the best accuracy.
However, the successful of the methodologyservice is not at an industrial and operational stage since it requires more efforts to be implemented within andin a commercial mode.
Prime Contractor(s)
Status Date
Updated: 08 September 2021
-
Created: 29 April 2021