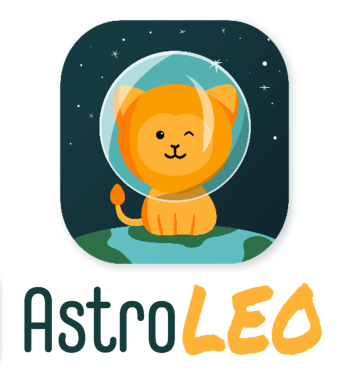 Objectives of the service
AstroLEO is an Augmented Reality (AR) based mobile learning application, developed in coordination with teachers for use in school and at home tailored to their needs. Teachers have the option to create secured online rooms for themselves and their students, so-called "virtual classes", where they can share preinstalled curriculum-compliant content and assignments for students. This material is provided by P³R and updated on a regular basis. The type of content is varied including quizzes, practical or interactive tasks, or presentation of teaching content through texts, videos, or through augmented reality elements. Teachers have access to all these materials and ability to create new learning units by grouping them individually for their lessons according to their exact needs. The students work and progress can be tracked as well as evaluated at the end of the assignment period. A built-in chat feature, which can be restricted by the teacher, ensures that students can request help from classmates at any time. Moreover, most of the content involves interactions with the environment which makes AstroLEO suitable for use outside the classroom. Therefore, lessons can also take place outdoors in nature, during school excursions or in the schoolyard without losing valuable learning time.
Users and their needs
AstroLEO initially focuses on German-speaking schools in Germany, Austria and Switzerland as the primary location of use. While schools are the main customer segment, the main user segments of the AstroLEO app are teachers and students. The main user requirements are the following:
Varied, didactically optimised teaching content with regular updates

Easy integration of curriculum-compliant teaching content into daily routines

Intuitive and easy-to-understand interface to enable the lowest possible entry into the use of the app

Efficient design of daily routines (e.g., searching for teaching content in a catalogue and sharing content with students)

A wide range of support services for teachers and students to familiarise themselves with the app (e.g., written instructions and video tutorials)

Highest security standards to create a safe learning environment (e.g., GDPR, protection from third party access).
Based on these points, the main challenges for the project are to meet security standards without compromising on the convenience and ease of use of AstroLEO.
Service/ system concept
Users of the AstroLEO app get access to various Earth observation (EO) data that were edited for educational purposes. The content of the EO data is displayed either in a native user interface (UI) or in an augmented reality (AR) mode. In AR mode, the location of the mobile device is derived using satellite navigation.
Selected EO data from external sources are pre-processed and downloaded to a central cloud-hosted server. They will be further processed using machine learning methods, and other data like e.g., curriculum information. As a result, a database with EO content tailored to the requirements of users is created on the central server.
The AstroLEO app synchronises with the central server database when a network connection is available to account for any data updates. Content data can be downloaded to the local device memory for offline usage of the app. This includes a light preview version of the content data to enable a fast and reliable content search.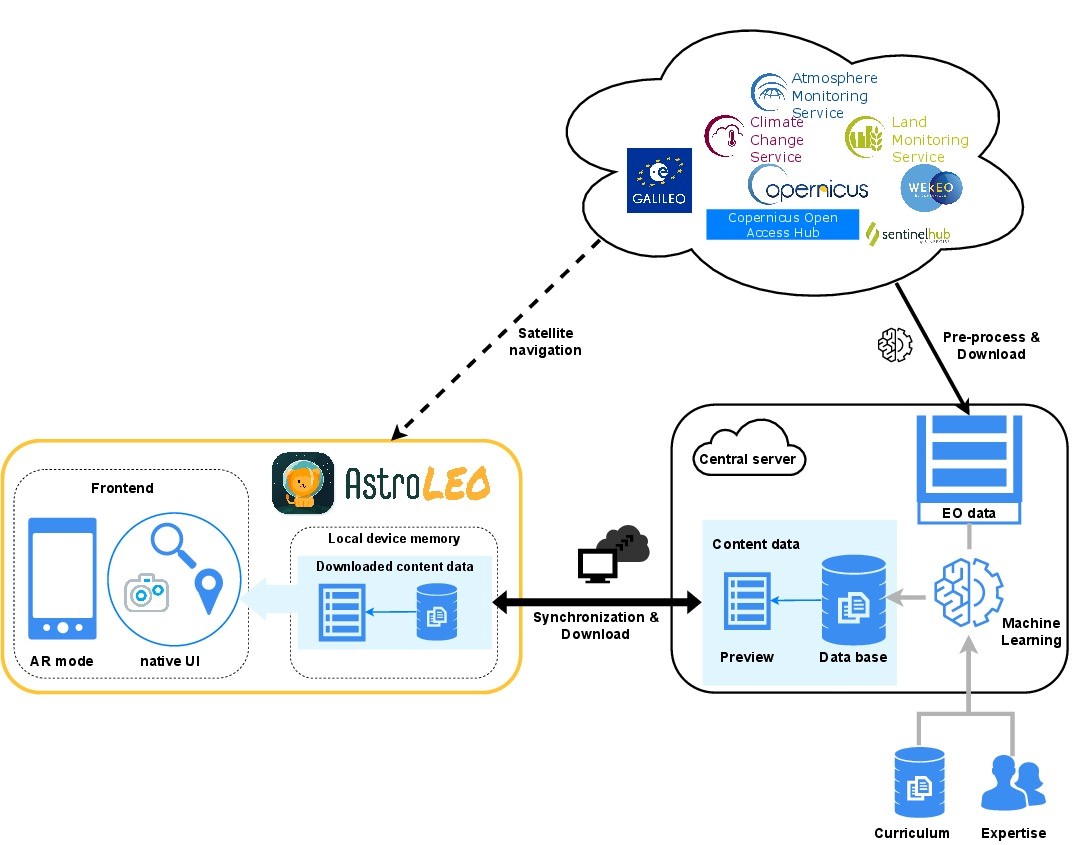 Space Added Value
A questionnaire was developed and distributed among schools to evaluate specific user needs. Results were analysed to ensure that all user needs and service requirements are addressed by the AstroLEO app. Based on these findings, use case scenarios were developed to optimise daily workflows for the user segments.
The overall system architecture and data model of the AstroLEO app was designed. Main key subsystems of the application were identified and the information flow between them described. The maturity of the service as well as potential technically critical points and possible solutions were assessed.
Teachers and schools were contacted, and test schools defined for AstroLEO. Communication with potential stakeholders are ongoing.
Prime Contractor(s)
Status Date
Updated: 13 April 2022
-
Created: 13 April 2022