Objectives of the service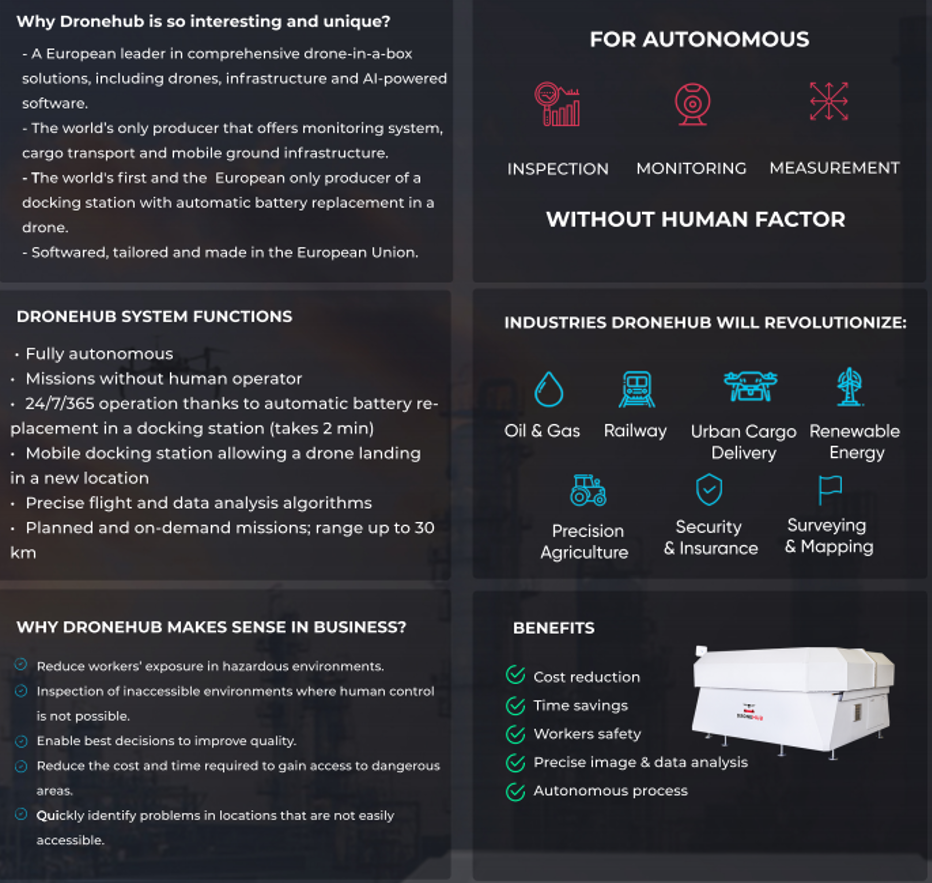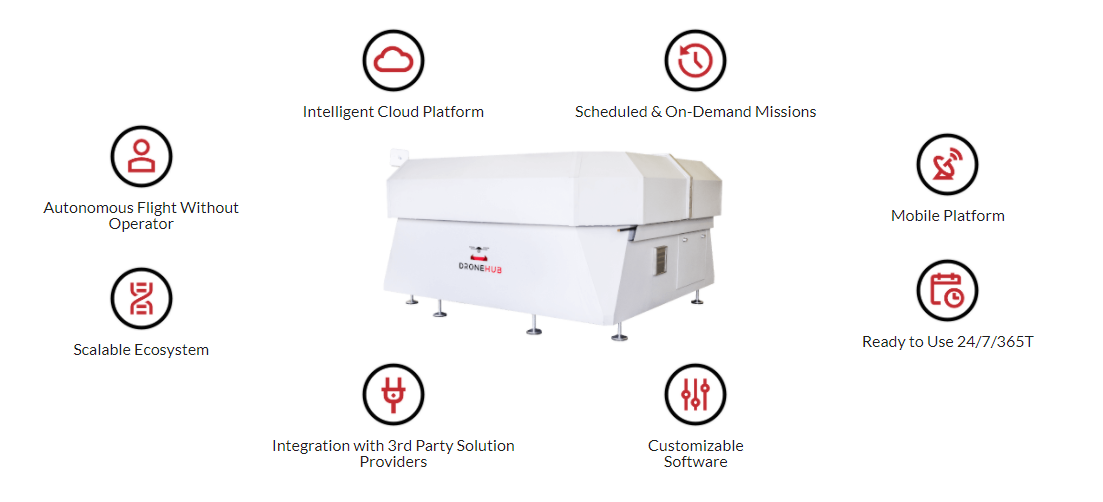 The two services are addressed:
Drone Hunter – Antidrone effector to be installed as a part of an intruder drone detection and surveillance solution.
First responder's mobile service - a mobile UAV surveillance and monitoring solution to respond against CBRNe threat.
Both services to be demonstrated are based on fully autonomous BVLOS services of UAV's provided by a system consisting of a drone and a base – hangar, delivering data transfer, maintenance and several other services within the system.
The services are both reacting on actual developments in the security and defence measures against unwanted threats . The security management representatives express on daily base the need of continuous enhancing, using comprehensive and integrated technological prevention and protection countermeasures using powerful tools.
The intended solution is aimed at :
A/ active countermeasures against attacking or not identified and potentially dangerous UAV's approaching the area of interest
B/ active measurement and mapping of current CBRNe values of relevant threats in case of events with a possible element of CBRNe threat and provision of current data to the systems of management and coordination of rescue operations.
Users and their needs
The scenarios have been developed in close cooperation with a variety of professional stakeholders from the user communities.
The scope of users ranges from civilian and defence suppliers of technologies for detection and defence against drones, through private security agencies, security forces and institutions with a special focus (prisons, private storage of hazardous substances or explosives, military storage management), nuclear security institutions, units and actors of integrated rescue corps, military units focused on chemical safety up to industrial enterprises in the field of chemistry and military production and regional administration.
The main user needs, that were identified during the initial phase of the project, are connected with the:
Day and night monitoring of objects and areas by lightweight drones
Elimination of the CBRNE threats by using different sensors (visual, IR, chemical, radiation)
Protection against unknown drones entering protected perimeters
Automatization of the process
Live monitoring, processing and data visualization
The team is mainly consulting the scenarios with the stakeholders in Czech Republic and Poland. Vast majority of such stakeholders are well interlinked in the international defence communities which helps the team to measure the concepts on international benchmarks.
Service/ system concept
Scenario 1: First responder's mobile service
Studying user needs and requirements it was confirmed that security and civil protection users do request a solution which enables autonomous supervision provided during large scale events (fires, floods, other) delivering a set of data which do consist of:
Thermal imagery
Radioactivity monitoring
Monitoring of CWA and/or TIC
Day and Night vision – video or imagery transmission
The scheme is providing a description of the system, its components and interoperability.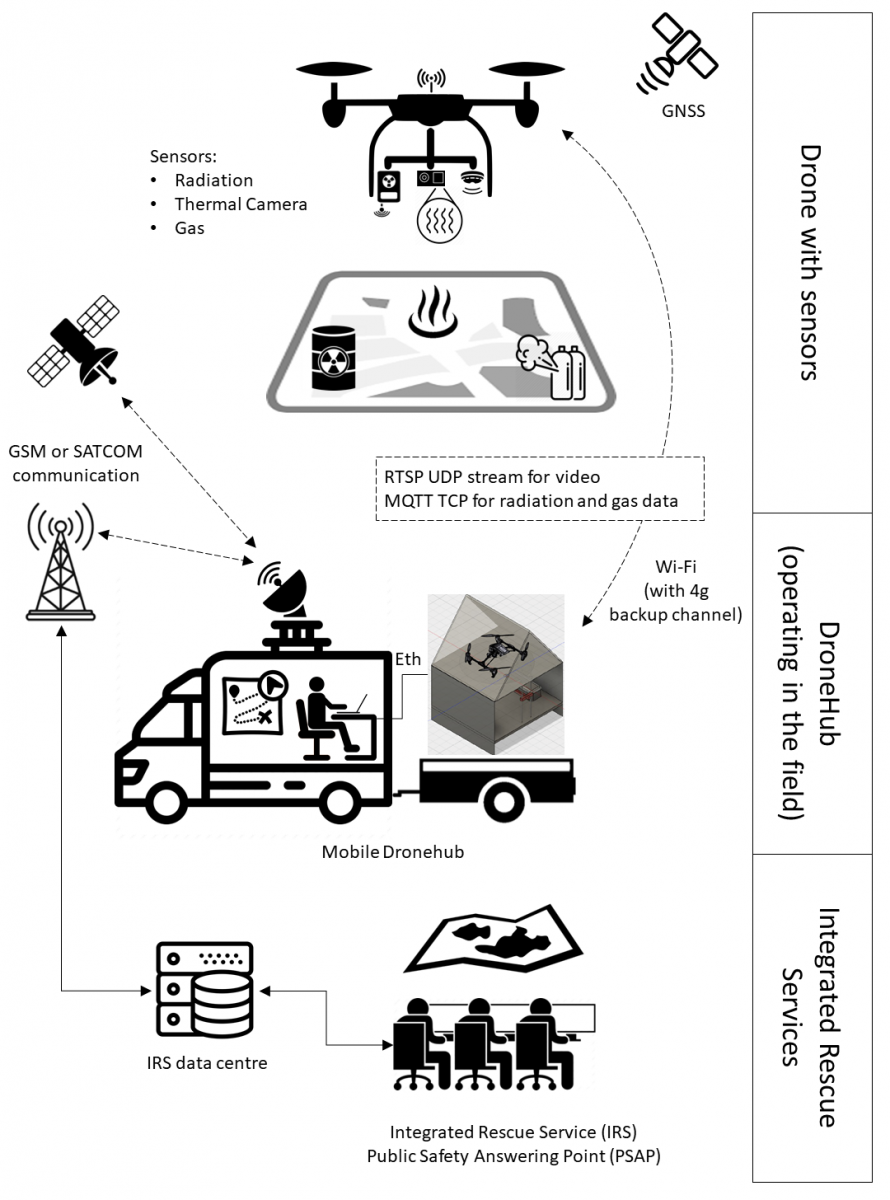 Scenario 2: Drone Hunter - Anti-Drone solution
The Drone Hunter scenario is offering prevention and protection by using a drone physical capture device (drone-mounted net cannon snags other drones) as a physical barrier to detect and act against an unidentified threat.
The scheme is providing a description of the system, its components and interoperability.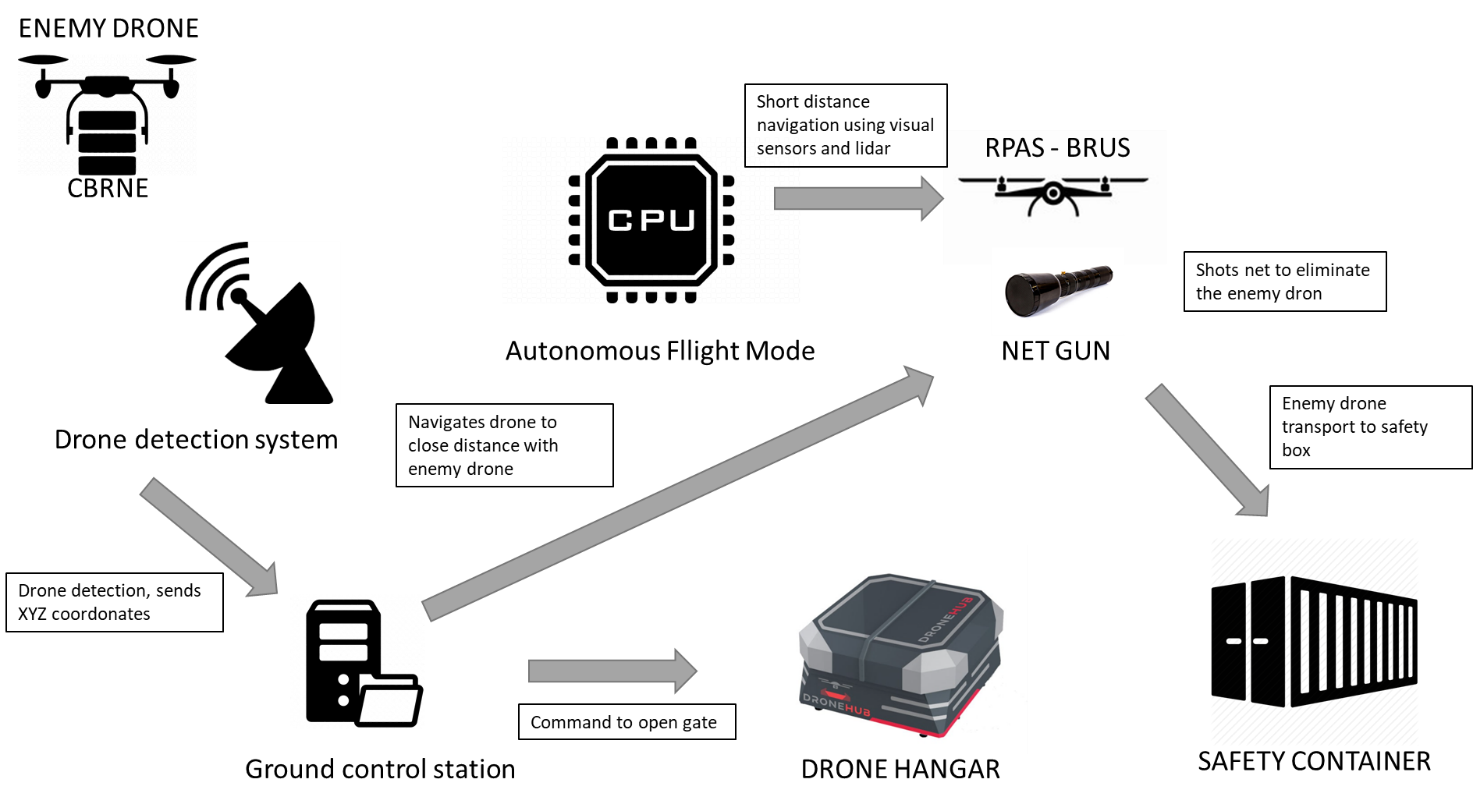 Space Added Value
GNSS – Global Navigation Systems – is used for UAV flight navigation, geofencing (GPS, Galileo, Glonass chips. In future when available Galileo PRS services, will be integrated for approved users
EO – Earth observation – is used in large scale events as base for situational; awareness mapping in the frontend, weather data are used for flight management;
SAT-COM – Satellite Communication is used in remote areas for data transmission.
Current Status
User requirements have been collected. The design of the system architecture for the provision of the two services has been completed.
The Drone-Hangar system is developed to a stage of industry proven technology which has been deployed in real environment.
Mobile drone hangar and drone for CBRNE operations design.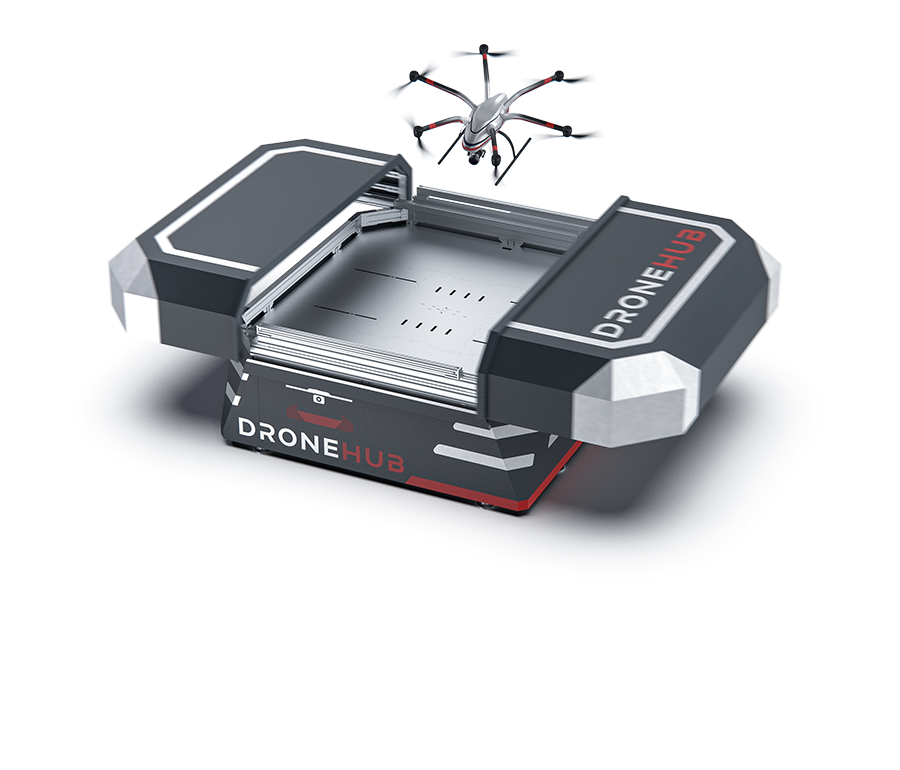 The DroneHunter service was successfully presented on the defence fair IDET in 2019 in Brno.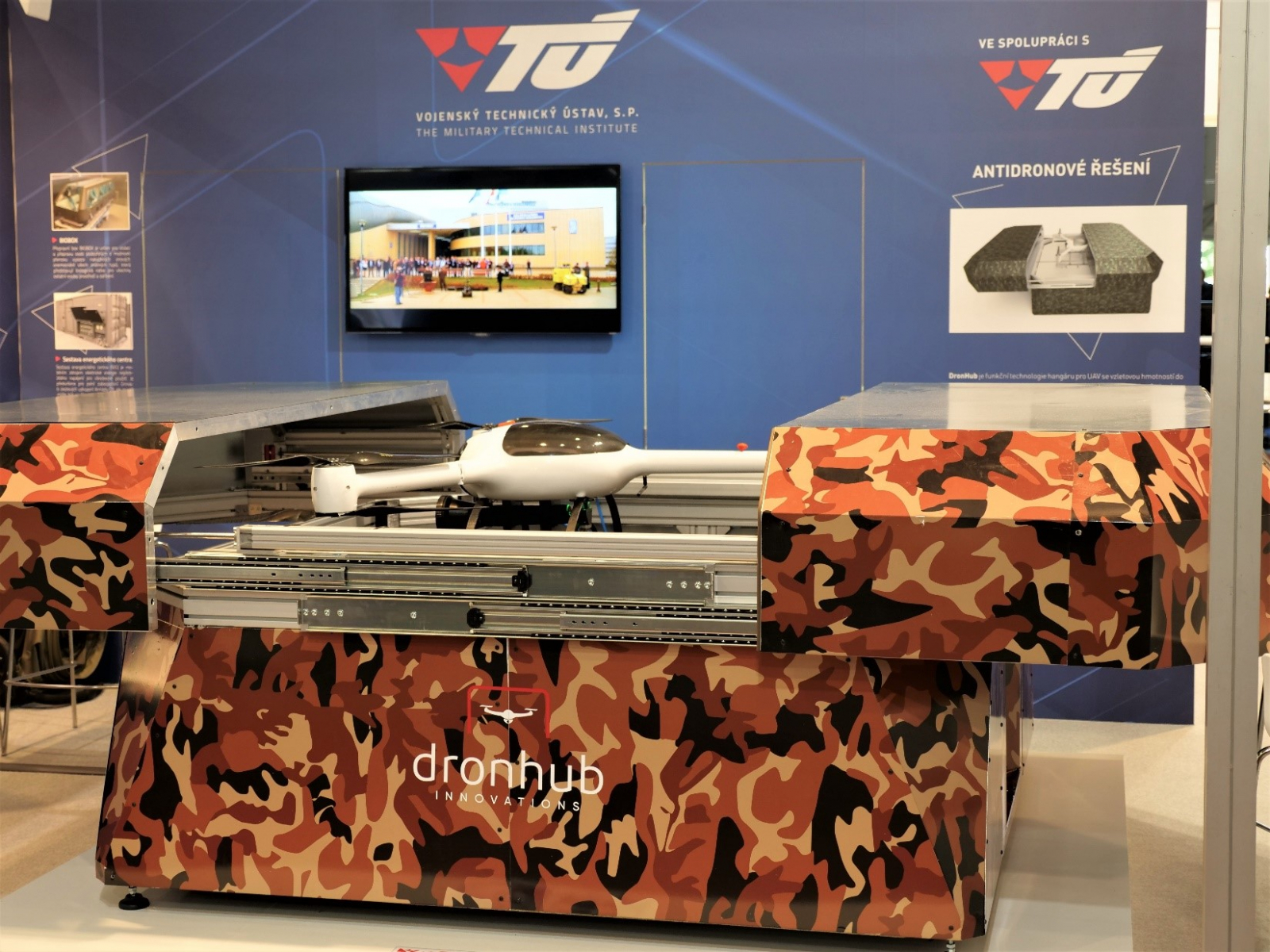 Prime Contractor(s)
Status Date
Updated: 21 September 2021
-
Created: 04 June 2021