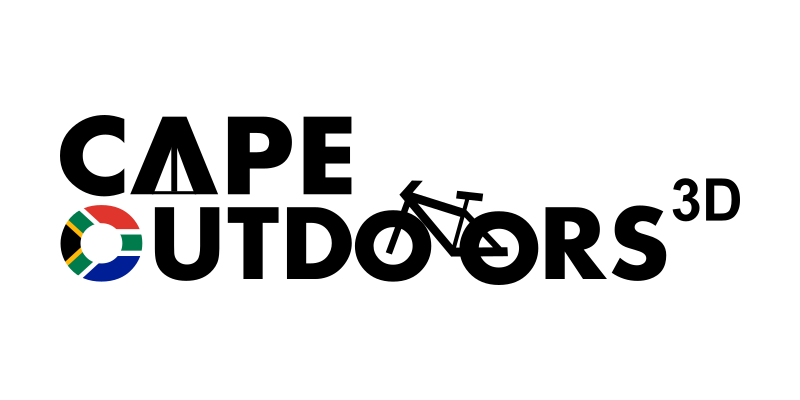 Objectives of the service
A total of 8.9 million tourists came to South Africa in 2015. Tourists are particularly attracted by the abundant flora and fauna, and outstanding beauty of the Cape region, where nature reserves and national parks offer numerous recreational outdoor activities. CapeOutdoors3D addresses the increasing number of tech-savvy tourists that plan their activities on mobile devices by conceptualising a 3D virtual-reality planning tool for outdoor activities. 3D maps make searching for recreational and tourist information a fun online experience.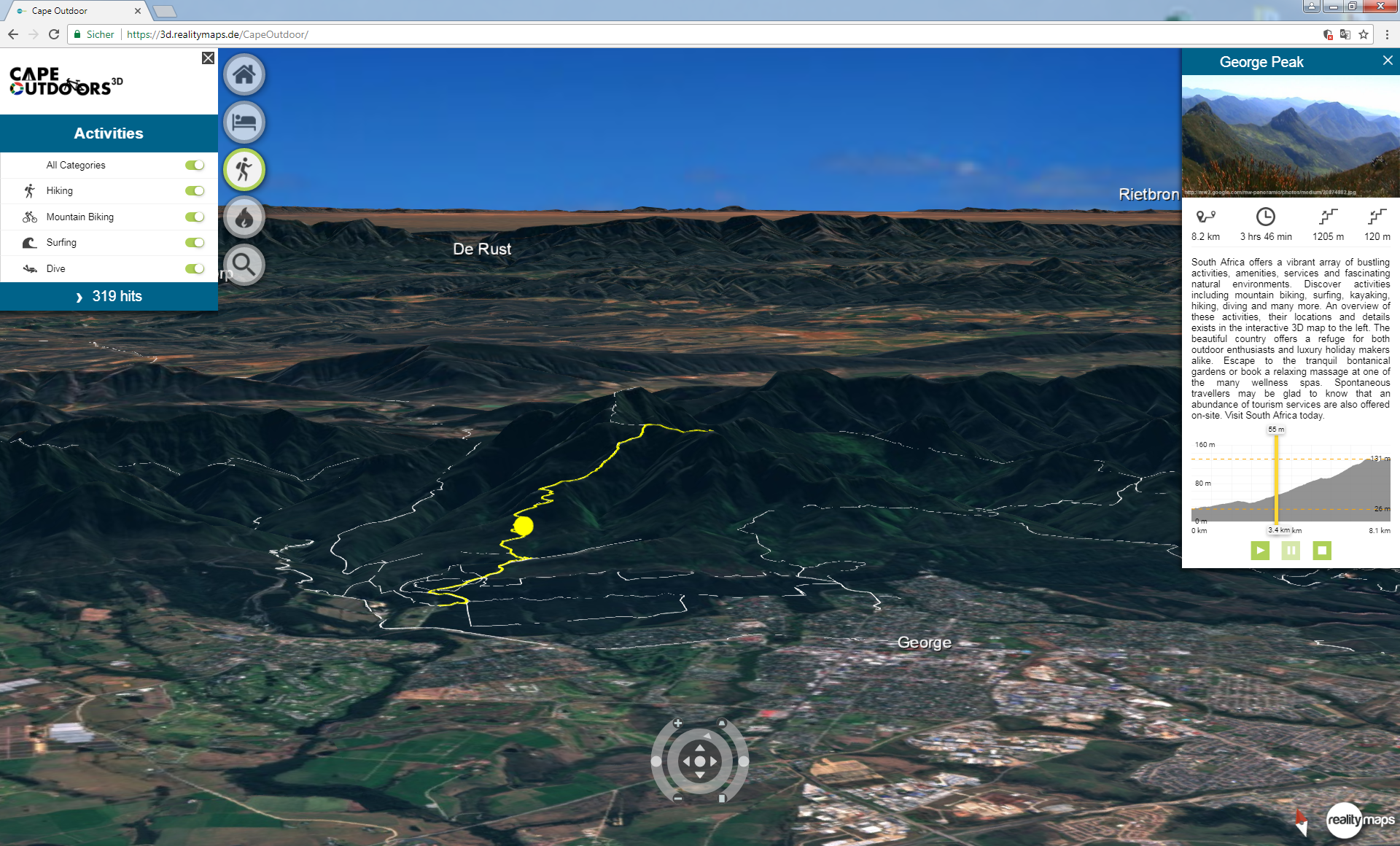 The 3D app we created, not only allows tourists to get a unique overview of the destination and to use it as a planning tool before the journey, but also provides exceptional navigation and live tracking on-site. Up-to-date, on-site information, hiking and biking trails, touristic attractions or weather information can be included as well as features to improve tourist safety and general awareness (e.g. emergency alert function and live tracking). An exclusive part of the app supports local authorities of protected areas in their maintenance, preservation and fire management efforts.
Users and their needs
Users broadly span two categories: the tourism industry (both operators and tourists) and the administrative protected area management, operating within South Africa's national parks and nature reserves. Currently, the South African tourism industry relies on 2D maps and online search engines to advertise localities or activities. All accommodations and outdoor activities are currently booked either directly by the tourist via the internet or by travel agencies. Site-specific information such as safety alerts, park gate closing times etc. are often static but not always available online, or spread across various web sites.
The app supports and improves the tourist's planning, as well as administrative management, in manifold ways. When planning outdoor activities with the app, the user has an all-in-one solution. They can, for example, get an extensive visual impression of the landscape with current satellite imagery, find up-to-date information on weather, safety alerts etc., booking tools, webcams, recreational information and much more.
Fire management units of Cape Nature and SANParks are additionally supported by up-to-date maps on the distribution and amount of fuel load over large areas (based on Sentinel-2), that are used by fire management for the identification of priority areas for prescribed burning.
South Africa.
Service/ system concept
CapeOutdoors3D provides protected area authorities and the tourism industry with a web-based and/or mobile application. The application renders information in a 3D, realistic representation of the landscape and fulfills two essential services. One informs park managers of fire risk related spatial information and assists them in their fire management activities, while the other provides information on available accommodation, attractions, infrastructure and other tourism-related points of interest in the protected areas.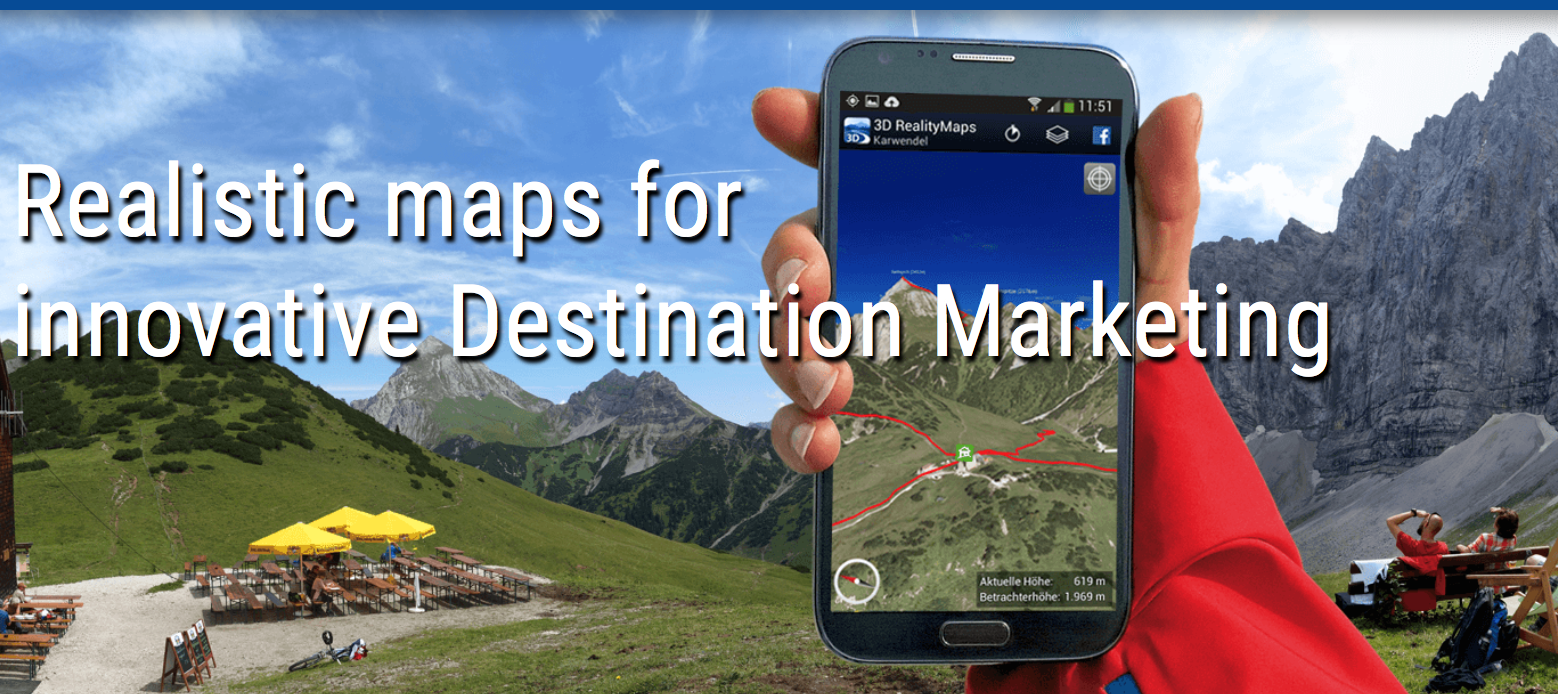 CapeOutdoors3D can also give users access to an array of secondary services, such as GPS tracking and navigation, warning or internal communication platforms, advertising, accommodation and more. Earth observation imagery, points of interest or tracks, will be provided on- or offline (thin or rich client) in a cross-platform solution (for laptops, desktops or apps). Either way, the software uses a sophisticated client-server architecture with high-level data compression and a flexible level of detail (HD or basic rendering) of the imagery. This efficient data management allows an attractive service provision in areas with limited bandwidth. Limited bandwidth scenarios are accounted for with regard to caching, state management, or data-access mechanisms
Space Added Value
The proposed service combines the space assets Satellite Navigation and Earth Observation, with Copernicus data as the fundamentals for interactive 3D maps. Sentinel-2 imagery and a Digital Surface Model (DSM) are used for 3D visualisation. The integration of very high resolution data for some nature reserves and protected areas can be achieved depending on their availability. The interactive 3D maps flawlessly work landscapes into lifelike scenes, rendering the maps convincingly realistic. Destination information is provided directly to the mobile device with full GPS functionality, allowing for on-site orientation and position-tracking.
Sentinel-2 imagery is also the basis for the fuel condition maps that support the fire management units. Western Cape continues to be threatened by uncontrolled fires; it is the area most affected by wildfires in South Africa. Fuel load maps support the park administration in their fire management efforts by using these maps on mobile devices in the field for the planning and implementation of integrated fire management. The recentness of the Sentinel-2 data is crucial, since up-to-date and timely information on fire situation is needed.
Current Status
The CapeOutdoors3D Kickstarter feasibility study has been completed successfully by the end of December, 2017. The 3D web application is still being demonstrated to users in South Africa as an example of our work. A review of the South African market, target audiences and competition was accomplished and RSS GmbH is currently in contact with potential stakeholders interested in the product. The benefits of the fuel condition maps for their fire management activities were investigated together with CapeNature's and SANParks' fire management units. The integration of the fuel condition maps into the Advanced Fire Information System is being discussed with CSIR.
Prime Contractor(s)
Subcontractor(s)
Status Date
Updated: 19 December 2017
-
Created: 10 October 2017