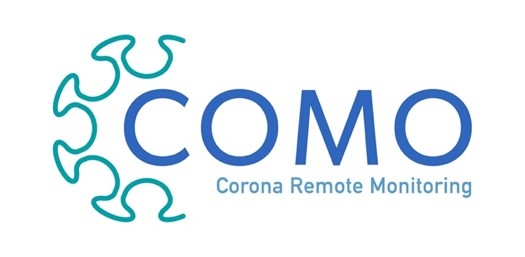 Objectives of the service
The Swiss-Italian project consortium develops in short term a service for real time remote monitoring of patients tested positive for COVID-19. This service enables patients to stay at home while being remotely surveyed by physicians at hospitals or general practices (GP). The pilot demonstration service will be deployed under the lead of a hospital located in a region badly affected by the Corona pandemic. The objective of the pilot is the de-hospitalization of COVID-19 infected patients with cardiovascular and respiratory complications and the minimization of returns to hospital.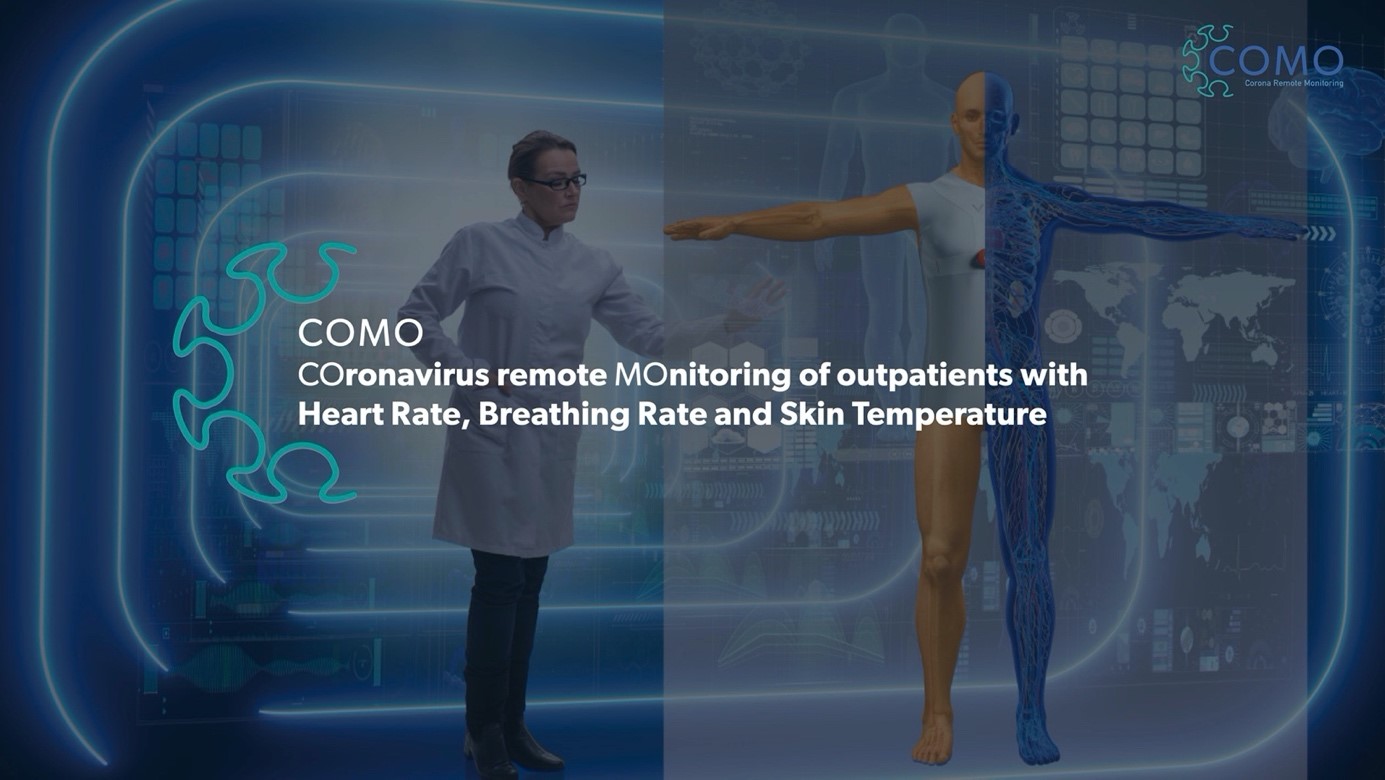 Image credit: Vexatec AG, Project: COMO
Health condition is regularly monitored via a system composed of a wearable sensor and a chest belt which measures continuously:
Heart Rate, ECG, HRV, RR
Breathing Rate
Skin Temperature
Activity (detection of movements)
SpO2 (only on demand)
The physiological measurements are sent via Bluetooth to a mobile device (patient's smartphone) and aggregated with geo-referenced data before being uploaded to an IT cloud platform where health care providers can monitor remotely the health evolution of patients.
The digital monitoring system will aim to:
limit and possibly decrease saturation of the emergency departments of hospitals and other healthcare institutions
provide sufficiently accurate triage criteria to allow infected patients to remain at home
reduce consequently the contagious spread among healthcare professionals
address the specific need of people living in self-isolation or quarantine for a few weeks with no direct contact with other persons
provide means to identify greater health risk regions and highlight population fluxes of infected patients by aggregation of geo-referenced data
develop a medical certified system that can be used after COVID-19 for a wide range of use (telemedicine and telemonitoring)
Users and their needs
The new service is dedicated to different user groups such as physicians in hospitals or GPs, nurses and patients. It enables physicians at hospital to efficiently monitor the health evolution of a large number of patients and to react if critical parameters exceed predefined threshold values. At the same time, it reduces the influx load of medical emergency centres and prevents the spread of infectious diseases.
The affected persons feel much better cared for and protected. Via the application on the smartphone, the patient can be provided with additional important information or can be requested to contact a medical health care provider.
Service/ system concept
The starting point for the project is an existing wearable system originally developed for the use in professional sports. The system consists of two sensors, initially developed for ESA missions, that are attached to a chest strap which applies them on each side of the chest cage against the skin. Both sensors are equipped with a re-chargeable battery, a Bluetooth module and the electronics and firmware necessary to process the signals
Image credit: VEXATEC AG, Project: COMO
The physiological measurements are sent via Bluetooth to a mobile device (patient's smartphone) and aggregated with geo-referenced data before being uploaded to an IT cloud platform where health care providers can monitor remotely the health evolution of patients.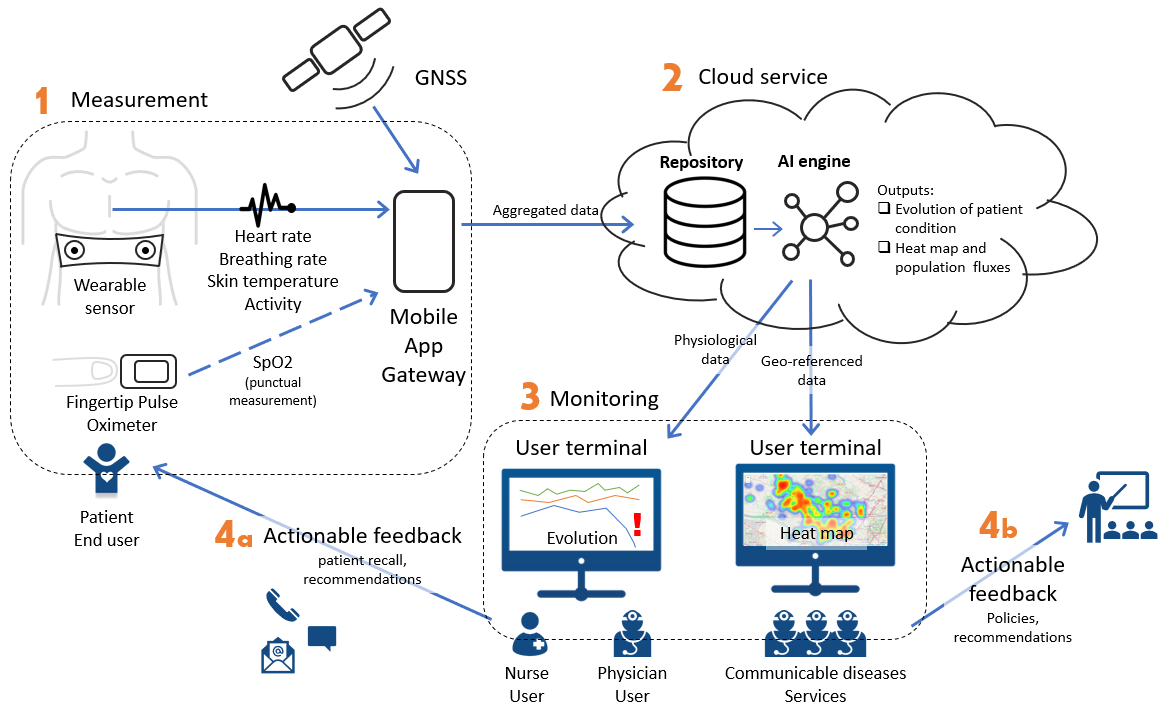 Image credit: CSEM, Project: COMO
Space Added Value
The following space assets will be used in this project:
Human Spaceflight Technologies: part of the remote health status monitoring technologies used for the COMO service are based on the outcomes of several studies and tests developed in the frame of the LTMS (Long Term Medical Survey System) activities run by CSEM for ESA (Monitoring of physiological parameters in analogue environment such as the Concordia station in Antarctica).
Satellite Navigation allows to aggregate patient health data with geo-referenced data. Movements of infected patients can be analyzed more precisely and potential virus propagation via social meetings can be forecasted and highlighted. Specifically, analysis with a small-scale focus can monitor propagation within family members and/or among friends and can be used to warn relatives of a potential spread of the virus and recommend early screening. Analysis with a wider scale focus can monitor large and densely crowded events as potential COVID-19 clusters and rate these as higher risk propagation vectors if needed. Therefore, artificial intelligence and machine learning based algorithms will be used to calculate deviations and trends observed on various analysis levels. This will provide valuable information on the location of regions at high risk, and population fluxes at the origin of virus propagation. Communicable diseases services can hence model and forecast virus propagation and pandemic evolution based on true mobility data of infected patients, and issue recommendations for social behavior. In comparison to mobile phone tracking based on the localization of cell towers of the network, satellite navigation provides much more accuracy especially in regions of low network coverage.
Current Status
The consortium recorded all user needs and requirements together with the pilot partner and derived an appropriate system solution.
After a first successful functional test of the entire system to check the measurement quality and application performance, the team prepared all necessary documents to get the approval from the ethics committee of the hospital.
The system is currently undergoing a first clinical trial at Luigi Sacco University Hospital in Milan, under a protocol and program headed by Prof. Dr. Maurizio Viecca, the director of the departments of Cardiology. In the middle of the again very tense situation of the 2nd pandemic wave, the entire system is currently being tested and validated for the first time on Covid-19 patients within the hospital. The consortium is working at full speed on optimisations and is preparing with the medical team for the larger trial in early 2021.
Prime Contractor(s)
Subcontractor(s)
Status Date
Updated: 09 December 2020
-
Created: 08 October 2020