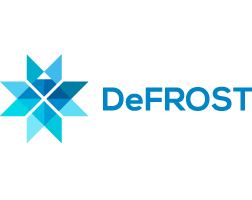 Objectives of the service
DeFROST is a terrain status information source for providers of Digital Outdoor Platforms as well as tourism offices (Destinations) managing a region focusing on outdoor activities like hiking, biking, skiing and other outdoor sports.
These type of organizations greatly depend on the terrain conditions to be able to efficiently promote and attract tourists while ensuring safety: e.g. current and future snow cover and depth, avalanche risk, rock-falling risk, river levels or weather forecast, which contribute to the feasibility of outdoor activities.
Gathering such terrain data today is costly, risky and complex: it is gathered by safety managers directly visiting the area by foot. Due to this cost, few selected areas are checked 2 to 3 times a year. This hinders the ability of Digital Outdoor Platforms and Destinations to inform tourists, ensure maximum safety and correctly coordinate promotion campaigns.
Based on imagery from Earth Observation satellites, DeFROST intends to provide daily, accurate information on the status of the touristic region's terrain and trails.
It allows Digital Outdoor Platforms managing web-based or smartphone applications an easy way to integrate such data and offer it to their own users. In the case of tourist offices, DeFROST is offered as a stand-alone solution which, complemented by current checks of the safety managers, ensures the tourist office takes the right decisions and offers the best to its visitors, while increasing their safety.
Users and their needs
This solution is addressed mainly to Digital Outdoor Platforms providing adventure-planning, mapping services and adventure-booking to end-users (tourists) as well as Destination Marketing Organizations operating in mountainous regions.
The users require:
Fast and easy access to near-real-time data on terrain conditions such as snow cover, snow depth or avalanche risk.
An automated and fast way to obtain a "Feasibility Index" for each trail/activity of any given area.
A centralized system for a Destination's different actors (municipalities, cable car companies, guide associations, etc.) ensuring a good communication and collaboration on the latest, up-to-date terrain conditions and potential issues.
The ability to integrate this information in 3rd party mobile and web applications.
The entities supporting the feasibility study included the Swiss Alpine Club, Swissrando and Valrando. Representatives of the tourist destinations Davos-Klosters, Saas-Fee and Canton Vaud were involved as pilot users.
All pilot users who participated in the Feasibility Study are from Switzerland
The solution will gradually target users covering the Alpine region (e.g. France, Italy, Austria) and other European Alpine outdoor destinations.
Service/ system concept
DeFROST automatically delivers daily updated information on:
Daily snow cover (30 meters spatial resolution), by combining and processing near real-time satellite data (currently from six satellites, targeting eleven satellites)
Snow depth based on the most suitable ground measuring station in the vicinity
Avalanche risk based on the official country-wide risk assessment (SLF)
Weather forecast
Feasibility Index (1 to 3) of outdoor activities over any trail taking into account terrain shape and all the data above
Users would benefit from:
Mobile application for Safety Managers to log and share any safety related issue manually. The Destination would be able to manage and track any issue until it is resolved.
Accurate and simple information for Tourism Office Desk Agents for assisting and advising tourists.
Custom alerts on predefined events: track/activity becoming feasible, issue logging by safety managers, changing weather conditions, etc.
API for integration with any 3rd party application.
At a glance, the following graphic explains the use case for Destinations:
The technology powering this use case is explained in more detail on the schema below: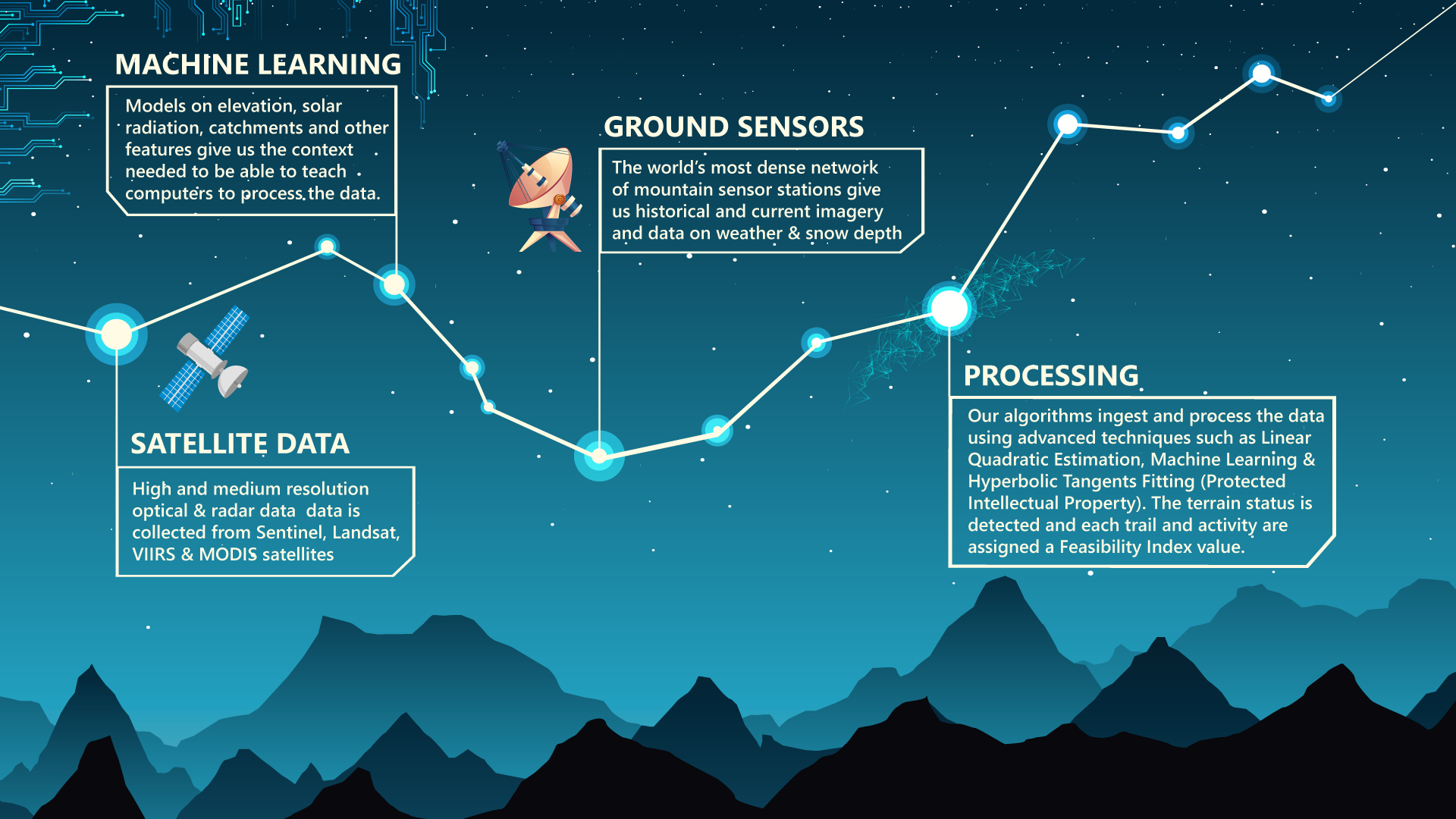 Space Added Value
The space assets used for the snow cover products include Earth observation data from the European Sentinel family, including all automatically available Sentinel-1, 2 and 3 data. Furthermore, NASA's operating Landsat 7 and 8 sensors as well as both MODIS Aqua and Terra sensors next to VIIRS will be included. To account for areas with persistent cloud cover over prolonged periods, we exploit both Sentinel-1 SAR sensors to detect melting snow cover and machine learning techniques. Furthermore, Earth observation data are combined with meteorological data to predict the future status of given trails.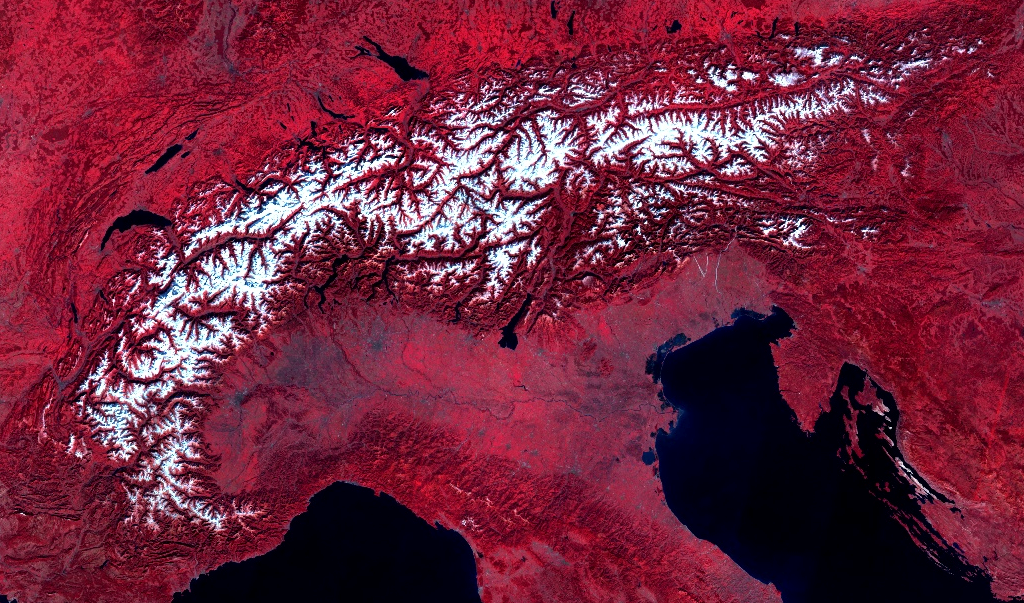 We currently process Earth observation data automatically for snow cover in Switzerland to support outdoor activities. The combined analysis with outdoor trails, weather data and avalanche risk assessments allows us to assess the feasibility of various outdoor activities. This procedure outranks currently available methods used in the Tourism Industry in terms of scale, reliability and complexity. It is the combined ability of harnessing satellite data in a high spatial, temporal and spectral resolution on a global scale during variable weather conditions, which makes this space asset indispensable.
Current Status
The feasibility study was completed in September 2018.
A proof of concept of the solution was been developed after gathering requirements from the pilot users. Technically, the proof of concept has achieved processing and displaying snow cover data daily, with up to 30 m spatial resolution, after combining data from six different EO satellites. SLF ground station data have been successfully aggregated into the proof of concept. The proof of concept has successfully been validated by Saas-Fee Destination as well as by Davos-Klosters Destination.
The consortium has developed a detailed business model after performing an economic viability analysis.
As a result of the Feasibility Study, two Digital Outdoor Platforms joined a pilot project to deploy and test the solution with their own customers. In addition, the Saas-Fee Destination also joined the pilot project for deploying and testing DeFROST in their region.
In conclusion:
The technical viability has been demonstrated. The strategy for system scalability has been identified. At the same time, corner cases have been identified on which snow cover detection can be further improved.
An optimal avalanche risk integration requires further digitization of the risk areas in order to reach the desired resolution level.
An automated data validation system should be setup to obtain the quantitative accuracy level of the data as well as supporting continuous improvement of the system.
The main customer segment for DeFROST is that of Digital Outdoor Platforms, while Destination Marketing Organisations (DMOs) are a strategic customer segment.
A pilot phase will be launched immediately in collaboration with the potential customers in both segments.
DeFROST shall be scaled to cover the Alpine region, and then USA. At the same time, additional terrain conditions detection are to be developed in the mid-term.
The consortium presented an outline proposal for an ESA Demonstration Project in order to carry on with the activity.
Prime Contractor(s)
Subcontractor(s)


Status Date
Updated: 26 September 2019
-
Created: 01 August 2018