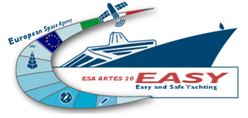 Objectives of the service
Together with traditional chartering, new business lines like yacht brokering, manufacturing assistance, luxury cruising are emerging asking for the availability of innovative services on board. These new businesses require a higher grade of liability towards their customers, hence forcing the providers to put more emphasis on systems and services in order to increase the safety and availability of information during the cruise.
Therefore, there is a high interest in providing enhanced services to the leisure charter market and it is expected that the improvement of such services increase the demand for charter and cruising business.
Starting from the EASY prototype developed during the Feasibility Study, the demonstration is intended as a sort of "hot spot analysis" of EASY services, i.e. a complete validation case of the whole EASY integrated services in a well-defined and bounded geographic area, so allowing users to have a seamless and complete experience.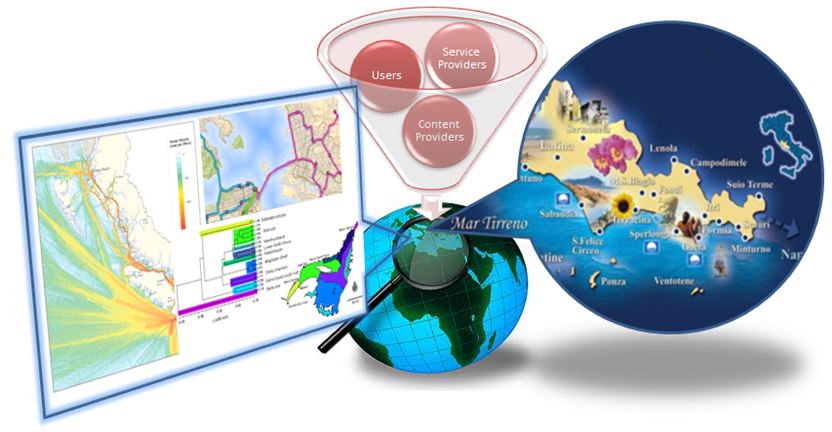 The above mentioned approach is also intended to facilitate institutional commitments (e.g. local authorities and bodies) and favour stakeholders focusing on the benefits of EASY in changing their existing ways of working, allowing the EASY project team to reach the objective to define a 'best practise' to be extended into a wider market.
Users and their needs
The EASY project can identify local reference EASY users within the Gulf of Gaeta's economic environment (users, customers and stakeholders), thanks to the direct participation in the project team of Consormare del Golfo, an Italian consortium made of 56 firms involved in vessel building, chartering and nautical services based in Latina province. It represents a strong link with end users and local stakeholders (institutions and yachting market actors) and a way to bring into the project service contents, mainly for tourism and technical assistance.
Service/ system concept
EASY objective is to carry out an analysis of the technical feasibility and commercial viability of "one-stop-shop" services to the high value leisure yachting market mainly but not limited to the Mediterranean Sea, integrating various space assets (Satellite Communications, Satellite Navigation). The integrated system and associated services shall provide enhanced services in order to render yachting more reliable, safe and "easy", thereby attracting a wider spectrum of potential users. Three groups of services shall be provided via a service center: Tourist services (service booking, maps and guides, sea tourism, etc.), on-line assistance services (alarm management related to boat malfunctions, intrusion, etc.) and navigation support services (route planning, port access, sea conditions, meteorology, bathymetry, route control, nautical cartography, warning about perils and dangerous areas, tracking and tracing, etc.).
Space Added Value
EASY architecture is composed of a Service Centre and Onboard Terminal, communicating via Terrestrial and Satellite networks. Onboard Terminal is also able to interface the GNSS system available on board.
Satellite communications integration is needed to extend the service coverage area beyond wireless terrestrial networks allowing service provisioning anywhere and anytime.
Furthermore, Satellite Navigation integration is required to provide a geo-reference for Tourist Services as well as for Navigation Support Services.
EASY Onboard Terminal enables always-on and ubiquitous connectivity handling various types of terrestrial and satellite communication standards, from narrowband (e.g. Inmarsat, Iridium, GPRS) to broadband (e.g. mini-VSAT, wireless terrestrial, 3G).
Current Status
The pilot stage has been conducted from April up to end July 2015, using the two boats "Vintage" and "Regina del Sud", made available by Consormare del Golfo.

The pilot offered the opportunity to deepen the knowledge of the actual behaviour and expectations of the users. Feedback collected from users during the demonstration stage helped the project team to identify features that would require to be enhanced in view of a potential industrialization of the EASY system.

Taking into account the business plan drawn during the validation process, the EASY concept appears sustainable, scalable and profitable.

As already highlighted in the validation stage, EASY requires further investment to adapt the product to the present market and keep it competitive within the present market.

EASY needs a phase of re-adaptation to transform the initial concept to a "product" adapted to the market, that requires a time span from 6 to 12 months with a consistent investment.

Such further work would be tackle taking into account the following points:
• adaptation to the new market conditions and simplification to address small boats and inflatables segments (strategic pivot)
• definition, re-engineering, and manufacturers' involvement for hardware to be used on board in the various EASY versions
• definition of an operational marketing plan

To do this work, a new team should be rebuilt around a core of current members who wish to undertake a possible new project development opening to financial investors. The EASY consortium is actively seeking opportunities to move along the lines above described.
Prime Contractor(s)
Status Date
Updated: 26 November 2015
-
Created: 21 August 2014