Objectives of the service
Global Forestry assets are vulnerable to a range of perils, including wind and fire. These perils are a catastrophe class of risk and therefore owners use insurance services to transfer the risk to wider markets and thereby de-risk investment and ensure operational resilience. Being physically extensive and often located in remote areas, forestry presents challenges to insurance procedures including accurate risk pricing and efficient claims settlement in the event of losses.
FLARE has been developed to address these limitations in property, risk and loss assessment. EO and GNSS mapping products have been identified as a commercially viable solution that address core requirements of scalable accuracy and efficiency across geographic scales. FLARE provides these products within a useable integrated software system thereby facilitating present industry stakeholder groups and operational procedures.
Having investigated the feasibility of a global mapping service and integrated software package the project is now being forwarded to a demonstration phase.
Users and their needs
The insurance claims process can be generalized to a chain of 5 stakeholder groups. Forestry owners (insureds) are the customer user group and vary in size from large single owners (often debt financed), to smaller private owners and groups, often represented by forest asset managers.
Brokers operate between insureds, insurers and reinsurers, providing expertise in data management and policy formation.
Insurers provide direct cover to the insureds based on the asset risk and potential for sustainable premium returns. Institutions include insurance companies, mutual indemnity associations, captive insurers and state/ government.
The reinsurance market provides support to direct insurer portfolios providing capacity and risk diversification services.
Loss adjusters estimate and calculate losses and provide insurers with recommendations on claim settlements.
Key user needs can be summarised as the provision of timely, high resolution, standardised GIS data, to provide a platform for improved policy and claims management. Operational challenges center on developing FLARE services that provide access to available EO and GNSS data products within a usable system that integrates with present industry structures and systems.
Targetted Users: Global
Service/ system concept
The FLARE service is founded on an integrated software system that delivers EO derived forest maps for actuarial procedures and loss assessment.
The service delivers the mapping data within a useable and flexible software system that enables users to access the value of maps across use cases, both through desk study and field survey. These system elements are a GIS desktop, mobile GIS, geoserver and web access data service. These elements form a platform that provides novel mapping data and analysis tools in order to apply the data across operations and procedures in asset/ risk estimation, loss assessment and portfolio management.
The system-service leverages present asset data, and introduces new data and methods to increase the accuracy and efficiency of operations within the present sector structure, benefiting all stakeholder groups.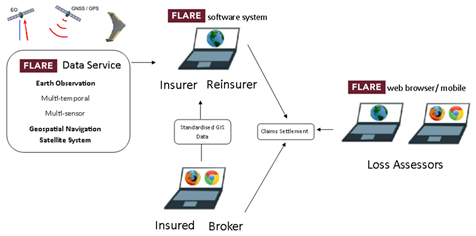 Space Added Value
Earth Observation
The global coverage and regular capture of EO provides the potential for advances in the efficiency and coverage of forestry insurance. The variability of resolution for data products enables them to be tailored to stakeholder data needs, providing a robust, cost effective data source for asset assessments and claims management.
EO can be used across the services to:
- Accurately and quickly map and monitor changes of asset area, boundaries and land cover composition both of the insured property and within the area of interest to risk management,
- Provide timely land cover change mapping for loss assessment across a range of resolutions,
- Improve the accuracy of in field loss assessments and risk management
- Enable auditing of insurance portfolios for monitoring of risk aggregation and identification of moral hazard,
Global Navigation Satellite Systems
The accurate measurement of in situ georeferenced data is required for a range of purposes:
- Accurate capture of asset boundaries and compartments is important to validate data and provide comprehensive policy.
- Enable in field operation of mobile GIS platforms for policy inception and loss assessment, providing accurate data capture and validation including; audit tracks, operational polygons, on-site photos and biophysical parameters.
Current Status
The project has successfully captured industry needs and developed a refined market analysis. A robust database categorised by individual user groups has been generated and this has provided a comprehensive definition of user requirements. These user needs and requirements have been used to develop and validate the business model and FLARE product lines.
A demonstration prototype of the FLARE services has been validated by stakeholder engagement and the project is continuing to maintain a dialogue with industry partners and data providers as the project moves into a development phase.
Prime Contractor(s)
Status Date
Updated: 10 June 2016
-
Created: 11 May 2015