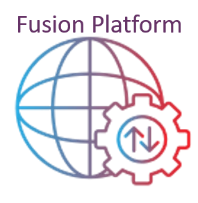 Objectives of the service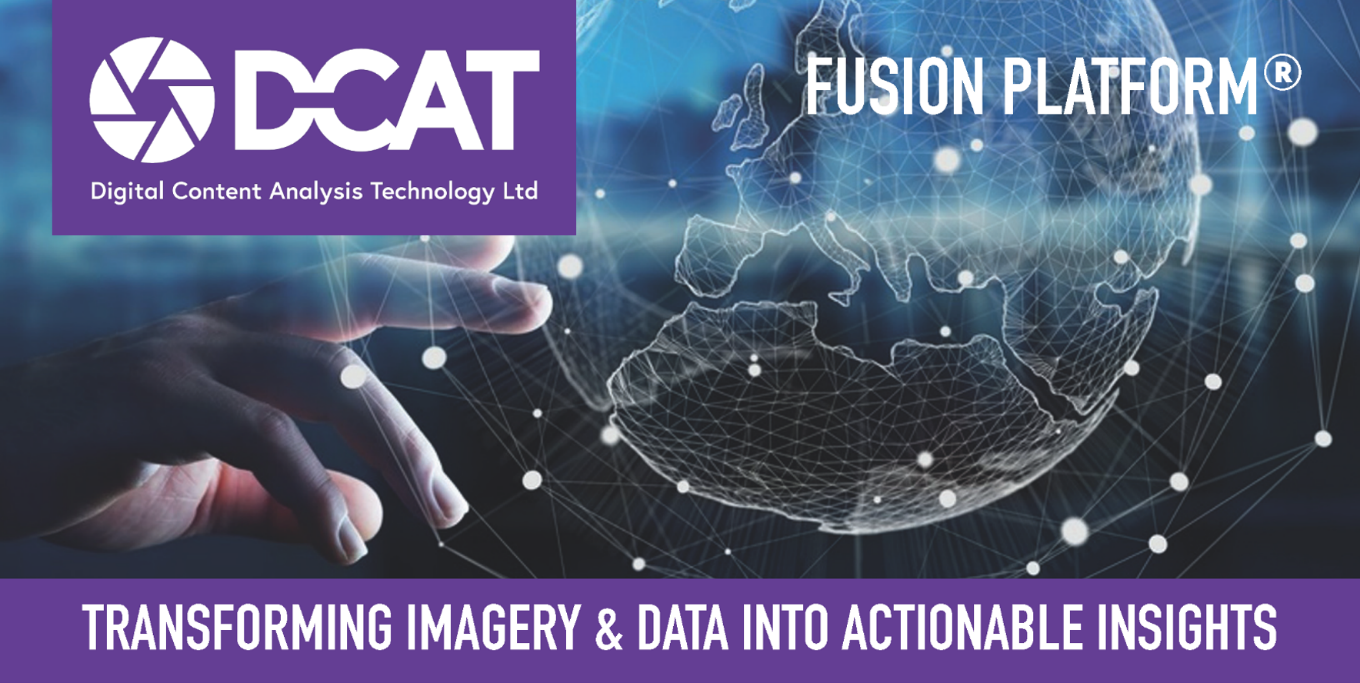 Three distinct users, Agriculture Corporates, Algorithm and Data Providers, interact with our Fusion Platform® each with their own set of business challenges. For Agricultural Corporates they want:
Efficiency savings (e.g. time, travel, raw material costs, production losses)
Increased revenues
To win additional digital based business
To be viewed as a digital agriculture leader, offering unique capabilities
For Algorithm Providers they wish to:
Generate new revenue streams for their algorithms
Broaden their reach with new services to end-user markets
Provide flexibility in licensing and revenue sharing options, accounting for scalability and performance
Allow control of when and where their algorithms are introduced
For Data Providers they want to:
Create new incremental revenue streams
Have a lower cost of customer acquisition
Agriculture Users will be able to select, configure and run Standardised Service Descriptions (SSDs) and APIs for frost damage, weed detection, yield predictions and biomass estimations across all regions in Australia. They will be charged for data and algorithm use via licence models.
Algorithm Providers can deploy their algorithms for use by service users and gain income per use. They encapsulate their algorithm code and once encapsulated, the provider uploads this to the platform, defines the required inputs, options and outputs, linking in other SSDs into the hierarchy, completes the documentation, licensing and cost model, then submits for approval and use.
Data Providers can choose to engage with the Reverse Auction, an auction driven by end user data or imagery needs. By bidding in these auctions they can agree to the end users pre-defined contractual terms and provide their data/imagery services for the duration at the agreed price and term.
Users and their needs
This demonstrator targets two types of users, agriculture corporates and algorithm providers.
This demonstrator targets three types of users, agriculture corporates, algorithm and data providers.
Agricultural corporates are agronomists of Elders across Australia, and this demonstrator focusses on the following services to improve productivity and profitability:
Monitor frost damage to reduce its financial impact on crop losses
Identify weeds within crops to create tailored variable rate weed maps that help reduce input costs and improve yields
Remotely predict crop yields months before harvest and estimate biomass on demand, to ensure accurate forecasting and providing timely crop management support
The second group of users is algorithm providers in the UK and Australia (Pixalytics, P2P Agri, Universities of Glasgow and Strathclyde), specialists in using data, including optical and radar imagery and AI, to create valuable insights. This demonstrator addresses their need to find new opportunities to commercialise their bespoke solutions.
The third group of users is data providers in the UK and USA (AAC Clydespace and HyperSat LLC), who fund. build and hold the data rights to earth observation imagery from satellites. This demonstrator focuses on their needs to attract new applications for their data, and to sell their imagery multiple times to various end users and market sectors.
Challenges for this project include:
Creating new platform technology and algorithms to provide service offerings for frost damage, weed detection, yield predictions and biomass estimation
Presenting the agricultural user with a variety of price and performance options
End-users confidence in using digital tools for agricultural decision making
Lack of ground truth data to verify performance of algorithms and AI models
Ensuring all parties engage and interact in all aspects of the project and appreciate its value
Service/ system concept
This project demonstrates an automated solution that provides different price/performance options to agricultural corporates for weed detection, frost damage detection, yield prediction and biomass estimation based on the imagery, data and algorithms used.
Users of the Fusion Platform® can opt to purchase APIs or Standard Service Description (SSDs) bundles to: remotely detect frost damage on their chosen areas; identify weeds in their fallow fields; predict yield several months before they harvest and estimate pasture biomass on demand. When deployed the user can maximise their gains whilst minimising input costs and risks. The user can compare and select the price and performance of these agriculture services dependent upon their needs and budgets throughout their seasons.
To show a variety of price and performance services the Fusion Platform® affords Algorithm/AI developers the ability to market and utilise their bespoke algorithms via our Algorithms as a Service (AaaS) Marketplace capability. Developers of unique algorithms can 'trade' and commercialise their technology through the Marketplace, via licence or pay per click agreements.
The growing needs of the agricultural users also allow us to approach the algorithm/AI developers to solicit novel or improved algorithms and models to integrate into the Fusion Platform®.
On top of this, by introducing a data Reverse Auction capability, the price and performance of the services within the Fusion Platform® can be tailored to meet end users' specific imagery or data needs. End users can then be presented with multiple price/performance options for their chosen service and data providers can bid their data to secure end user contracts.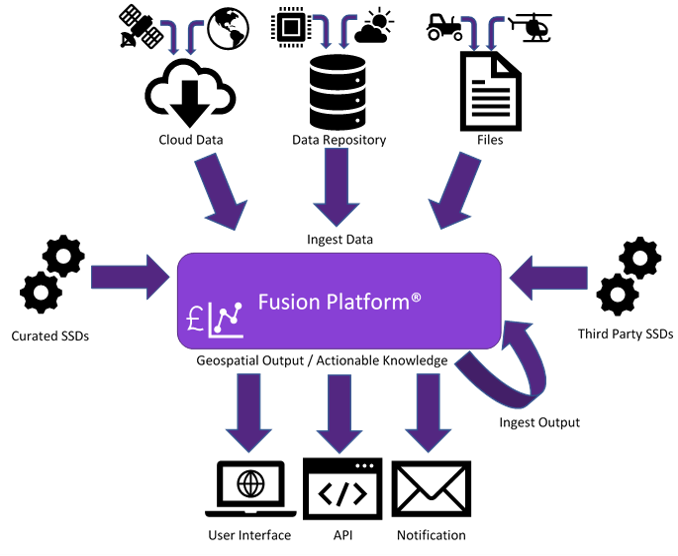 Space Added Value
The uniqueness of the Fusion Platform® is its ability to take data and imagery from multiple sources, then fuse and analyse this to deliver the most accurate and affordable solutions for our customers.
We use an increasing combination of space, airborne and ground-based assets, including public (free) and commercial electro-optical and SAR EO imagery, meta-data and third-party processing algorithms.
The public data includes Copernicus Sentinel 1, Sentinel 2, Sentinel 3 and Landsat 8. We aim to include SAR imagery that may be available from Canada's Space Agency RADARSAT Constellation Mission (RCM) specifically optimised for agriculture monitoring purposes. Other imagery is provided via Hyperspectral sensors.
Global Navigation Satellite Systems are also used when collecting ground sensor data and for prescription mapping via farm machinery.
The ability to automatically choose, fuse and analyse an array of data and imagery sources is what sets us apart. A lot of competitive services have either singular image sources e.g. satellite or drone imagery, or a limited set of input sources, and have fixed processing chains and analysis models. Whereas, Fusion Platform® customers can select the price and performance service options that best address their individual needs.
Current Status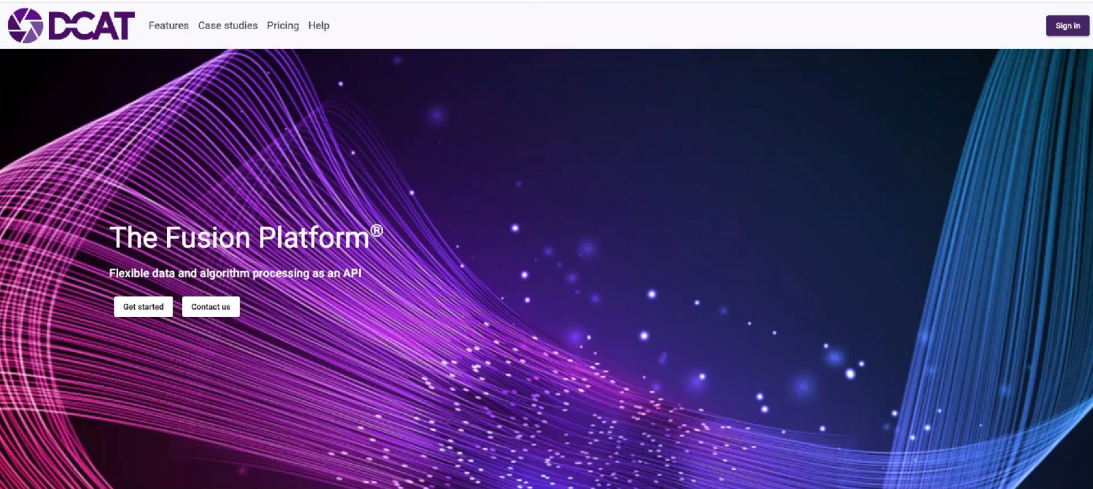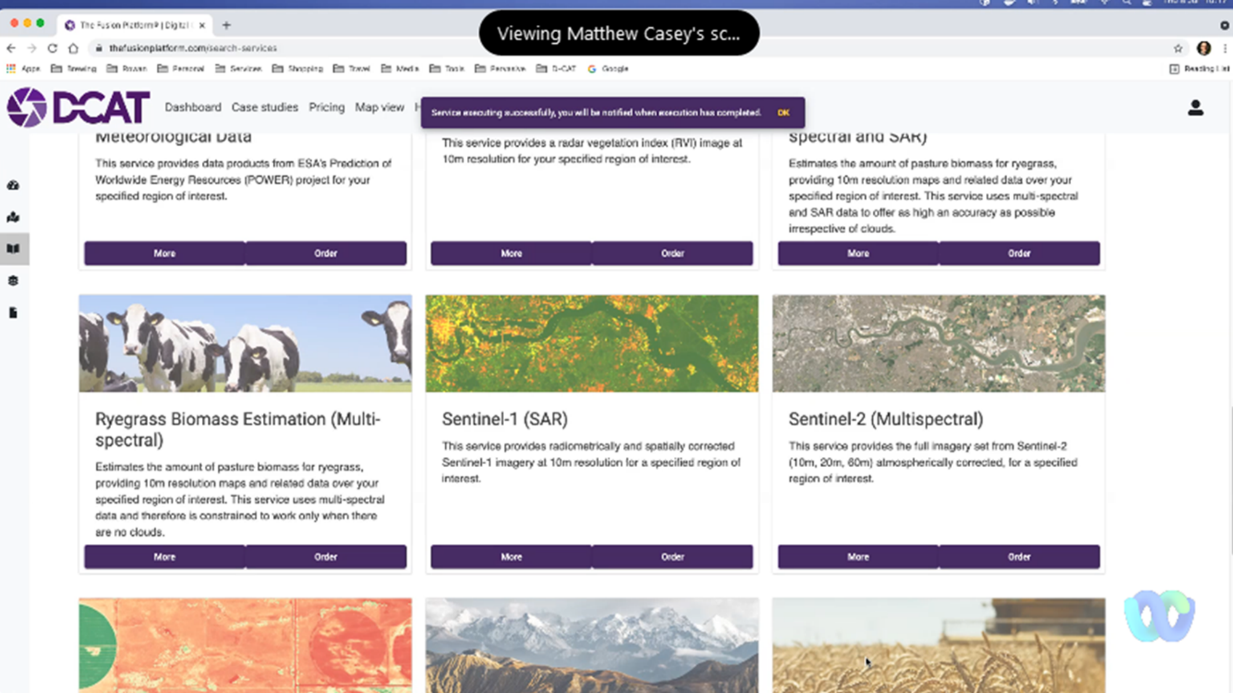 Successfully completed all stages of the demonstration project, covering the development of the 4 main agricultural SSDs (weed and frost damage detection, wheat yield prediction and biomass estimation), the introduction of an Algorithm as a Service functionality, a data Reverse Auction capability and the further enhancements of these agricultural services. Additionally, more SSDs have been created and hosted within the Fusion Platform®.
All the services developed to date have been successfully piloted by the relevant user groups (Elders, Pixalytics P2P Agri, AAC Clydespace and HyperSat LLC) and their unique value propositions verified and validated.
Prime Contractor(s)
Status Date
Updated: 22 November 2021
-
Created: 09 June 2020