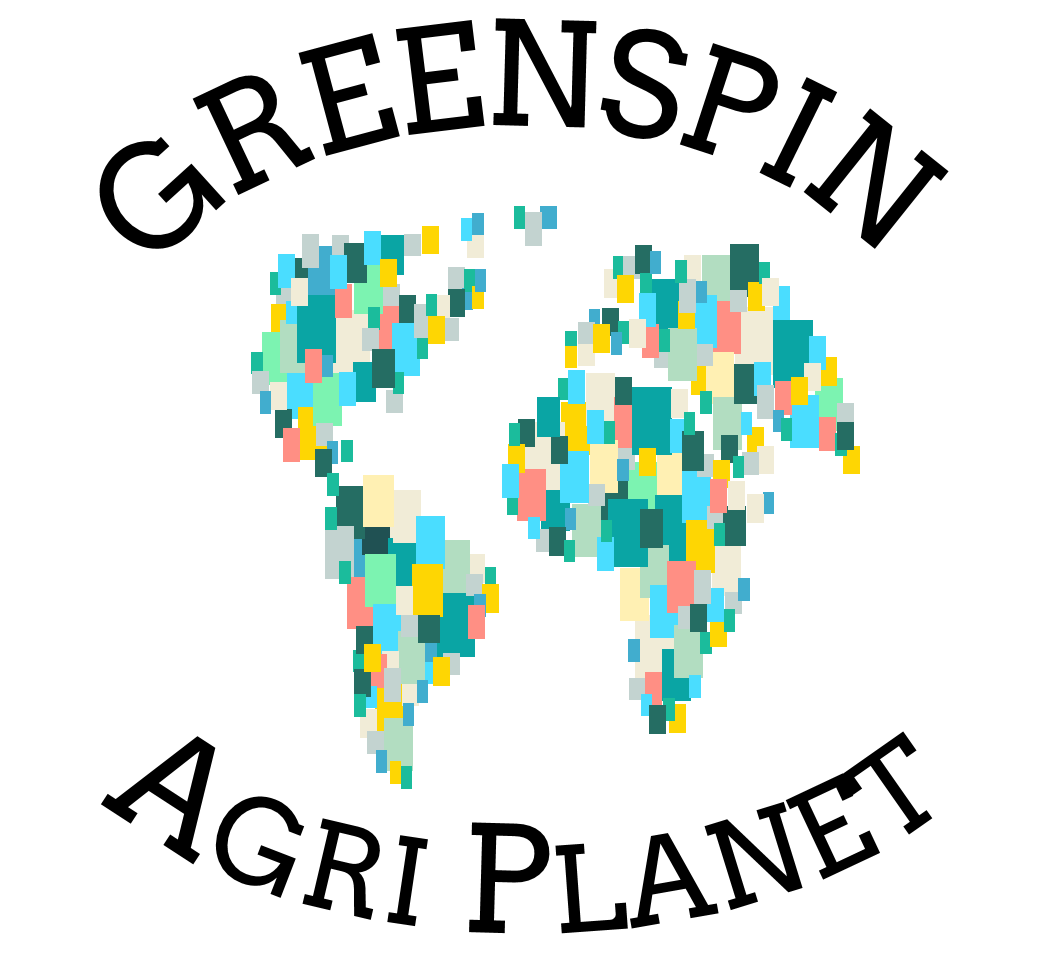 Objectives of the service
The decision makers in the Agri-Business value chain - often producers, consultancies or national control authorities - do not have near real-time insights on the conditions of agricultural parcels or single plants that are of the essence for their operational business decisions. On the one hand, they are missing insights on current and historical biomass amounts, nutrient supplies and yields of the fields of a farm or the trees of a plantation. On the other hand, they are missing insights on expectable production amounts and yield qualities of different locations, regions, countries or continents. Finally yet importantly, agricultural control authorities have the obligation to control the land use of farmers and their compliance with national regulations.
GREENSPIN AGRI PLANET offers near real-time insights and quantitative metrics on the conditions of agricultural parcels, single plants or larger regions by automated satellite data analyses and collected crowd information. The company GREENSPIN specializes in machine learning procedures and deep learning algorithms like neural nets as a key element for big data analytics in earth observation. The GREENSPIN online GIS-application offers the generated insights and complimentary tools. GREENSPIN also integrates the services of GREENSPIN AGRI PLANET into stand-alone software solutions of its partners.
Users and their needs
Provider of smart farming software solutions and/or consulting for farmers are in need of an online GIS-application for the detection of different yield zones, for the automated generation of compliant fertilizer application maps or for the planning of soil sampling campaigns. Challenges are to meet regulations and practical requirements in the best possible manner.
Large producers of agricultural goods who also act as retailers or processors are in need of an online GIS-application that automatically integrates analytics for the whole plantation with those of single trees.
Public authorities are in need of a service for nationwide recognition of cultivated plants and recognition of violations against the regulations. Challenges are the amount of land cover types (more than 200) that have to be distinguished, the reliability of results and the significance of quality assessments.
In principal users from most countries of the world could be interested. Till now GREENSPIN has made contacts with potential customers that are interested in GREENSPIN AGRI PLANET services for the following countries:
Germany & Eastern Europe, Russia, Brazil, Nicaragua, USA, China.
Service/ system concept
GREENSPIN platform will offer:
Historical yield level analyses within seconds to generate management zones
Combination of different years with results provided in short time.
Continuous and near real-time metrics on biomass growth and nitrogen uptake within the season for automated generation of compliant fertilizer applications maps
Semi-automated planning of smart soil sampling campaigns
A satellite & drone data based online GIS-application for large producers of agricultural goods who also act as retailers or processors:
Detection and labeling of single trees for individual assignments of metrics and conditions
Continuous near real-time metrics on nutrient supply, water shortage, yield levels and time of harvest
Projections on yield levels and quality
A satellite data based decision service for public authorities regarding:
Cultivated crop or land cover type per parcel
Violation of regulations per parcel (yes or no) regarding the following topics:

greening conditions
mowing dates
tillage dates
sowing dates
harvest dates
The users of GREENSPIN AGRI PLANET get different insights or predictions, which GREENSPIN trains and validates by using their feedback. This way crowd information and artificial intelligence makes GREENSPIN AGRI PLANET a learning system.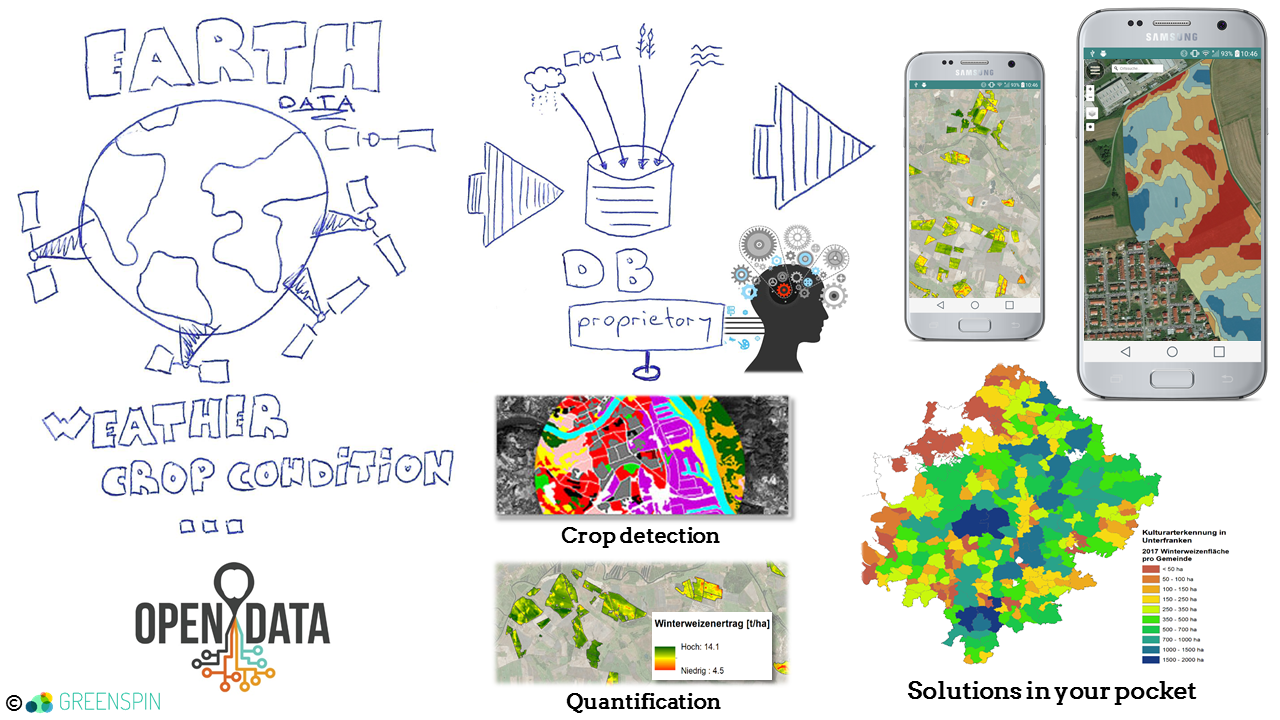 Space Added Value
GREENSPIN AGRI PLANET relies to 100% on the automated processing and analysis of Earth Observation data from the Copernicus satellites Sentinel 1 and Sentinel 2. It takes advantages of these Earth Observation data sources to offer near real-time insights at affordable costs just a few minutes after the data is available for processing. Due to the full automation of data analytics, GREENSPIN AGRI PLANET services are extremely fast, scalable and includable into our partners' software solutions by APIs capable of real-time processing.
The absence of costs due to additional equipment for data acquisition and working hours is space added value, which makes GREENSPIN AGRI PLANET a very efficient solution. The quantification and comparability of error sizes in time and space are additional benefits.
GREENSPIN AGRI PLANET also works on generating new levels of insights regarding agricultural production areas. We therefore combine the space assets Satellite Navigation & Earth Observation by integrating located crowd information into the artificial intelligence based satellite data analytics.
Current Status
Please update current status with the following text:
The Kickstart activity GREENSPIN Agri Planet has ended successfully. During the last six months, the Agri Planet service was presented to potential customers and partners along the agricultural value chain. Some positive outcomes include:
Collaboration with an international company that provides smart farming software and consulting
Ongoing project with a German national subsidy control authority on the efficiency of satellite data analytics for statewide subsidy controls
Customer project on nation-wide estimation of crop area and crop yield for the growing season 2018 in Germany.
The next step will be to propose a follow-up demonstration project with the goal of further tailoring the Agri Planet service to customer needs.

The next step will be to propose a follow-up demonstration project with the goal of further tailoring the Agri Planet service to customer needs
Prime Contractor(s)
Status Date
Updated: 11 July 2018
-
Created: 14 February 2018