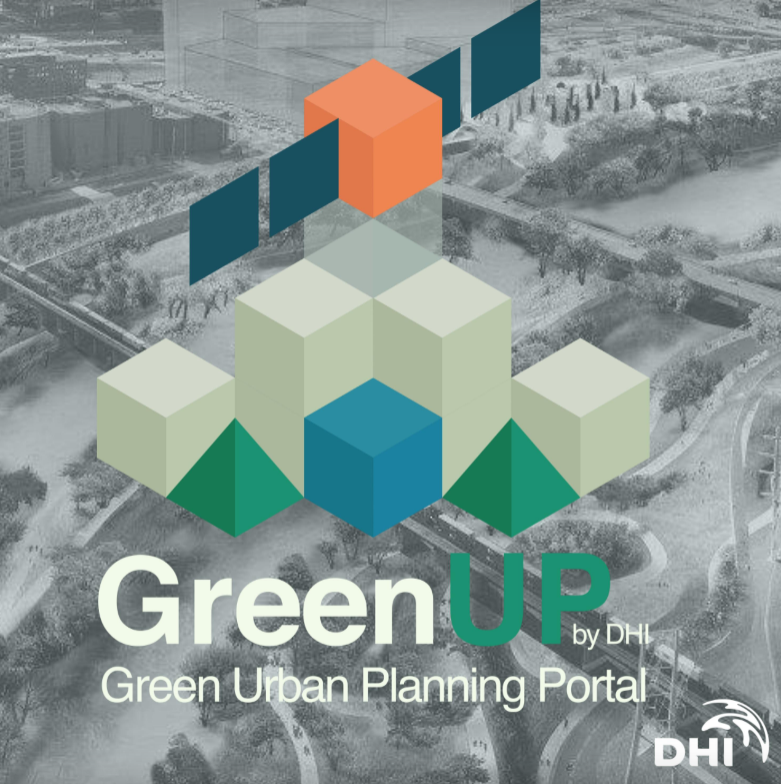 Objectives of the service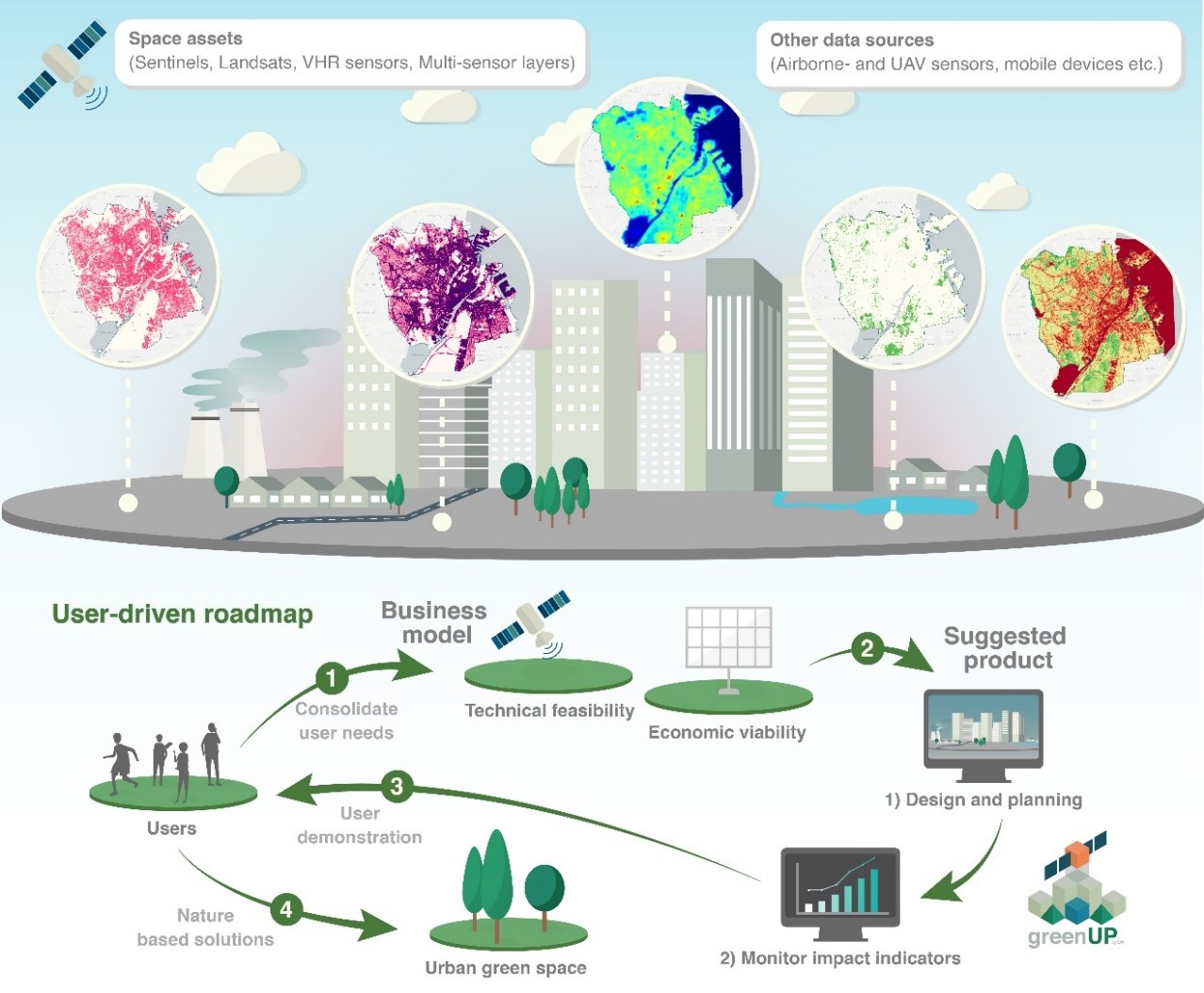 Conceptualisation of an urban landscape with green and blue spaces with potential impact indicators (e.g., impervious surface, land surface temperature, grassland mapping, greenness index, etc.) derived from space assets and other data sources. Proposed user-driven roadmap includes: 1) consolidating user needs and defining a business model 2) developing mock-ups of suggested services, 3) demonstrating and validating the system and associated services 4) coordinating implementation of the services in a potential demonstration project.
Both people and biodiversity benefit from healthy and abundant natural environments in and around our cities. These natural environments, also called blue (water) and green (vegetation) infrastructure, are essential for creating liveable, sustainable, and resilient urban areas.
The aim of GreenUP is to assess the market potential and feasibility of an Earth Observation (EO) supported service - assisting local authorities, city planners and other stakeholders involved in initiatives and activities to develop sustainable urban environments. We envision a cloud-based service providing easy access to a variety of EO-based maps, scenario models and metrics for planning, designing and monitoring urban green and blue spaces.
Our motivation is to develop a sound business case for an EO-based service for two distinct phases of implementation and application:
Provision of transparent, evidence-based information supporting decision-making processes to identify overall potential, planning and siting for nature-based solutions (NBS) during the initial urban planning stages.

Provision of quantitative and continuous information to assess and quantify the impacts and effects of Nature Based Solution (NBS) induced implementation of green/blue infrastructure, as well as the effect of past policies related to NBS strategies.
Users and their needs
At the core of the project are the interests of the users. For that reason, user-driven development is a key component and extensive user involvement forms a central building block of GreenUP. An agile and iterative approach, user dialogue and involvement are needed to ensure that the building blocks of EO technology are put together in the right way and transformed into actionable tools and instruments which address the actual core needs of the users. Therefore, we value discussions with anyone working on urban development and activities related hereto, including, but not limited to local authorities, urban planners, architects, engineering consultancies as well as experts on activities, climate adaptation, green development, and urban ecology/sociology.
We mainly target Danish and Swedish user communities (e.g., municipalities of Copenhagen, Aarhus and Aalborg as well as companies and organisations working in these countries) during the requirements consultations, but the service itself has a global scope, and by using the vast international network of DHI we included needs of stakeholders in other counties as well.
Key user needs as expressed by potential users include information related to:
Urban vegetation

type of trees

number of trees

size of trees

height of vegetation/vegetation type,

vegetation health

Roof types

green roofs

roofs suited for solar panels

Urban heat islands

High risk areas

Mitigation potential

Year-to-year anomalies

Stormwater management

Impact scenario modelling of NBS
Service/ system concept
GreenUP is an integrated Urban Nature Based Solutions (NBS) monitoring and modelling environment, providing easy access to up-to-date green urban relevant geodata and metrics sources (including derived from satellite data as well as) and scenario-based simulation to experiment with NBS planning and estimate impacts.
The non-specialist environment is implemented in a web application with a user-friendly graphical user interface (GUI), reachable accessible through any common web browser.
GreenUP will comprise the following three modules:
Urban Heat mitigation: to model impact of new NBS for urban heat mitigation

Stormwater retention potential and water quality to model impact of new NBS on annual stormwater retention volume and the associated water quality benefits

Green-Blue Metrics: to map blue and green urban objects (e.g. trees, green roofs etc.) and derive statistics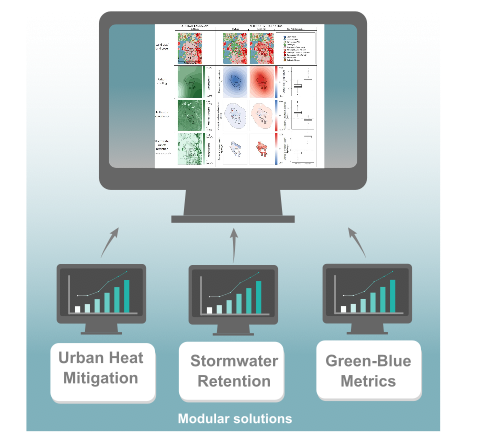 As illustrated in the figure above, GreenUP targets three different use cases 1) Urban Heat Mitigation module to investigate impact of potential new NBS on urban heat islands, 2) Stormwater Retention module to model impact of potential new NBS on annual stormwater retention volume and the associated water quality benefits and 3) Green-Blue Metrics module to map green and blue objects and derive quantitative metrics.
GreenUP targets three primary user groups: 1) Local authorities; 2) Private companies within built environment disciplines and 3) Development Agencies, United Nations Agencies, Non- governmental organizations, International Finance Institutions (IFIs) etc. (hereafter collectively referred to as Development agencies+). All user groups are either involved in the planning phase of NBS or the monitoring of green/blue areas, or both.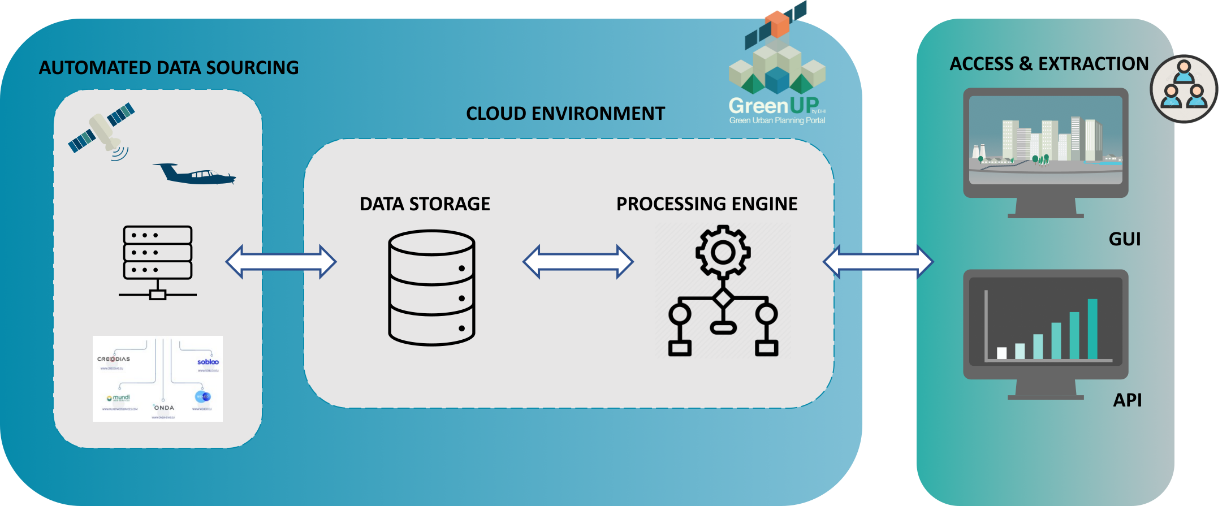 Preliminary high level system design of the GreenUP on-demand service, with the main building blocks of an automated data sourcing module, a cloud environment for storage and execution, and access to the portal via GUI or API incorporating a secure authentication module.
Space Added Value
Information will be generated from various Earth Observation and Remote Sensing data sources, historical archives and recent imagery, supplemented with other environmental observations, all compiled into a city data cube. However, input data will depend on the information needs for specific use cases based on the user requirements consolidations.
Copernicus services
Reflecting on the updated high level system architecture, existing Copernicus services (e.g., Land Monitoring and Climate Change Services) as well as other existing data sources of relevance (e.g. demographic data, biodiversity data, etc.), forms part of the collective data infrastructure of the proposed service. GreenUP will make best use of existing services available and enrich/complement these with additional EO data products and services to address information and data gaps where applicable.
Complementing Copernicus services
In most cases, complementary EO products will primarily be used and produced to address spatiotemporal limitations of existing datasets (e.g., 3-year temporal resolution of CLMS HR layers) to ensure a continuous and consistent dataset and maintenance of timely indicators.
Data flexible integration with Copernicus services
The final selection of auxiliary data sources and services to be integrated in the service will be conducted through consultation with the user/client communities to ensure complementarity between their data and information needs and the service capabilities and data content.
Current Status
In AprilMarch 2023, we have succesfully completed the GreenUP feasability study with the following outcomes.
The stakeholder analysis confirmed that there is a general interest in GreenUP and indicated the potential users to address, Local authorities, private industry stakeholders operating in the urban domain as well as Development Agencies+, all of which are involved directly in planning, implementing and monitoring NBS activities. Nevertheless, while the feasibility study has concluded that EO technology and modelling capabilities has high potential to address many core needs and requirements, an incisive demonstration of the value created for the users, through for example the quantification of time and/or cost savings in a practical case during a pilot stage, is needed.
The technical feasibility assessment of the service confirmed the strong initial position of DHI, since several technical components are already available in the organisation. In fact, DHI will largely benefit from other services comprised in the current company portfolio, which already use automated ingestion of satellite data and on demand analytics components on cloud-based platforms. The advantages will thus come from the savings in development costs, but also in maintenance costs, as these can be shared with other services using common components.
The analysis further indicated that there is also a business case for GreenUP. Sales will be sustained by these unique selling points:
Providing integrated EO data products and scenario modelling capabilities in a single platform.

Providing scalable and continuous urban green/blue monitoring through dynamic analysis of EO data.

Targeted service focussing specifically on providing decision making support relevant for NBS site location and monitoring.

ensuring flexible, easy, and efficient access to the data, exactly where the information is needed in the workflow of the end-users.
Prime Contractor(s)
Status Date
Updated: 27 March 2023
-
Created: 20 September 2022