Objectives of the service
Avoiding adverse weather is a major concern for aviation. Weather is a dynamic phenomenon which evolves across time and space. Together with the moving aircraft, the selection of the best route (i.e. safest and most effective) can be challenging for pilots and flight operators. Even with the availability of accurate weather forecasts for an area, questions, such as whether to fly in between two moving storm cells, or whether it is possible to land before a heavy rain starts, remain a challenge. As a consequence, one of the main causes of weather-related accidents in aviation is when an airplane flies into adverse weather conditions, such as highly convective clouds, icing, storm, or heavy precipitations.
Meandair provides data and services to navigate around such weather. Given an accurate short/mid-term weather forecast, the developed suite of algorithms covers queries regarding safe flight routes between two waypoints. The forecast is in the form of a moving weather pattern representing moving clouds, precipitation and others. The flight queries are additionally parametrised with times for the route. The weather data provided by the Meandair Service is available for both the flight preparation phase and during a flight.
The meteorological data and planning services are not provided only as a stand-alone application for mobile devices, but also via an application programming interface (API).
Image credit: Meandair, B.V.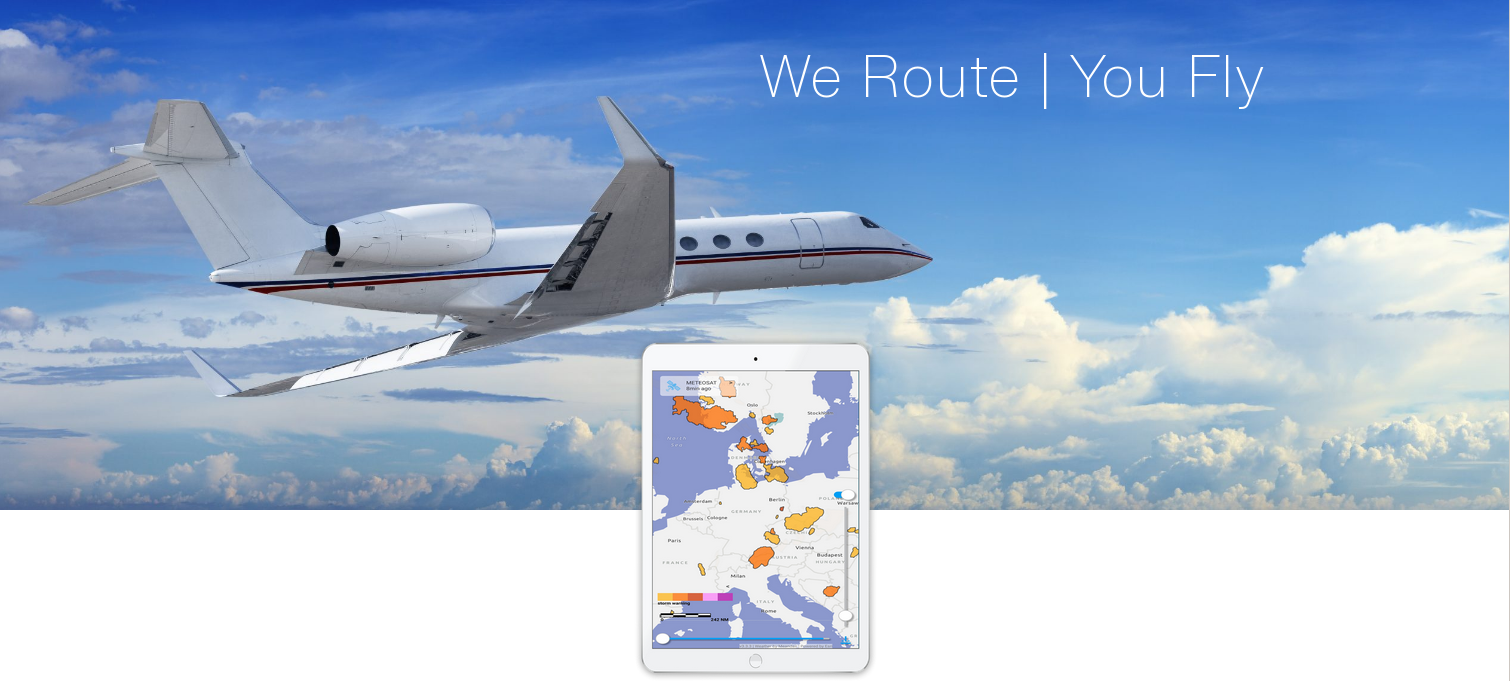 Image credit: Meandair, B.V.
Users and their needs
The target user group of the Meandair service are aviation pilots (for both general and commercial aviation), flight planning personnel preparing flight plans, airports and developers of aviation applications.
These users have various needs at difference phases of the flight:
During flight preparation:
Before the flight, monitor changing weather conditions (along the flight plans).

Visualise the interaction of the future flight plans with the most accurate moving weather forecast.

In a case of a detected interaction of the prepared flight plan with adverse weather, adapt the flight plans to maximise safety (i.e. avoiding meteorological hazards) and effectiveness.
During flight:
Pilots want to see current and future weather conditions in 3D together combined with their current position and flight plan.

Pilots need to adapt their current flight plans according to the changing weather conditions.
In addition, for developing flight applications:
Developers of the flight applications want to provide the high-quality weather data to their customers - pilots.

They want to be able to regularly download the latest weather nowcast and forecast and integrate them into their applications.

Their requirements on the API are simplicity, reliability, variability and compliance with standards.
The Meandair service targets global coverage (primarily focusing on European and North American countries).
Service/ system concept
Routes generated by the Meandair service cover full 4-dimensional information about the flight. The target distribution channels to get the service to the end-user include:
software application for mobile devices; and

application programming interface to the 3rd party flight planning and management systems.
Using the Meandair service, pilots will benefit from convenient flight planning and automated calculation of safe flight plan alternatives together with a visual inspection of interactions of their upcoming flight with the forecast adverse weather will enable pilots to make safer and faster decisions about their upcoming flights. During a flight, pilots can rely on downloaded flight plan and weather data usable even without Internet connection in the offline mode

Meandair Service value chain.
Space Added Value
ThThe Meandair service relies on the combined use of three space assets:
Satellite Communications, enabling communication between the computational cluster and the aircraft. The required weather and flight plan data can be hardly communicated using any other existing technology than satellite communication to maximise coverage at operating altitudes. Existing terrestrial cell phone networks mostly do not cover common cruise flight levels above 5000 feet.

Global Navigation Satellite System, providing aircraft's actual position to the Meandair client front-end. Global Navigation Satellite Systems (GNSS) are used in practically all airplanes nowadays. The ground-based radio navigation systems can be understood as an alternative technology, however Meandair's service needs a precise an up-to-date 3D position of the airplane in-flight. Such functionality can only be achieved by GNSS.

Earth Observation meteorological satellite weather data, an important data stream used to locate adverse weather and aggregate it into an accurate space-time atmospheric model. Meandair's service depends on global, precise, and up-to-date weather information and the best forecasts available. Modern weather forecast systems use data assimilation from various weather observation data sources including ground based radars, weather balloons, and meteorological satellites. Although weather forecasting can be done without satellite-based earth observation data, these are crucial piece needed to improve accuracy of the forecast quality, especially for the upper layers of the atmosphere.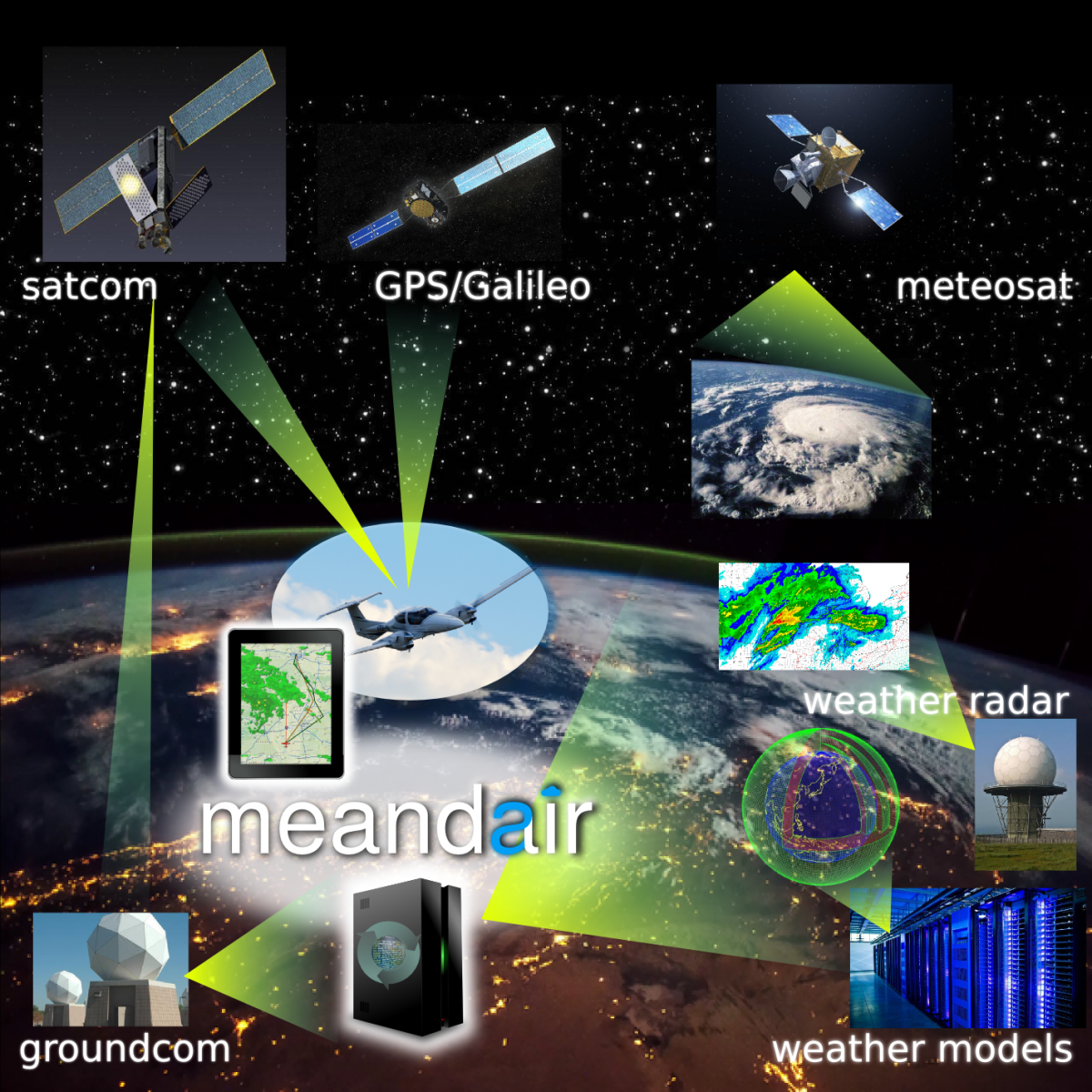 Usage of space assets by the Meandair Service.
Current Status
Following a Feasibility Study concluded in 2019, the Meandair Demonstration Project kicked off in February, 2020. Following the consolidation of the user requirements as well as intensive work on the business proposition, and the testing scenarios, the activity successfully passed the Factory Acceptance Test (FAT) and Site Acceptance Test (SAT) milestones in April 2022. All the proposed (sub-)systems of the service are designed and implemented. All the factory and on-site tests were successfully passed including the test flight performed from EHRD (Rotterdam/The Hague airport, the Netherlands) to LFAV (Valenciennes, France) and back in June 2022. The Final Review took place in October 2022.
The mobile device application already reached more than 2230 unique downloads and it currently provides over 13 weather products in European and North American regions. The flight plan input and visualisation is part of the application as well, including the automated route planner, which can generate and optimize a flight route around adverse weather under VFR and IFR conditions.
3 weather custom-tailored products were licensed to SkyDemon (#1 flight navigation app developer in Europe) and integrated by the 3rd party API. After a successful year of supplying the weather data for SkyDemon's new Flyable Conditions feature, SkyDemon and Meandair have extend their relationship for the next several years. The Flyable Conditions has quickly become a very popular feature for SkyDemon. Their pilots' positive feedback focuses on the accuracy of the short-term now-cast data and the two-hour look-ahead function at the pilot's location.
The SkyDemon application with Meandair weather data overlay showing surface visibility conditions. Image credit: Divelements Limited, project SkyDemon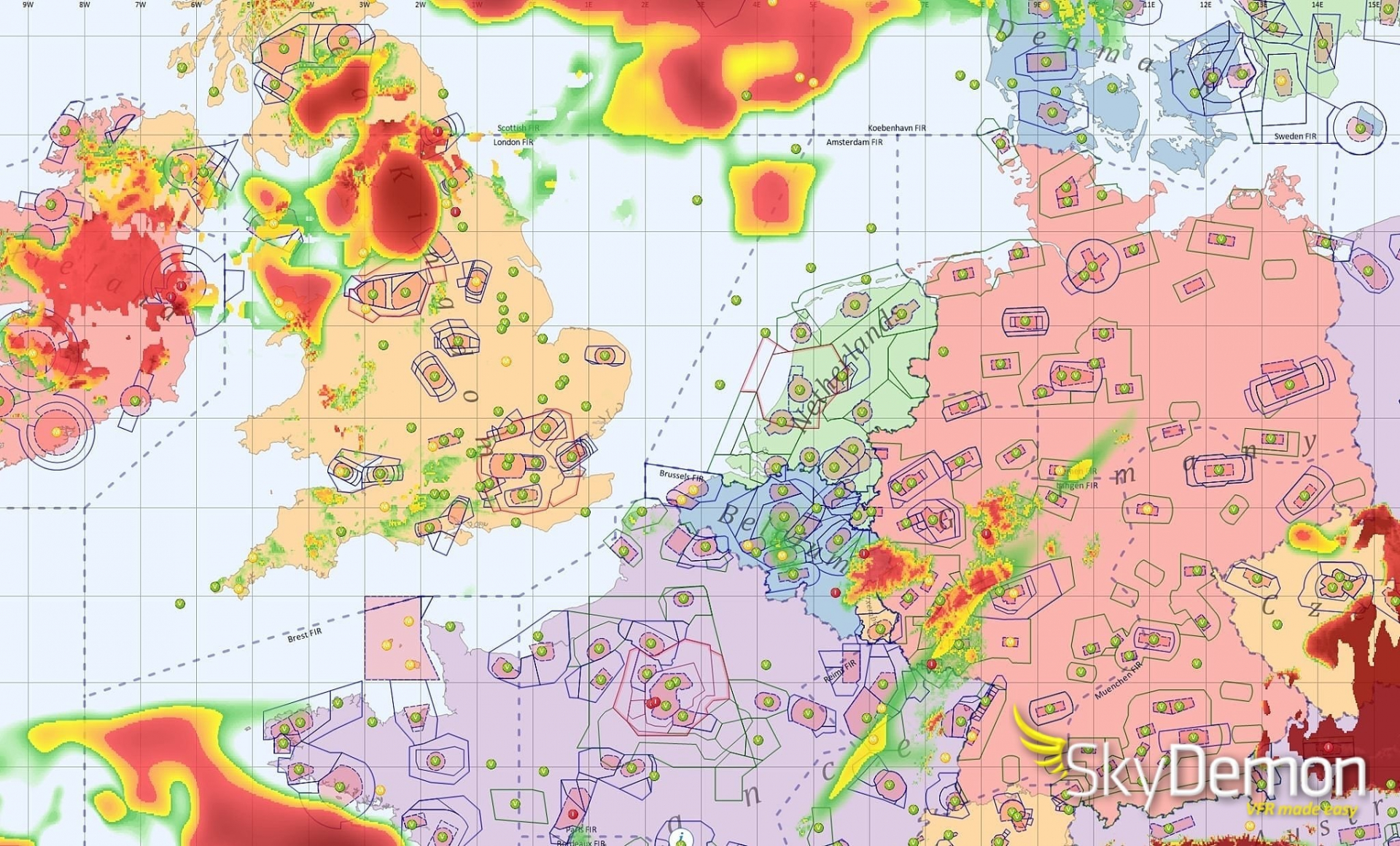 The SkyDemon application with Meandair weather data overlay showing surface visibility conditions. Image credit: Divelements Limited, project SkyDemon
Animation of the Meandair tablet application showing rain probability and convective rain cross-cut with a flight plan.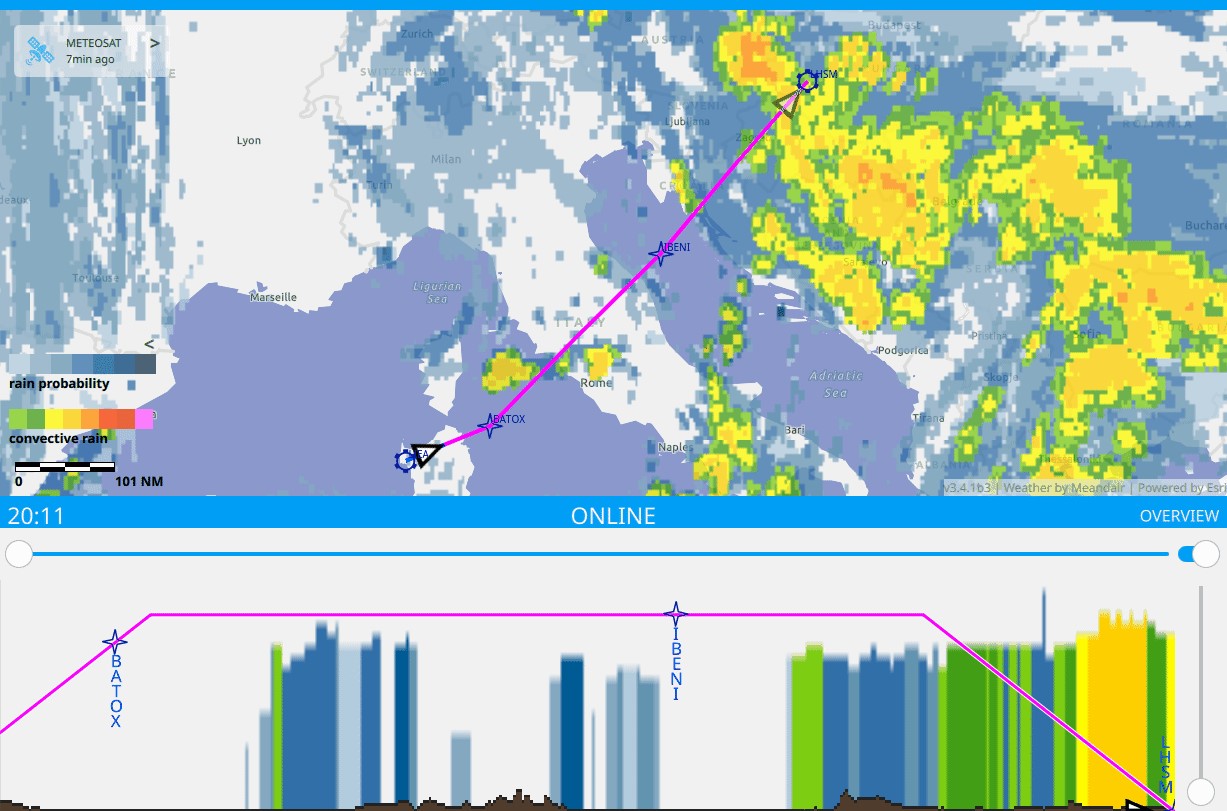 Four weather data products shown in the Meandair tablet application: rain probability and convective rain (top-left), cloud cover (top-right), thunderstorm warnings (bottom-left), and ground visibility with navigation points (bottom-right).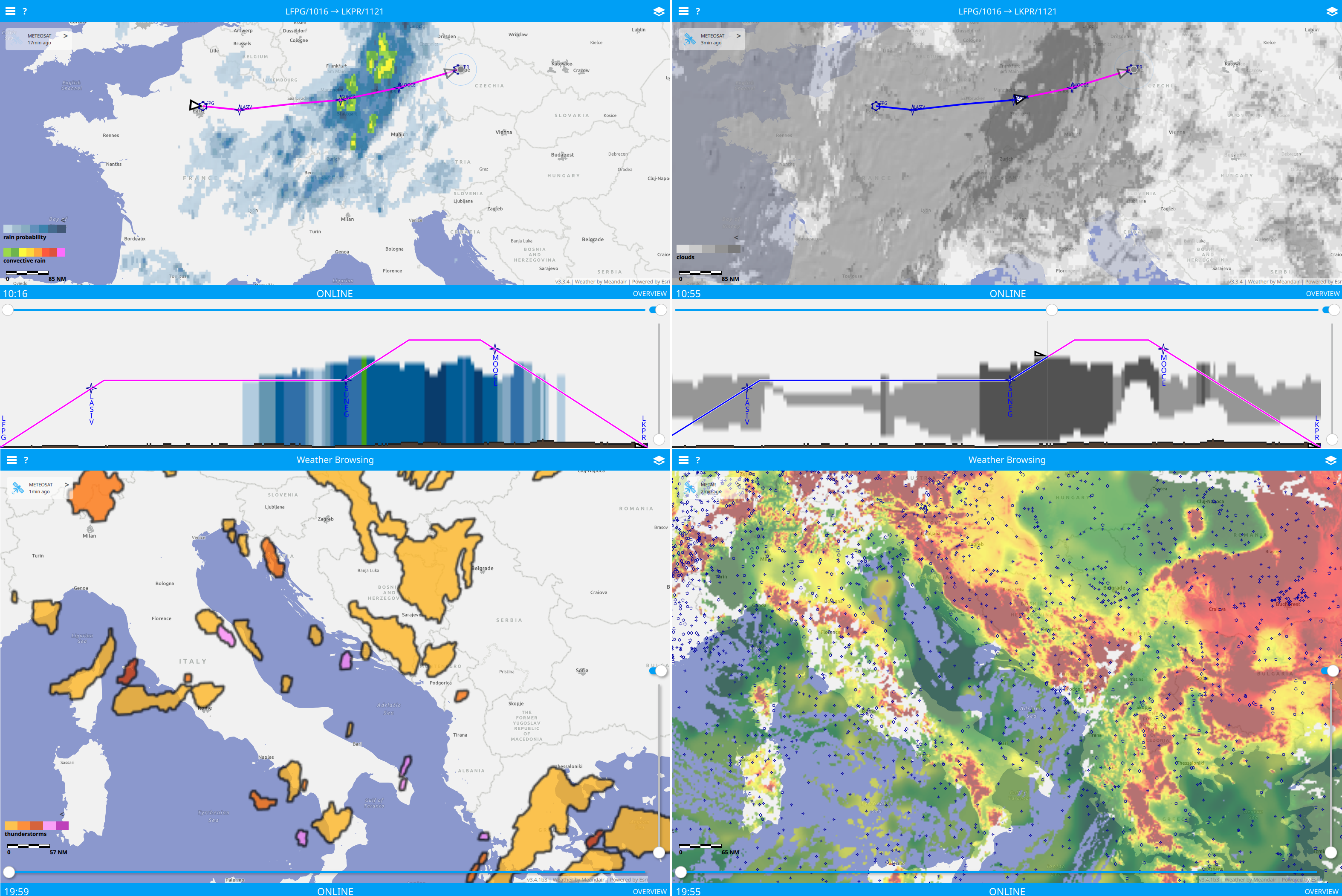 Prime Contractor(s)
Subcontractor(s)
Status Date
Updated: 11 October 2022
-
Created: 15 February 2021