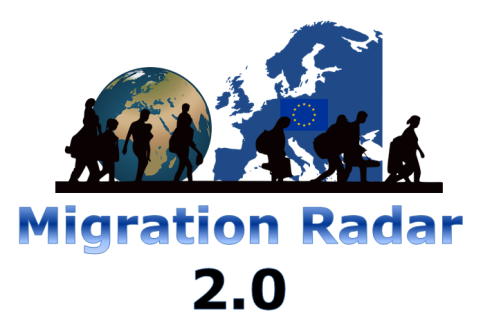 Objectives of the service
Migration is a complex and multi-faced phenomenon and has many stakeholders involved. Although migration has existed through-out time, the migration phenomenon has escalated immensely in recent years, amongst others due to the tense situations in the Middle East. This has caused many challenges for all organizations involved in the process. These challenges include humanitarian aspects but also practical and logistical issues that need to be solved in an extremely short term.
The vision of Migration Radar 2.0 services is to provide stakeholders with a more accurate forecasting of migration flows, by coordinating the alignment of information provisioning harnessed from existing migration related data sources with innovative insights from big data sources such as space assets and social media.
The identified services revolves around the usage and analysis of the following big data sources:
Social Media Analytics : Analysing social media data allows for better understanding of the behaviour and sentiments of crowds at a particular geographic location and a specific moment in time, which can be indicators of possible migration movements in the immediate future. Some service applications envisioned towards helping stakeholders are:

Multi-lingual Social Media Analysis;
Sentiment Analysis;
Web search Analytics.

Earth Observation Analytics: Owing to its continuous spatial (geographic extent) and temporal (frequency of data collection) data coverage, space data sources (optical, radar) can supplement methods and applications for migration related activities by linking them to a "geographical" attribute (GNSS). Some service applications envisioned towards helping stakeholders are:

Image classification and analysis;

Earth Observation (EO) change detection analysis;

Socio-economic forecast analysis.

Population Analytics: Migrants or displaced people actively move from their place of origin to other destinations and these movements are irregular most of the time. Thus a need arises to understand their demographics, as it will help in defining strategies and policies towards emergency preparedness and asylum policies in a coherent and comprehensive manner. Some service applications envisioned towards helping stakeholders are:

Population mapping

Origin destination analysis

Early Warning System: Combining space data with social media data will enable the key users to obtain valuable information on migration flows. The EO data will generate media data tags to be researched and vice versa. The two data stream can be used to validate each other. The result can be indicators of future flows, initiators for movements, routings, as well as information about the composition of people in terms of origin, age, gender and will thereby constitute an Early Warning System.
Users and their needs
During and leading up to the feasibility study, CGI and Statistics Netherlands (CBS) engaged multiple stakeholders towards exploring their needs. Getting to know their processes, procedures as well as their potential for improving their work (output), CGI and CBS gained valuable insights. These were used to define key acceptance requirements (KARs) which became building blocks for the service definitions.
These are:
Improve the monitoring of migratory movements that may lead to migration flows into Europe;

Improve the forecasting of migratory flows towards Europe as a possible destination;

Relate information extracted from social media data to EO data in order to improve understanding of (changing) migratory flows;

Validate the relation by means of (at least) one use case;

Offer configurable filter options so that the user can search for a location, language, time and topic.
Service/ system concept
Since MR2.0 is intended to cater to diverse clients and based on their critical requirements, it is envisioned that there will be customized solutions for each client, as shown in the figure below.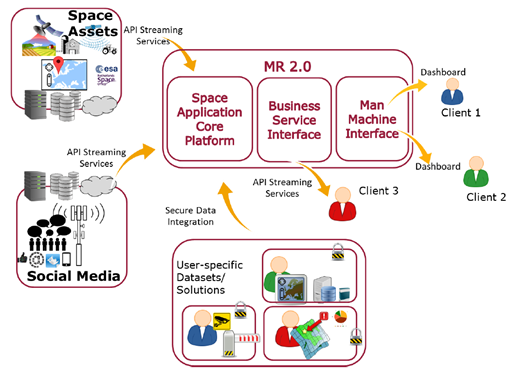 Flexibility is key and will be the pillar of the foreseen system architecture of the demonstrator.
Space Added Value
Owing to its continuous spatial (geographic extent) and temporal (frequency of data collection) data coverage, space assets can be used to augment existing methodologies in migration related data collection and management by linking them to a "geographical" attribute.
A promising application in the context of migration is "Spatio-temporal change detection", where changes in geographical area over time can be analysed to generate insights about migration. Additionally, change detection can augment exiting migration related models and be used for validation, using historical (space/satellite/ EO) datasets.
Applications:
Usage of EO data in this regard can be divided into two major categories:
Direct Analysis: Performing a time-series analysis at a defined geographic location to enable change detection of a particular feature relevant for migration. This can be tracking the movement of people or goods or detecting anomalies;
Indirect Analysis: Linking EO data with other GIS administrative data and various biophysical, socio-economic indices (such as food security, drought probability, food cultivation potential, vulnerability to natural disasters) that can be used to predict migration flows for the coming year.
Satellite navigation is broadly used to geo-reference various (big) data sets.
Current Status
The MR2.0 feasibility study was successfully in January 2018.
Requirements towards the service to be called MR2.0 were derived through a series of highly interactive sessions with national (Dutch Ministry of Justice and Security, Ministry of Foreign Affairs and Immigration and Naturalisation Service) and international stakeholders (EASO, Frontex, IOM and SatCen).
To fully optimize the interaction, CGI and CBS used customized mock-ups and developed a Migration Radar 2.0 Dashboard prototype.
This Dashboard gives in a glance the possibilities of using EO data for automated change detection of temporary settlements as well as sentiment analysis in defined regions using Social Media.
Stakeholders feedback on the prototype was positive, and encourages CGI and CBS towards ongoing business development of the proposition called MR2.0.
With the outcome of the requirement analysis, CGI and CBS designed a high level architecture of the MR2.0. Important aspects that have to be taken into account are security, privacy and ethics.
In parallel a sustainability analysis was performed, making use of the Business Canvas Model and the Value Proposition Canvas [A. Osterwalde, strategyzer.com].
The feasibility study was concluded with a roadmap for future implementation and an outline proposal or a follow-on demonstration project
The next step in the roadmap is to have an agreement with stakeholders who are willing to participate in, and commit to a follow-up demonstrator-development phase.
To maximize team exposure to a very broad yet directly impacted stakeholder-group, CGI has pitched MR2.0 at the International Forum on Migration Statistics, hosted by Organisation for Economic Co-operation and Development, January 15-16 2018 in Paris.
Prime Contractor(s)
Subcontractor(s)
Status Date
Updated: 29 May 2018
-
Created: 30 November 2017