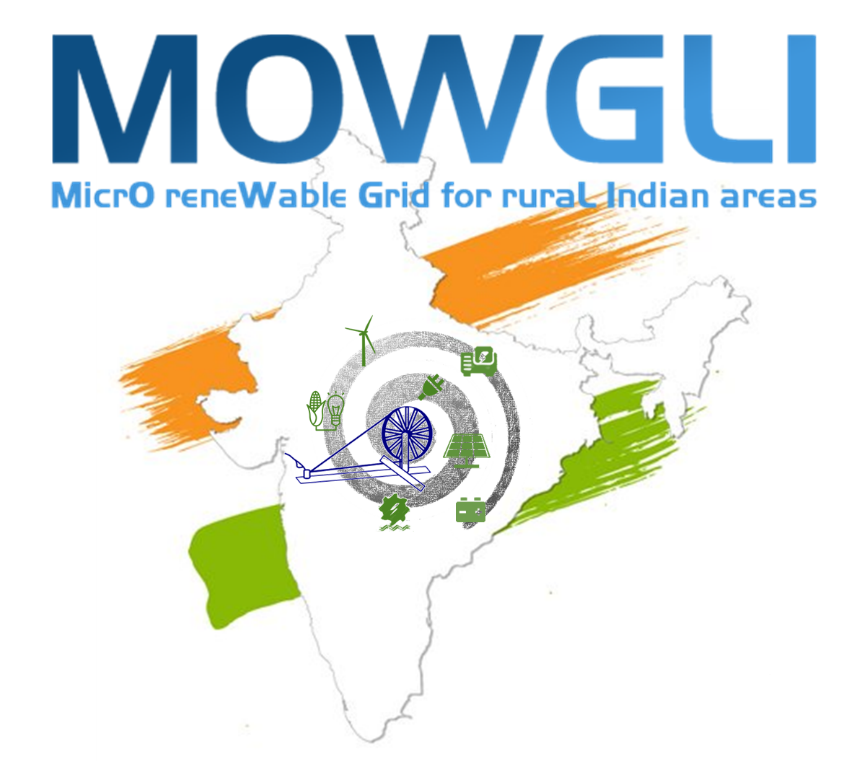 Objectives of the service
MOWGLI is a satellite-based solution that provides a set of services for optimal microgrid planning, designing, and operations and maintenance (O&M) applications in urban and rural areas of developing countries, with particular focus on India use case.

The system aims to answer the following general needs:
Energy availability: avoid under or over sizing, leading to un-correct grid management

Energy reliability: grid must be stable, to avoid black-outs

Energy quality: service quality, to avoid customer dissatisfaction

Energy awareness: aware use of energy by end-users
MOWGLI provides two main services that fulfil the needs described above:
efficient microgrid optimal design and sizing system [MOWGLI TAILOR]

efficient microgrid O&M platform [MOWGLI MANAGER]
MOWGLI value proposition
Enhanced microgrid integrated services for strategic site selection, optimal design, and management of O&M activities

Effective exploitation of EO satellites and SatCom images (provided by ESA)

Best performance and end-users services by smart digital application
The main changes introduced in the rural microgrid value chain are:
Digitization and application of digital service

Introduction of AI and Data Analytics for social purposes;

Exploitation of Satellite Asset, such as EO and SatCom

App & Web App for rural microgrid services.
Users and their needs
The MOWGLI services involve benefit for the whole rural microgrid community:
Decision makers (policy makers, funding entities, local entities, and regulators): Remote performance monitoring based on satellite communication helps the assessment of the socio-economic impact of the microgrid projects.

Microgrid designers and developers: EO satellite-based service should involve better microgrid planning (optimal site selection), design (optimal sizing) and implementation (required technology procurement) helping microgrid designer and developers to achieve long-term sustainability and return of investment.

Microgrid owner operators (MGOs): EO-satellite based Energy Management System by i-EM will support optimal microgrid management. SatCom links enable field data acquisition and operator interface by an automated remote control, fault notification, predictive maintenance, performance monitoring, supporting operation and maintenance activities.

End-users: the end-users will benefit of high quality and reliable energy availability at reasonable costs, and they will be assisted by customer care services including energy secure billing digital services, also benefit from a socio-economic perspective.
MOWGLI services market/customer segments
Microgrid (with/without anchor load: renewable based electricity generation up to 10 kW and supplying electricity through a Public Distribution Network.

Minigrid: renewable based electricity generation up to 1 MW and supplying electricity through a Public Distribution Network.

Solar Home System: PV rooftop systems up to hundreds watt.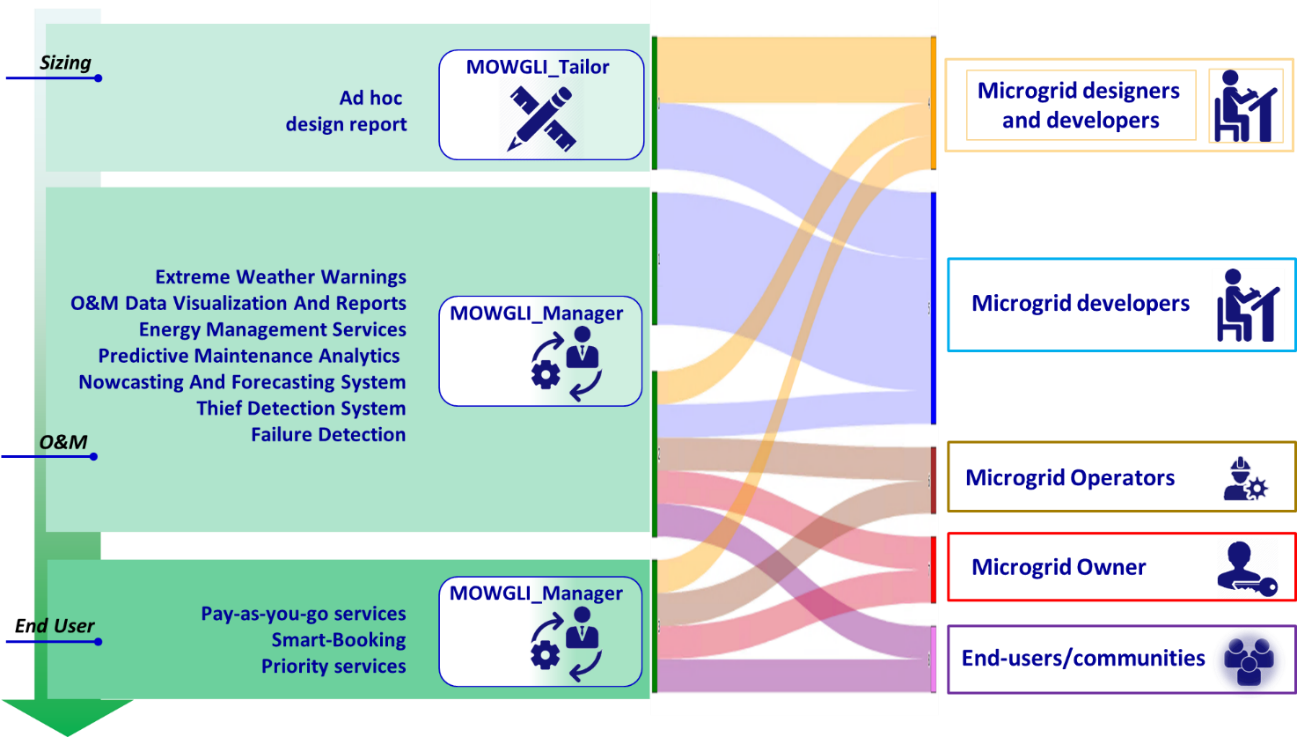 Service/ system concept
TAILOR - Microgrid optimal size, design and simulation
TAILOR is aimed to identify the best microgrid size and design, taking into account the local energy sources availability (solar, hydro, wind), exploiting EO images, and the sustainability, scalability, and stability of the microgrid to realize.
From the scenario definition, to microgrid loads (consumption and peak) and BESS (Battery Energy Storage System) definition. Main outcomes: the simulation of the different scenarios related to renewable energy and the sizing & design of all the components and the trends and analysis of generation and consumption.
The TAILOR Web Interface is available at the URL: https://tailor.x-em.eu/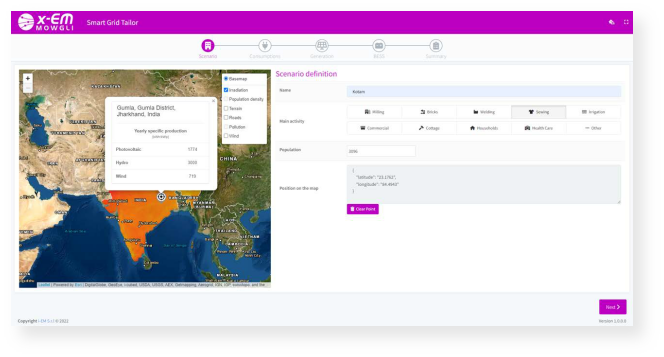 ​​​​
MAIN FEATURES

MAIN BENEFITS

Consumption and loads estimation

Renewable energy assessment: solar, hydro etc.

Microgrid optimal sizing and design

Simulation of best microgrid configuration behavior

Micro grid investment optimization

Best coupling of renewables with storage systems

Easy management and best combination of financial

KPI (ROI) and energy-related KPI (Self-Consumption)
Microgrid Operation & Maintenance (O&M) services
MANAGER is aimed at managing and monitoring the microgrid, in terms of load balancing, black-out prevention and control, microgrid component's fault detection and prediction, and sustainable maintenance strategy.
The "portfolio overview" reports the main information of the microgrid: daily self-consumption, data quality of each signal, number of warnings of each component, last update. For each microgrid, there are detailed section of: real-time overview, data analytics, forecast (of generation and consumption), calendar of grid activities.
The MANAGER Web Interface is available at the URL: https://manager.x-em.eu/
MAIN FEATURES

MAIN BENEFITS

Real-time monitoring

Data Analytics for possible component faults

Forecast of generation and consumption

Calendar of grid activities

Cost optimization of O&M activities

Long lasting of components, by prediction of faults

Maximization of usage of REs

Energy awareness of local communities)
In the following figure a High-Level system architecture of MOWGLI services, with the evidence of the i-EM components, the satellite assets (EO, SatCom and NavCom), the inputs required, and the services provided for each microgrid phase.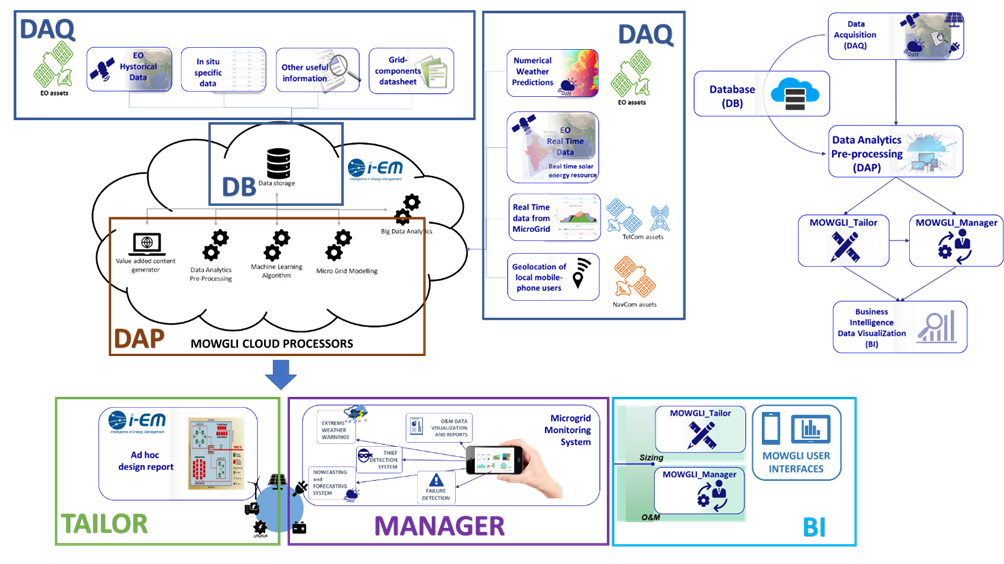 Space Added Value
Space assets envisaged for the integration in the targeted services
Earth observation satellites. Largely used in all the services as a remote and reliable source of data: energy assessments, real-time for monitoring and forecasting inputs.

Telecommunications satellites. Used to complement solutions where local connectivity is not reliable, or not available at all.

Navigation satellites. Used to pinpoint the geolocation of local mobile-phone users, to understand their specific behaviour and needs, thus extracting information to better match the community needs.
The two digital services, MOWGLI TAILOR and MANAGER, introduce a digitalized approach to each rural microgrid project phase combined with the effective exploitation of satellite asset-based information.
Specific KPIs have been defined to quantify the benefits of using spatial resources in microgrid design and sizing, which can be used to measure the efficiency of a microgrid in relation to its spatial design. Also if not directly translated into CAPEX reduction, the usage of space assets can lead to significant cost savings in CAPEX ranging from 10% to 40% compared to conventional microgrid designs. Other KPIs can be defined for operational and functional impact, to evaluate the reduction of design hours thanks to the use of spatial assets in automatization and digitalization. This can be quantified in a reduction of at least the design hours by 50-70%, while digitalization can lead to a 10-15% reduction in OPEX for microgrids, mainly by improving the energy efficiency and reducing the maintenance costs, making microgrids more cost-effective and sustainable over their lifetime.
Microgrid that uses space assets to optimize energy production and distribution could see a significant improvement in Energy Management Performance Index (EMPI), which is a measure of how effectively a microgrid is able to manage its energy resources. The EMPI score compared to a similar microgrid that does not use space assets. The exact improvement will depend on the specific characteristics of the microgrid, but it could range from a few percentage points to a much larger improvement, depending on the initial EMPI score and the level of optimization achieved through the use of space assets.
Overall, the use of space assets in microgrid design and management can create a more sustainable and resilient energy system that benefits society, the environment, and the economy.
Current Status
The demonstration project ended after four months of pilot stage. The two MOWGLI components, TAILOR and MANAGER, have been tested in several microgrid site pilots area, to assess the benefits in different conditions. Two real microgrid have been used to acquire data and manage them in real time conditions:
Iaroilang I Self Help Group North-eastern part of INDIA

CRES2199 south part of INDIA
Derived from the MOWGLI project and activities, in 2021 i-EM redefined the brand of his solutions, adding to the traditional solutions for plant management (solar, hydro, wind) the new brand and solution x-EM for the Simulating and management of the Grid Edge. x-EM is a Software as a Service (SaaS) solution that introduce intelligence in the management of the Grid Edge, improving resilience and stability of the grid (https://www.i-em.eu/solutions/smart-grid/).

«We are very happy to collaborate on the MOWGLI project, hoping to facilitate Indian rural electrification by means of sophisticated software and hardware platform and interactive dashboard for microgrids planning and installations, it's periodic maintenance and to promote energy awareness among local communities for optimal use of renewable energy sources.»
Nitin Akhade, Consultant - Rural Electrification & Livelihoods, Emerging Technologies & Markets, Customized Energy Solutions.
Prime Contractor(s)
Status Date
Updated: 31 May 2023
-
Created: 17 January 2022