Objectives of the service
Collecting ocean data is irregular and geographically distributed, and usually restricted to collecting values from the water's surface. SNTech's newest Pisces units (called Pi-Sense) are equipped with sensors and, when attached to fishing gears, enable the measuring of variables throughout the water column on a more temporally regular basis.
Aggregating this data is traditionally difficult due to the disparate nature of its sources, but Pi-Link makes this activity straightforward by networking all deployed Pisces devices and directing their sensory readings to a cloud-based database owned by SNTech.
Access to more, higher quality data means better quality modelling, more informed policy decisions and better fisheries management among many other applications. Linking data-producing fishing vessels, even when far out to sea, is the part that satcomms plays in this system.
Users and their needs
Data-Suppliers (fishing vessels):
Pi-Link and Pi-Sense must be easy to deploy, without distracting from regular fishing activities.
The data transmission link (satcomms and mobile) must be resilient and easy to implement.
Data-Users (aquaculture, power infrastructure, fisheries management, oceanographers):
Finding a reliable data source for a relevant application must be straightforward and intuitive.
Data must be high quality and supplied at appropriate time intervals.
Data must be cost-effective to harvest and supply to end-users.
Operational Challenges:
Satcomms can be expensive and the value of the data to the end-user must offset the additional cost of data transfer over satcomms.
Appropriate hardware must be present to enable simple implementation of Pi-Link.
Geographies: Global marine environment (data-suppliers), Global coastal and land environments (data-users).
Service/ system concept
Types of data delivered to end-users comprise two categories:
Deployment:
Time deployed, Location deployed, Deployed correctly?, Stated target species, Stated avoidance species, Gear type, Gear owner.
Ocean Water Column:
Temperature, Salinity, Dissolved chemicals, Light levels, Oxygen/CO2 levels, Chlorophyll.
The user will have access to real/near-real/time-delayed/archived datasets of the above data. Data will be searchable by geographic location, time, vessel location, thematic area of application, data type through an online portal and visualisation tool. Data will be relayed via mobile terrestrial networks, and satcomms when data is needed in real-time and the value of the end use offsets the cost of transmission over satcomms.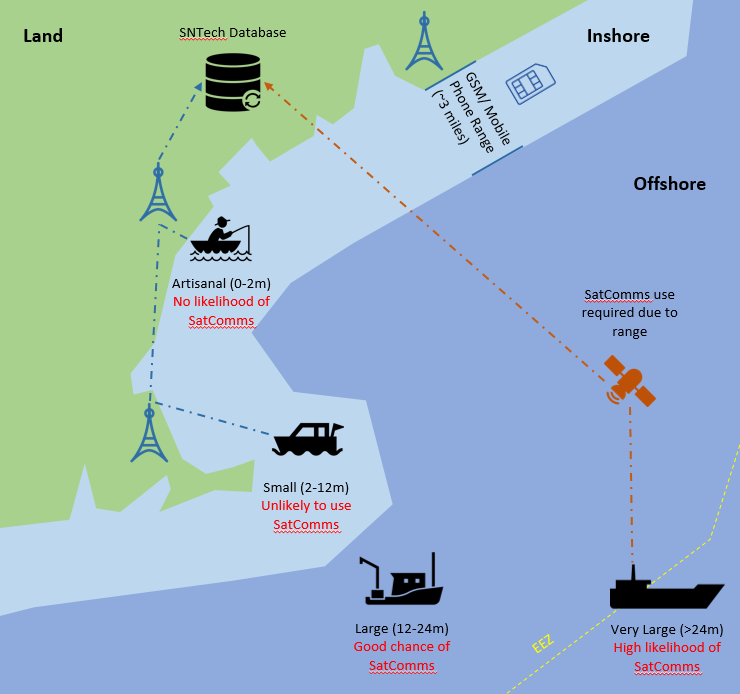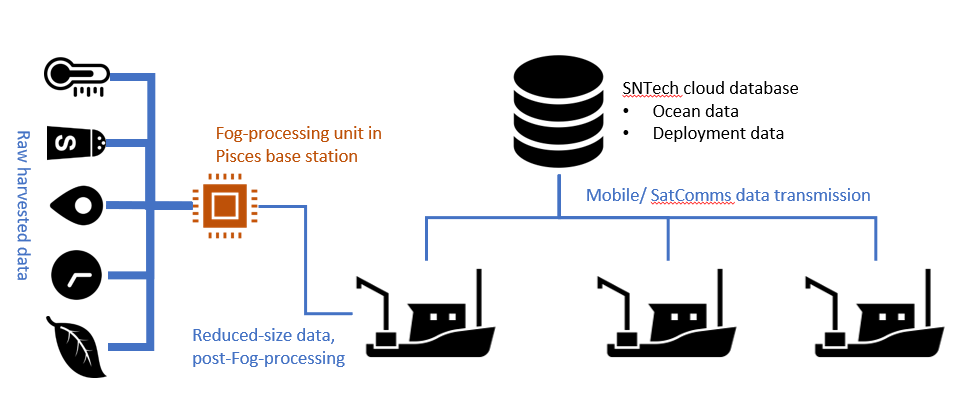 Space Added Value
Pi-Link combines satcomms with terrestrial mobile networks to facilitate the transmission of data from vessels on the ocean to a cloud-based database on land. Satcomms present a unique selling point compared to mobile networks as vessels operating outside of the ~3 mile mobile network range that is achievable on the ocean. Satcomms acts as the bridge for real and near-real time data transfer when it is important for the data to arrive in a timely fashion. This timeliness can add value and more than offset the additional cost of transmission, as well as acting as a resilient network in case of mobile network failure.

Current Status
The Pi-Link Kick-Start activity has identified market verticals to whom timely oceanic data offers value. A system architecture has been designed, which can now be prototyped and implemented into a Demonstration Project with the appropriate stakeholders.
Prime Contractor(s)
Status Date
Updated: 13 July 2018
-
Created: 13 July 2018