Objectives of the service
Plough Stars is a feasibility study funded by the European Space Agency (ESA) Integrated Applications Promotion (IAP) Programme. The industrial team is led by Berner & Mattner and investigates new services and applications for improving winter road maintenance. These integrated solutions are based on existing terrestrial systems, enhanced with space-based technologies like satellite navigation, satellite communication and earth observation. Both, users and stakeholders involved in winter road maintenance, benefit from this system through improved performance and a simplified routine.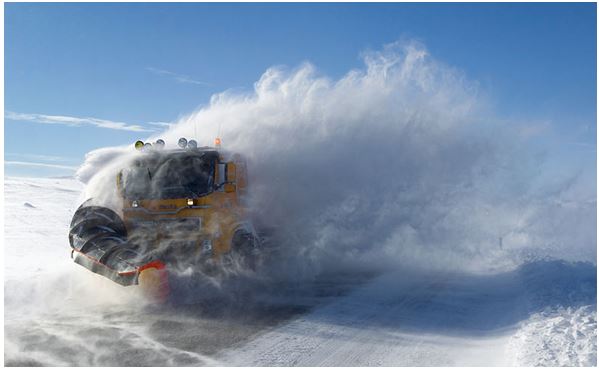 Based on recent R&D results, which combine the benefits of GNSS, Earth Observation and Telecommunication, the study assesses a broad scope of user and stakeholder requirements, specifies associated services and an integrated system. It further verifies the economic viability, as all proposed services and the integrated system need to lead to commercial benefits, beside increased usability and sustainability. Operators and drivers of winter road vehicles are supported with a range of new services during their work.
Users and their needs
The objective of PloughStars is the definition of potential services for various users and stakeholders interested in winter road maintenance. They trigger various improvements regarding safety, navigation assistance and optimized salt spreading. Target users include road operators and road administrations, road maintenance or construction agencies, manufacturers of winter maintenance vehicles and equipment, telematics systems providers, logistics industry and governmental authorities.
Among user organisations, the Norwegian Public Roads Administration and the Swedish Transport Administration are involved in the project.
The collection of user needs is based on the operational scenarios, discussions and surveys of users and stakeholders. Each scenario includes a description of user needs and explains the role of space assets. Examples for relevant needs are:
Guidance during snow ploughing in a wide range of environments
Assistance of the driver in order to find the way or avoid obstacles
The accuracy of the position should be as high as possible
Weather forecast for areas of interest should be improved
Availability of weather information should be increased
Control of on-board equipment ( for example spreading control)
Collection of information about clearance activities and status of roads
In addition, expensive investments for vehicles or roads in order to make use of the service should not be necessary.
Targeted users are from Scandinavia and the Alps region. In a next step, non-European users could be the target.
Service/ system concept
The potential services have been analysed regarding market size, maturity and added value. The service concept differs between winter service management and vehicle based systems and includes graduated levels for autonomy, precision and expense factors. The proposed services are:
Vehicle Guidance
Routing
Ploughing and Spreading Documentation
Damages Documentation
Emergency Message
Vehicle guidance supports drivers under low-visibility conditions in order to ensure snow clearing activities and is based on high accuracy navigation techniques. The tracking capability uses position information to forward the data to a related service centre. Earth observation is another important space asset which enables services like spreading support, RWIS or snow forecast.
Space Added Value
GNSS, satellite communication or earth observation are the related space assets which enable or improve services for weather prediction, optimized salt spreading, enhanced driver assistance during bad weather conditions and automated documentation of winter road maintenance activities. The resulting integrated application benefits from multi-spectral data, high position accuracies and satellite communication.
Current Status
The team completed the Feasibility Study with the Final Review and started preparing a follow-on project, the Demonstration Project.
Interested parties are welcome to contact Berner & Mattner to obtain more information or discuss possible collaboration.
Prime Contractor(s)
Subcontractor(s)
Status Date
Updated: 04 August 2015
-
Created: 25 August 2014