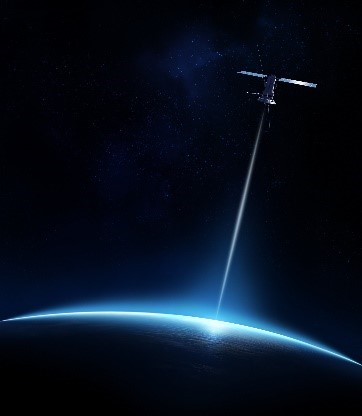 Objectives of the service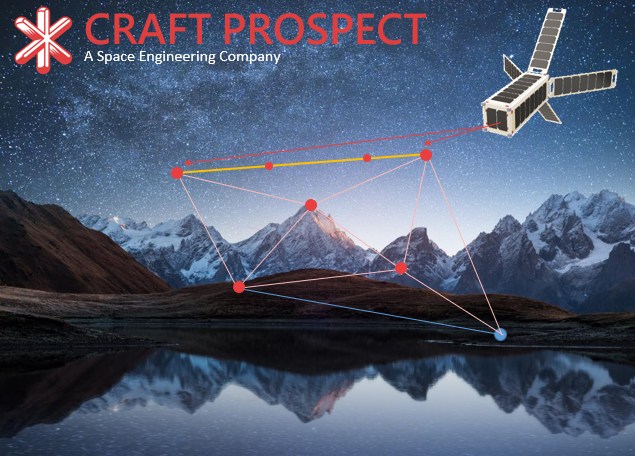 Image credit: Craft Prospect Ltd
There is a driving need to secure highly sensitive information as new quantum technologies emerge.
Quantum Key Distribution (QKD) is an emerging field within cyber security which can serve to supplement increased assured demand or as a replacement for existing public key infrastructure. Due to the losses experienced in optical fibres in ground based QKD networks and line of sight limitations, space represents an excellent, global, and highly scalable mechanism for the distribution of secure keys.
This feasibility study defines an 'Augmented Quantum Key Distribution (AQKD)' satellite service that uses nanosatellites (particularly CubeSats) to deliver cryptographic keys and related services for fractions of the cost of traditional satellite constellations. The initial service implementation is based on the capability provided by the ROKS satellite to be launched in 2021, a UK in-orbit demonstration mission secured by the lead Craft Prospect.
This study focusses on the provision of a key distribution service that supports highly secure networks and end users that require high levels of mobility and flexibility due to working in dynamic environments. The service can target both downstream security users or midstream and emergent key/security service providers.
Users and their needs
The initial targeted solution is a bespoke key management service, delivered by a QKD enabled CubeSat. This solution provides a bespoke service that can be tailored to meet the needs of the individual customer. This could relate to enhanced levels of security, increased geographical coverage, increased reliability/availability, and reduced distribution latency.
With this feasibility study Craft Prospect has the opportunity to access end customers to gain critical information on the user needs, and the services that would truly add value to their businesses.
End applications are compatible with multiple market verticals including
Telecoms (UK, Spain),
financial services (Netherlands, UK),
oil and gas (UK),
security & defence (France, Italy, UK),
European diplomatic cables.
We are looking to engage as well with:
Organisations offering Key Management hardware (UK, France).
Organisations offering key distribution services (UK).
The consortium ensures a comprehensive engagement with potential end users, to fully understand their needs.
Service/ system concept
Craft Prospect Ltd (CPL) has developed an upstream concept for an Augmented QKD (AQKD) service that has gained impressive traction within the QKD security community. They have been awarded an in-orbit demonstration mission called Responsive Operations for Key Services (ROKS), that will provide a proof of concept and the first implementation of the Augmented QKD based services investigated here.
The intended approach for each subsystem for the ROKS mission is:
System Level – Systems Architecture maintained by CPL to allow overall mission management,
Platform – Passed as a contracted requirement set to a satellite bus provider,
Payload – Internally designed,
Terminal – To be defined by external company,
Mission Operations – Requirement set to be passed to low level engineering team for implementation,
Service – To be defined within this study.
The A-QKD service works by delivering secured keys using QKD technology with nanosatellites.
We look at augmenting existing satellites infrastructures by providing a niche service in, for example, specific regions.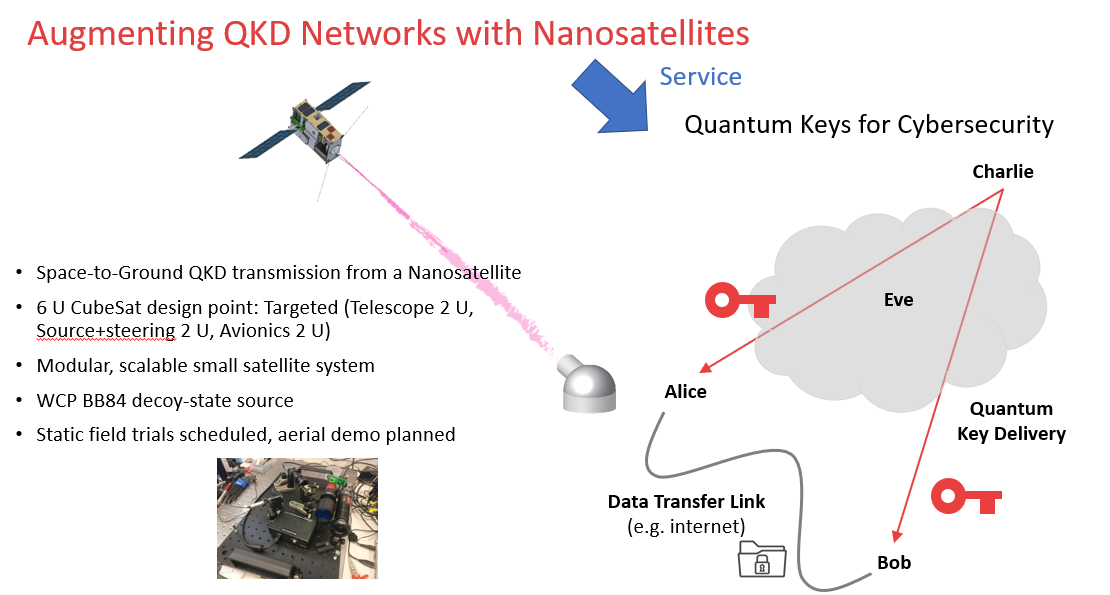 Image credit: Craft Prospect Ltd.
Space Added Value
The PKI market is estimated to be valued between $1.9 billion by 2023 and $3.6 billion by 2024, growing at a CAGR of 15.1% and 21.1% respectively. This is in part due to the integration of IoT managed connecting devices and smart M2M technologies. It is believed that QKD, particularly satellite based QKD, will displace this reliance, as quantum computing becomes an ever-present reality and as algorithmic innovation increases. There is a driving need to secure highly sensitive information as new quantum technologies emerge. Public Key Infrastructure (PKI) alone cannot be able to provide the safe transfer required to sustain security systems, however, satellite based QKD can enhance the current capabilities and ensure that the integrity of these systems is retained.
Current Status
During this project, three main outputs (documents) have been delivered:
D1 "Use case analysis and service requirements consolidation"
Following the initial scoping period, the user requirements through engagement with the defined stakeholders were developed and validated. There were a series of meetings, workshops, surveys, and individual meetings.
The goal was to assess the market and identify applications for QKD across industry sectors, providing detailed use case scenarios for the finance sector and another sector which has high likelihood of adopting AQKD, to further market and commercialise the service.
The discovery work undertaken was presented consistently within the D1 document.
D2 "Technical feasibility assessment"
Secondly, the technical feasibility assessment that will be required to deliver the services selected for the use cases in D1 was assessed in detail, thanks to Craft Prospect's experience with CubeSat development and mission architecture definition, and Barrier Networks' expertise with implementation of Public Key Infrastructure, managed services and general key management and distribution.
The technical feasibility assessment explored the operational concept, system specification and the feasibility of an 'Augmented Quantum Key Distribution Service" (AQKDs), complimenting QKD suppliers, providing a solution for the management of customer key requests and the generation of schedules for key delivery.
The service characteristics were defined, including:
Operational concept
Service definitions
End-to-end service
Service behaviour and performance
To conclude, the feasibility of the solution was thoroughly assessed, including a list of potential risks and the corresponding mitigation action plan.
D3 "Business plan"
Finally, the commercial viability for the service was detailed in a business plan. A consolidated business model described:
Value chain
Key activities and resources
Constraints
Cost/benefit analysis from user's perspective
Additionally, a market study was performed, describing all stakeholders in QKD, and where the competition was analysed.
To analyse different use cases, the consortium organised several activities to raise awareness about space QKD activities, reach out to potential customers, and had extensive discussions with different stakeholders.
For the identified emerging use cases for AQKDS, four cases were selected for the business model description, being: a service backbone network, an oil and gas service with a global key provider, a cloud service, and a financial service. A service level agreement matrix identified the parameters for each of these end users.

Furthermore, a roadmap for implementation is currently under development as well as a clear plan for service demonstration, where the consortium is presenting an outline proposal to ESA.
Link to our webinars and workshops recordings:
https://youtu.be/ReIS_nO2GrA
https://youtu.be/HGNF_8r1RcE
https://youtu.be/BUhOxLEQfgk
Prime Contractor(s)
Subcontractor(s)
Status Date
Updated: 13 September 2021
-
Created: 24 June 2020