Objectives of the service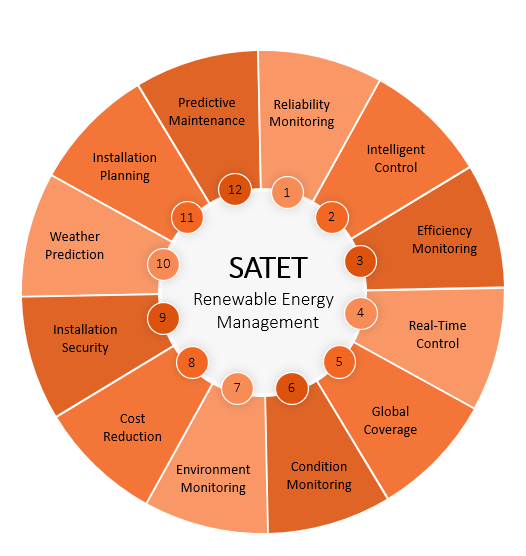 A goal of the feasibility study is to assess how satellite and terrestrial data can be merged to maximise the Return on Investment associated with wave energy platforms. The study will factor how Observation (EO) data can be used to augment terrestrial sensor data and provide crucial information relating to site layout, weather patterns, security, and performance of wind and wave energy platforms. The study will factor the inclusion of marine data such as wave information, water temperatures, salinity, sea-bed mapping and other relevant environmental data. The key goals of the study are to develop a management platform model to deliver the following outcomes,
Optimising the commissioning, monitoring, maintenance, decommissioning of marine energy installations (wave and wind).

Optimising the durability and survival of the marine energy installations through site selection and predictive maintenance models.

Optimising reliable revenue streams through optimum site selection with solid understanding of long-term wave and wind conditions.

Determining environmental impact.
Users and their needs
The primary concern for planning installation, commissioning, operations, and maintenance (O&M) as well as decommissioning for marine energy installations is the long-term knowledge of the wave and wind data for target sites. Marine energy devices are deployed over a long duration in a very harsh environment (corrosive, high loads (wind, wave), allisions). Enhanced predictive maintenance models can be realised by integrating EO data, with smart AI/data analytics tools with a view to optimising the lifespan of marine assets while minimising cost. Water temperatures, salinity, tidal swings and wave action can all be monitored using Earth Observation data. Legacy data can be used to make informed decisions around site suitability, while ongoing monitoring via satellite and terrestrial networks can be correlated with wear and tear for the purposes of informing maintenance cycles. The ability to forecast revenues and costs and mitigate against risks is crucial to ensuring the economic viability of marine energy installations. The ability to choose sites based on relevant technical data relating to conditions over long periods of time, as outlined under Areas 1 and 2 of interest above, will impact on bankability as follows:
Increased and reliable revenues due to optimised locations

Reduced capital costs due to reduced infrastructure and device installation costs

Reduced O&M costs due to reduced weather window delays and optimised predictive maintenance scheduling

Reduced insurance costs due to more informed risk management
The study will be globally focussed based on data associated with wave energy platforms deployed on the West coast of Ireland.
Service/ system concept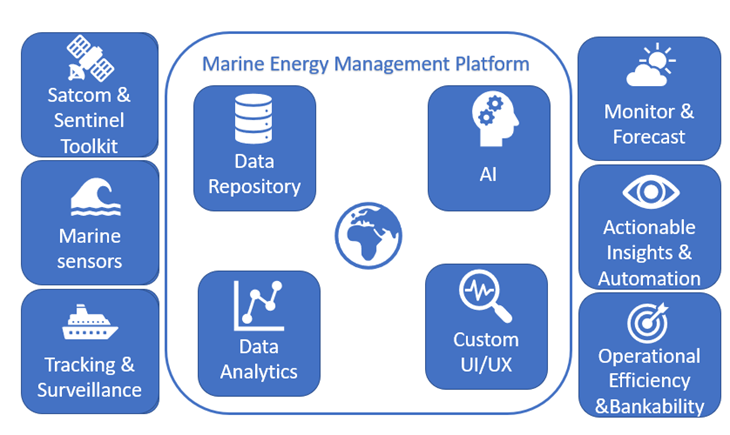 The customised solution will link EO, Satcom, GNSS, and terrestrial data to extant Marine Energy Scenarios and facilitate rapid smart application development on a single framework that standardises the interface to diverse streams of sensor data, including space-based sensor data.
Key inputs will include current and historical data including:
High spatial resolution optical.

Synthetic Aperture Radar imagery (Day/Night).

Weather and sea status.

Ocean parameters – temperature, height of waves, salinity, speed of ocean currents.

GNSS tracking.

Geo-localisation of vessels and activity patterns.

Terrestrial Marine Energy data and extant operational data, e.g. energy generation measurements, maintenance logs, HAPS, RPAS and UMS inputs.
The core platform will include:
A repository to fulfil the Marine Energy Management Platform's data storage requirements.

Data Analytics tools to analyse the input data sources, identify correlations, threats, risks, and opportunities for optimisation.

AI tools to predict conditions and infer actionable insights.

Custom dashboards and information visualisation tools.
The platform will thus provide:
Monitoring and forecasting services.

Actionable insights and automation.

Operational efficiency and bankability metrics.
Space Added Value
SatEO can support the optimisation of marine energy businesses in a wide variety of ways. The Sentinel missions support marine monitoring by providing timely, continuous and independent data on the behaviour, use, and health of the oceans and the associated coastal zones.
Sentinels 1 2 and 3 are particularly relevant:
Sentinel 1's SAR is sensitive to spatially varying surface roughness patterns caused by winds on the ocean surface. Sentinel-1 ocean products, in conjunction with global ocean wave models, help determine the direction, wavelength and heights of waves on the open oceans and assist in weather prediction and wave energy applications.

Sentinel-1 can also provide data on the interactions between ocean waves and currents allowing the visualisation of large-scale ocean currents, cold/warm water masses, coastal water currents, and internal waves.

SAR can also be used day/night for marine surveillance. This is vital for the maintaining security of marine energy installations.

Sentinel 2 can facilitate the monitoring of coastal areas through the provision of high spatial resolution images in the optical domain.

Sentinel 3 provides specific support for Ocean/Sea monitoring with its multi-instrument capability to support the accurate parameterisation of such topics as Ocean Colour (OC), Sea Surface Height (SSH) and Sea Surface Temperature (SST).

The AVISO project and Sentinel 6 can also provide information relating to wave height
Current Status
The feasibility study has concluded and an Outline Proposal for a full demonstration project has been submitted.
Prime Contractor(s)
Subcontractor(s)
Status Date
Updated: 11 August 2022
-
Created: 10 August 2022