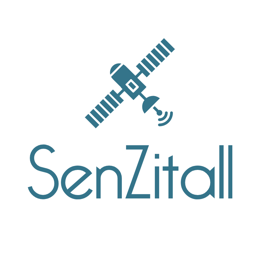 Objectives of the service
The main objectives of the SenZitall service is to provide a reliable and flexible wireless sensor network (WSN) system that can be deployed in urban as well as harsh and remote environments. This type of performing WSN, coupled together with the SenZitall spatial decision support system (SDSS), provides near-real time (NRT) simulations of pest population dynamics and associated risk. Such simulations are now more commonly used and completely integrated in our society with new applications developed on a regular basis. One of those new application areas is Integrated Pest Management (IPM). Population dynamics forecasting models can provide great added value to combat pests in a sustainable way by proactively controlling them before they become a problem. This requires precise and NRT meteorological data, which sensor networks can provide.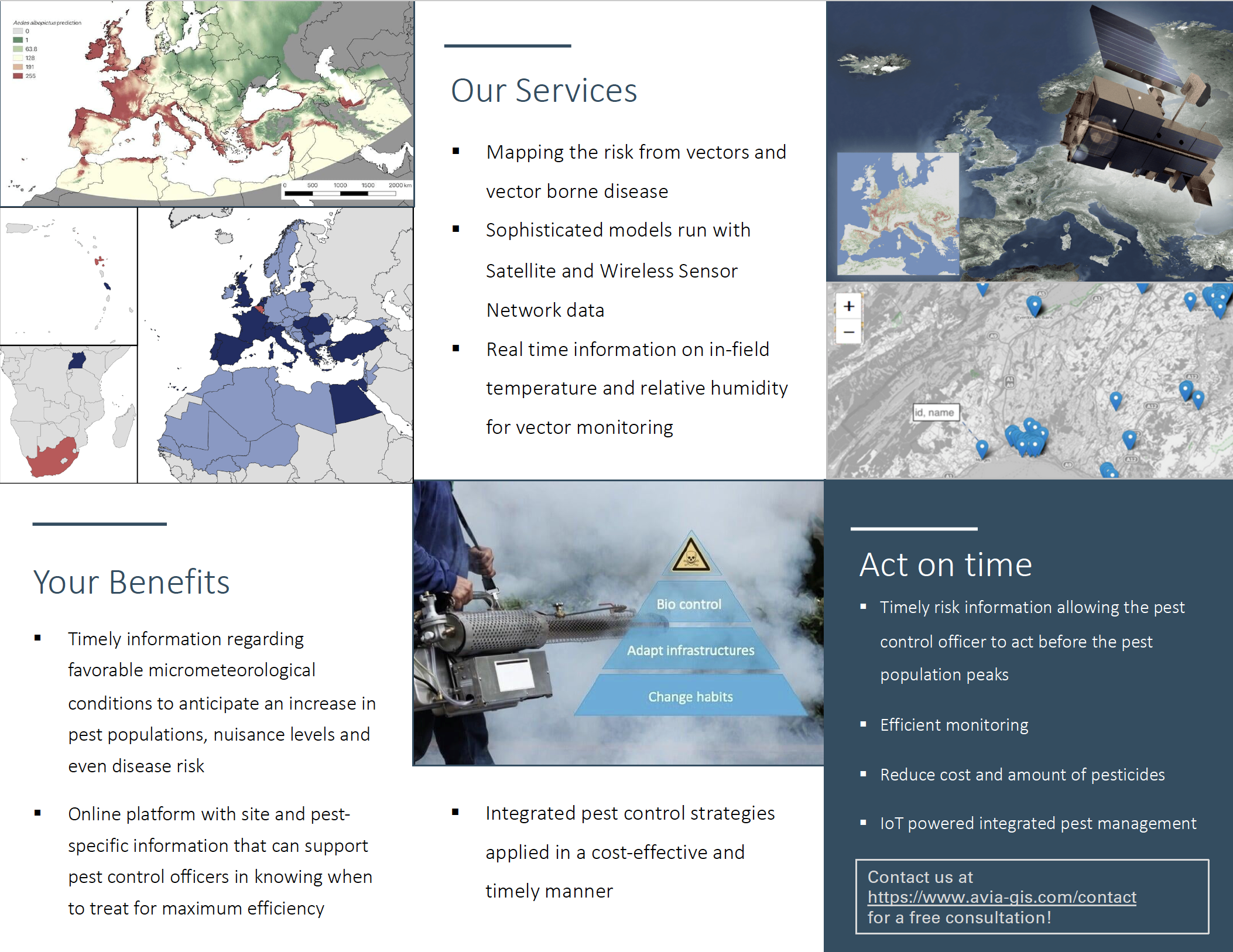 Although sensor networks are already widely used in many techno-environmental settings, and this number will only continue to increase with the rise of IoT, most existing WSN systems still rely on the availability of a power grid and WiFi or a cellular communication network, which are widely available in and around populated areas. Pest management, on the other hand, requires surveillance in remote areas where a local network and power supply are not present. Satellite communication (SATCOM) provides a solution to the current limitations insuring no data loss and a continual stream that feeds into the pest population dynamics and disease models.
Users and their needs
The key customers segments targeted by our product / service are:
the Horticultural sector

Focus market: Pears, apples and cherries in Europe

Focus market: Olives in the Mediterranean

the Pest Control sector

Focus market: Hospitality in the Tropics

Focus market: Urban Pest Control in France
The horticulture segment is mainly interested in (a) frost protection systems, (b) the monitoring of fruit growth throughout the season and (c) pest management. Early frost causes huge crop losses in Belgium, France, Germany, Spain and Italy. These markets currently already invest much more in frost protection but need a system that will alert them before frost events so that the orchards can be protected against the frost. A second type of horticultural users are Mediterranean olive owners. These olive growers are mainly interested in the control of Bactrocera olea or 'olive fruit fly'. This olive fruit fly causes huge losses to their crop. Currently they use a set of pheromone traps to monitor the adult population in order to schedule treatment, however, when these adults are caught the population is already quite high. Being able to forecast the population earlier in the process can prevents crop loss and optimise not only the treatment schedule but may also identify the optimal harvesting time, finding a trade-off between the fruit ripeness and quality whilst prevent fruit infestation.
The IPM sector is mainly interested in (a) integrated pest management solutions, (b) pest population dynamics and (c) disease risk. The IPM sector can be divided into two main groups: (i) Mosquito IPM in tropical, high-end luxury game reserves in RSA; (ii) Urban pest control in Europe.
Service/ system concept
A conceptual diagram of the system/service showing the key attributes and key building blocks is provided in the figure below. A typical set-up would consist of the following elements:
Modular Wireless Sensor Network

Each sensor is equipped with a GNSS locator or is positioned in a fixed location with known exact coordinates.

Smart Gateway with multiple functionalities: (1) data sink for the sensor network and data buffering, (2) uplink towards the remote SenZitall servers and (3) two-way control link for remote configuration and setup of the sensor system.

Remote system servers and database

End user web application (SDSS) that has a seamless access to our platform trough a web-interface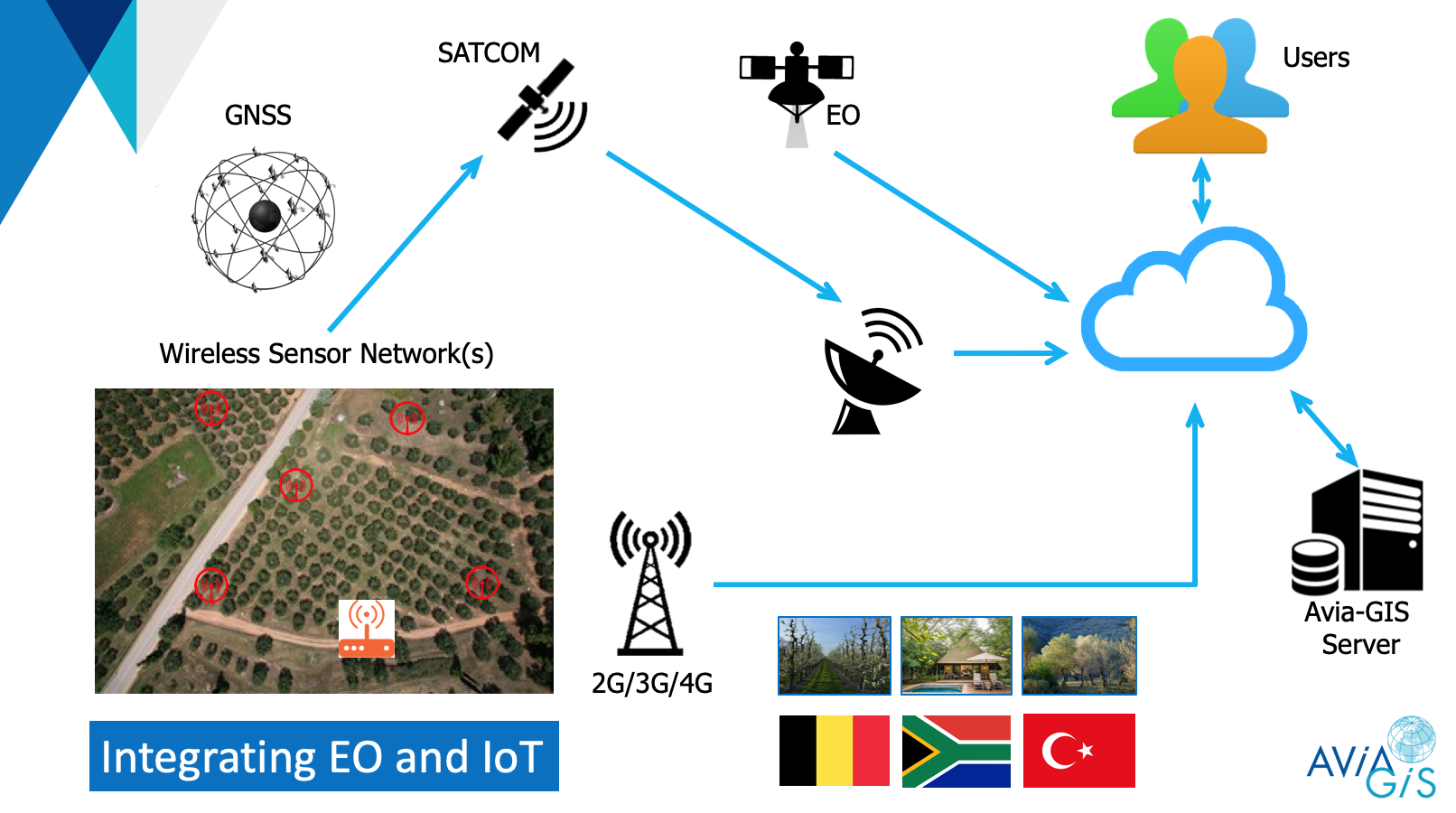 Space Added Value
While sensor networks are widely used in many urban and sub-urban setting, fully independent system deployed in remote areas that provide NRT, 24/7, cost efficient environmental monitoring constitute a demand present in the market segments represented by the SenZitall customers.
SATCOM: is used as a second communication link ensuring reliable, uninterrupted data transfer and redundancy for the SenZitall application. The SATCOM component is a crucial part of the system to provide reliable, cost-effective and secure communication in remote areas where existing connections are overloaded, destroyed or not present. SATCOM provides trustable transfer of payload environmental data to the remote server in NRT regardless of the spatial position of the WSN.
GNSS: allows flexible node positioning and quick node introduction. GNSS is necessary for providing geo-referenced metadata that is coupled with the WSN sensor and EO data at different levels.
EO: compliments the data collected by the WSN. It can help us determine climatic strata in a target region, aid sampling design, provide additional data which the WSN can't collect and provide initial data for spatial position of WSN nodes.
Current Status
The factory testing of the system and service components was successfully concluded in May 2021. SenZitall pilot demonstration activities are planned for July-December 2022 at selected locations in: (i) Belgium; (ii) Turkey (iii) South Africa; (iv) and Guadeloupe, French overseas territories in the Caribbean.
Prime Contractor(s)
Subcontractor(s)
Status Date
Updated: 17 May 2022
-
Created: 17 May 2022