Objectives of the service
At the end of the project, there will be an integrated advanced solution managing wide green areas (e.g., Nature reserves, urban parks) with a significant reduction of events such as fires, crime (assaults, robberies, drug dealing, prostitution, eco-terrorism, vandalism …) and other administrative offenses (illegal building, illegal dump, etc...).
The solution improves protection of environmental resources with an overall better usability of green areas by citizens. This is possible through the continuous Satellite vegetation health monitoring that, in turn, allow for a more effective and focused green maintenance. Citizens also have direct services accessing open data generated by the proposed solution (e.g., meteo data, video as per end user requirements).
Users and their needs
The target market typically consists of local/central public administrations and private organizations managing large green areas where crime, administrative offenses and fire have a social and economic impact and management prompts to increase citizen usability. Green areas may be natural reserves, archaeological sites, urban parks and forests.
The addressed target market is mainly Italy, Europe and South America.
Focusing on early fire detection systems, "in 2017 wildfires, burnt over 1.2 million ha of natural lands in the EU and killed 127 people among fire fighters and civilians.
The European Forest Fire Information System estimated losses of around 10 billion euros caused by these fires. The fire weather danger is expected to increase in Europe due to climate change, and will be increasingly characterized by extreme fires destroying vast areas with long-term impacts.
Italian actual market of early fire detection systems is estimated at 90M€/year that can be scaled proportionally at over 400M€ / year in Europe considering burnt areas and country available budget. The market size of the overall solution is much wider considering the additional functions for crime, offenses, green health monitoring and citizen signalling.
Service/ system concept
The project is focused on Law Enforcement and Emergency Response along the Castel Fusano Pine Forest reserve, through the monitoring and prevention of fire and illegal actions in forestall areas.
This is obtained through the design and following deployment of breakthrough technologies and assets as:
High resolution based fire detection system,
5G communication
Satellite assets
Drones
Dedicated algorithms (AI based).
The relevant architecture depicted in the picture below.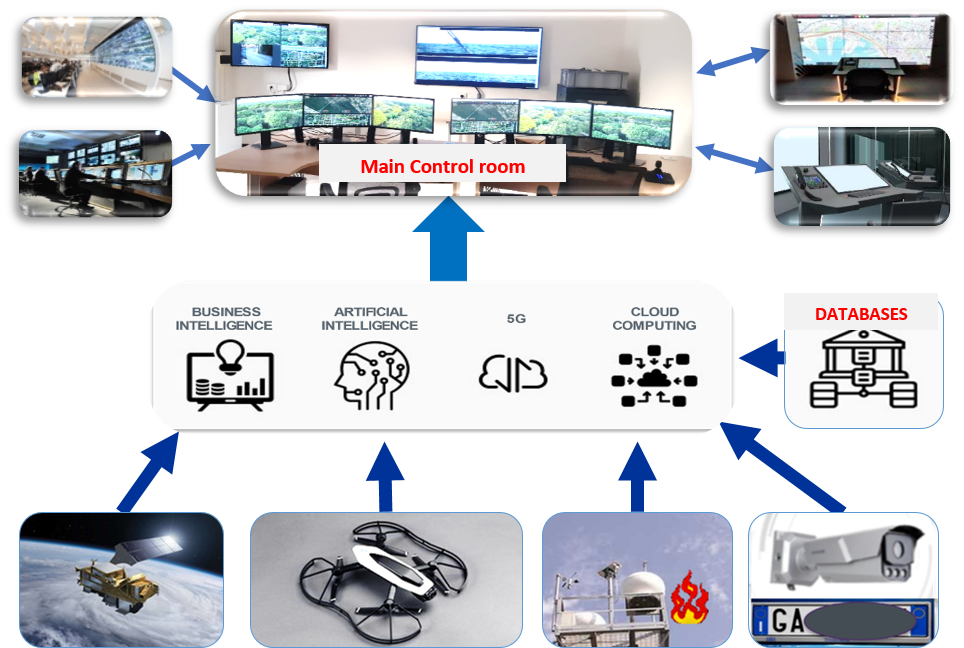 Space Added Value
The proposed integrated solution exploits the PRISMA (Hyperspectral Precursor of the Application Mission) asset, fully funded by the Italian Space Agency (ASI). Prisma is an Earth observation system with innovative electro-optical instrumentation that combines a hyperspectral sensor with a medium resolution panchromatic camera.
This offers the scientific community and users many applications in the fields of environmental monitoring, resource management, crop classification, pollution control.
In this specific use case, Prisma will be used with a focus on the purposes of forest analysis to assess pre-fire environmental conditions and to derive data for fire prediction.
Regarding the characterization of pre-fire environmental conditions, the multiple and narrow spectral bands of hyperspectral remote sensing allow high precision approaches to determine the fuel conditions compared to the broadband multispectral one (eg Sentinel 2).
In particular a fire risk map will be done integrating three different layers: ndvi (normalized difference vegetation index, plant health, chlorophyll etc), ndwi (norm diff water index, water content), ndti (norm diff tillage index, sensitive to lignin, in turn an indicator dry matter)
Change detection from Sentinel 2 will be also experimented for waste detection with a refresh rate of 5 days.
Prisma is a scientific precursor of a second generation Prisma operational satellite whose requirements are being studied, (e.g., revisiting time, spatial resolution, bands etc) just to make it more suitable for applications. Prisma is a near polar sun synchronous, 30 m spatial resolution, and it passes on average 2 times a month, if tasked to acquire a specific area, it can double the passing frequency, but with different camera angles. Prisma is the only hyperspectral satellite currently operational.
The calibration, validation and product development (and processors) activities involve the whole national supply chain.
Current Status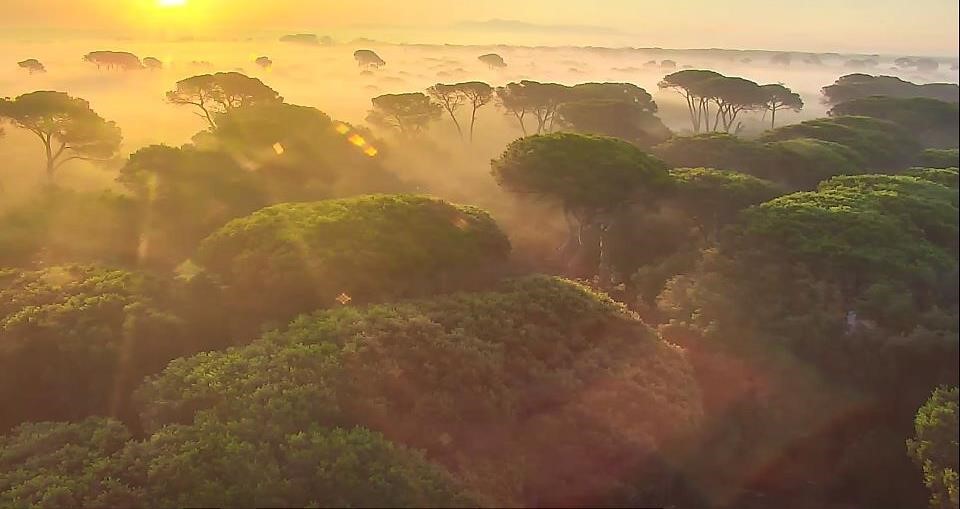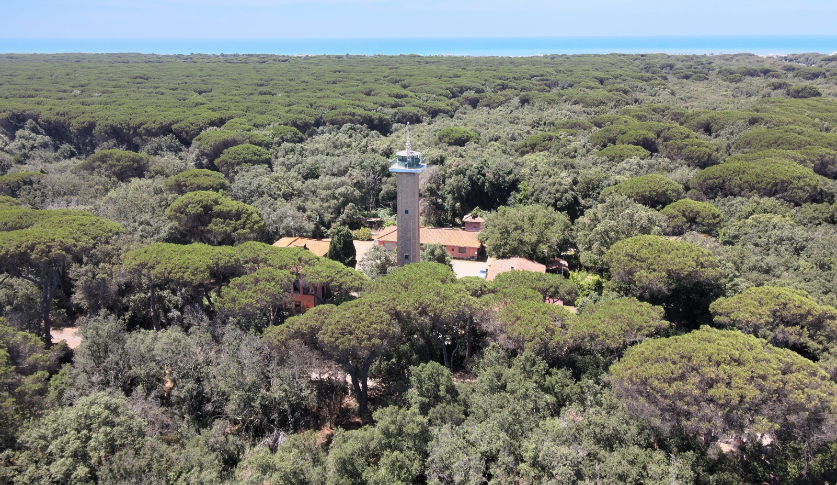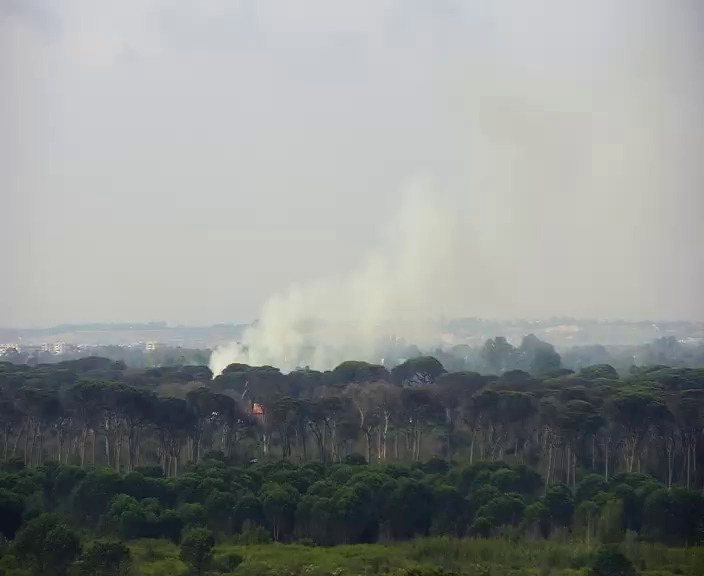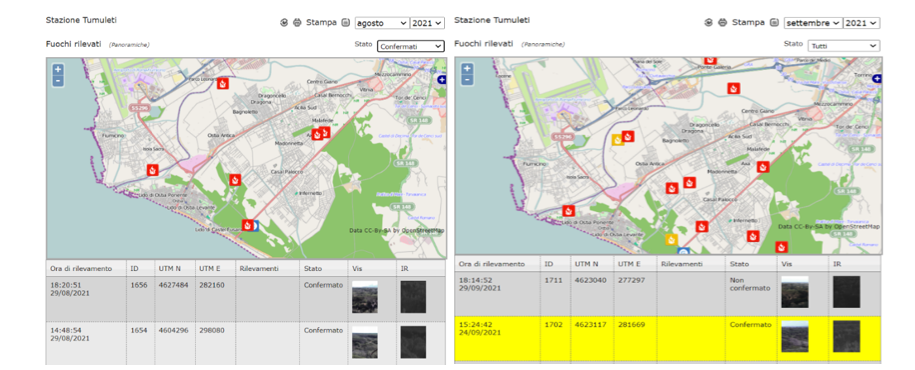 Responding to urgent customer response, the whole firefighting service has been operative starting 15 June 2021 and it has provided 24/7 service for the whole summer 2021 firefighting campaign in the national natural reserve of Castel Fusano. The system includes: a fully redesigned and renewed control room, satellite data, drones, ground fire detection sensors with weather stations and visible-IR high-resolution cameras, thermal based detector and AI enabled smoke detection on visible streams. 3 mobile control rooms. Several service demonstrations have been performed at high level (Operational Director, National Civil Protection, Rome Mayor, Regional Fire brigade Director, Rome Local Police and Civil Protection Directors).
The project has successfully concluded the Baseline Design Review (BDR) in November 2021.
Ongoing activities and next steps comprise: Gate installation (currently waiting from final approval from Environment Ministry), final drone configuration delivery, activation of additional control rooms.
Prime Contractor(s)
Status Date
Updated: 14 December 2021
-
Created: 14 December 2021