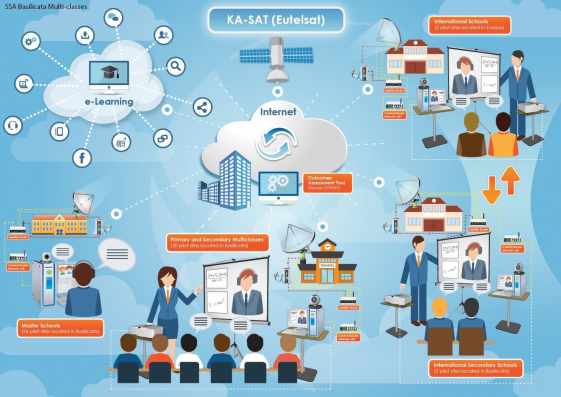 The Basilicata Region in southern Italy has announced the allocation of a nearly one million euros to support an ongoing ARTES Applications project, ONE Class! Open network for Education, which is deploying eLearning solutions based on broadband satellite communications to support education of children living in small and isolated municipalities.
ONE Class!, co-funded by ESA and by the Italian SME Openet Technologies S.p.A. initially for one million euros, is designed to foster the use of eLearning in isolated schools, where small groups of children of different ages share the same didactic infrastructure (the so-called pluriclassi). In addition, the eLearning services will be provided also to assist children hospitalised for medium- to long-term stay in two hospitals in the Region.
The ONE Class! eLearning system being deployed delivers two particular services. The first is videoconferencing to allow small group of children of the same age to participate in didactic activities coordinated by a distant teacher, the second the enhancement of the classroom experience by providing access to a cloud-based eLearning platform offering educational materials.
The project leader is Openet, based in Matera, Italy, which specialises in developing communication solutions for private and institutional customers using broadband satcom services.
ONE Class! is supported by ESA under the ARTES Competitiveness & Growth programme, which provides not only funding but also technical and institutional support for such projects. The pilot services involve seven schools with 53 classes and two hospitals in the Basilicata Region.
Of the funds allocated by the regional government, €340,000 is for the current academic year, while €567,000 will be for the first two years of operation of the service after completion of the ESA-supported activity.
"We are proceeding at a fast pace to bring broadband to all of our 131 municipalities," said Marcello Pittella, President of the Basilicata Region. "Coverage is already well advanced. We'd like to see our regional school system reflect the best European practices. Schools that are innovative, modern, and ensure no child is left behind."
"It is an impressive vote of confidence that Region Basilicata has decided to allocate these funds before the ESA-supported activity has completed," says ESA's Francesco Feliciani, Head of the Commercial Applications Projects Section. "This is a great achievement for the ONE! Class project".
03 November 2016
Last updated at 03 November 2016 - 14:03