Objectives of the service
To improve the security and safety of search & rescue (S&R) operations and eventually save more lives, the objectives for the development of the MRTM service were:
Reduce the preparation time before missions: S&R teams reported a reduced preparation time of 50% through the MRTM system during trials in real conditions
Improve the effectiveness of S&R teams: Radio communication during missions was reduced by 70% and the tactical coordination was improved
Support more detailed and time efficient documentation: Significant time savings were achieved for the required official mission documentation
Improve analysis of past missions: Users reported that more insights were generated based on the MRTM analytical capabilities
Improve real time situation visualisation: Integrated RPAS services enabling real time mapping of situation improves the mission management.
To improve the provision of information for people planning and undertaking outdoor activities, the objectives for the development of the Infotainment platform were:
Provide a better idea of what to expect from outdoor activities: 3D terrain visualisations based on satellite imagery and video scenes shot from drones facilitated user perception and spatial cognition
Develop a new B2C business model for value added space services: A membership subscription model provides advanced 3D maps and navigation features
Extend the platform for the Eastern European market: The infotainment platform was localized for Czech, Slovakia and Poland to generate new revenue streams in Eastern Europe
Develop a premium content model to sell value added drone imagery services: Video capabilities and automatic rendering workflows for drone imagery based content was added for tours and can be sold as premium content
Dronie service was developed and demonstrated: A service was developed which offers a solution for resort guests how to get a HD movie taken from a RPAS without breaking rules and laws.
Users and their needs
S&R organizations are the target customers of the MRTM system. The user needs of the coordinators and members of S&R teams include:
Keeping an overview of all tasks of the S&R team members in preparation of a mission
Accessing to up-to-date positions of all S&R teams and their members during a mission on a map
Collecting and documenting all relevant information about a mission in a spatio-temporal context
Learning from past missions to improve future operations
People enjoying outdoor activities are the target B2C users of the Infotainment platform. When planning and undertaking activities in mountain resorts, they have the following user needs:
Getting a better idea about what to expect from an outdoor activity and how to prepare for a safe trip
Accessing a broad set of information and tools for decision making about where to go and what to do
As target customers in the B2B market, mountain resort operators, tourism destinations and outdoor sports brands provide products and services for outdoor activities. Besides specific characteristics, they share the following user needs:
Marketing and distributing products and services to target groups efficiently and effectively
Creating new revenue streams through digital media channels
Service/ system concept
Facing climate changes with shorter winter seasons and increasing cost for artificial snow production and infrastructure maintenance, ski resort operators are forced to reduce economic pressure by transforming into mountain resorts that create new products and address new target groups, resulting in additional revenues over the whole year.
With more people attracted to mountain resorts, meeting the increasingly complex information needs of individuals planning and undertaking outdoor activities and ensuring their safety become major challenges. The SIS-SREM project investigated how space-based data and technologies could be applied to improve the safety and information provision in mountain resorts in the Eastern European market. During the demonstration phase, a Mountain Rescue Team Management (MRTM) system and an Infotainment Platform (ITP) were developed.
The MRTM solution is provided to mountain rescue organizations, fire brigades, police or helicopter rescue to support their operations and safe lives. The core requirement for the system was to provide sophisticated features for managing S&R missions while still delivering a reliable solution with simple user interfaces to ensure fail-safe operations and to prevent errors due to incorrect operations.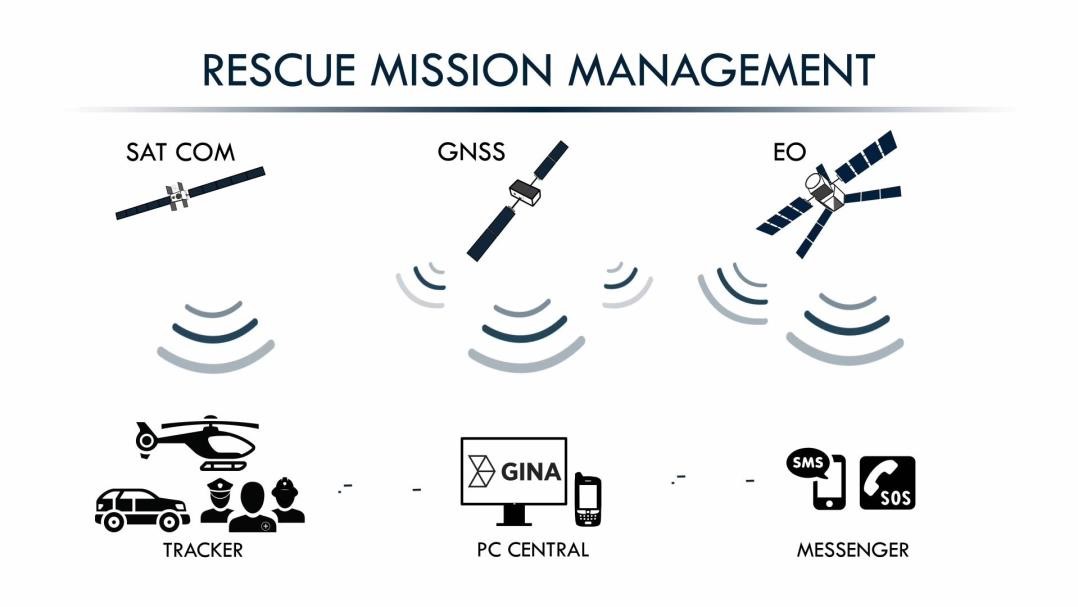 The ITP is a new digital communication channel for mountain resorts to provide personalized and location specific information and services to guests. It combines information from different sources and builds on a non-intrusive marketing communication approach to match services with user preferences.
Drone service
Drone with nest combines two basic services, entertainment and support for mountain rescue teams. First provided service is a flying photo point. Nest with drone can be installed at iconic places and drone can be called to action by using simple mobile app. User will receive drone pictures and short video. Second service is targeting professional users. In case of emergency, control of the drone could be taken by GINA Software and drone could be used to monitor the critical area and to deliver aerial pictures and stream video before the rescue patrol arrives.
Space Added Value
Integrating real-time drone imagery and satellite data with GNSS and SatCom technologies for reliable access in remote areas, the MRTM service provides a better common operational picture for S&R organizations to more efficiently and effectively manage teams during operations. Based on SatCom technologies, WLAN could be established in areas without mobile network coverage to provide high speed Internet access, for example during the FIS Ski World Cup in Jasna (2016) and the Rock Point Horská výzva Mountain Challenge in 2016-2018). A satellite imagery layer with global coverage was overlaid on top of an elevation model that was generated based on elevation data from the SRTM mission to create a photorealistic terrain for the 3D map solution of the infotainment platform. In order to provide accurate location based services and support for tracking, navigation and guidance in the mobile applications that were developed and adopted for the infotainment platform and dronie service, global navigation satellite system (GNSS) sensors incorporated into a broad range of mobile end user devices are used to derive positioning information. Finally, basic weather forecast information and avalanche reports included in the infotainment platform are based on earth observation data from a range of meteorological satellites.
Current Status
To commercialize the results of the project, Alpdest CEE was established as a special purpose limited company in Brno, Czech Republic. Supported by Alpdest and Outdooractive, Alpdest CEE will address the Eastern European market and build a network of B2B partners ranging from mountain resorts to tourism destinations and outdoor sports brands, who will licence the Infotainment platform to better market and distribute their products and offerings. By growing the user community and providing a B2C membership subscription model with value-added services, a sustainable B2B2C business will be established and match individual users with products and services based on preferences. After the successful demonstration of the Mountain Rescue Team Management (MRTM) system implemented by GINA Software s.r.o. (CZ), the Mountain Rescue Service of the Czech Republic signed a 3 years contracts to use the service in all Czech mountain regions. Preparations for the implementation and extension of the service to Slovakia have also started. Also the autonomous RPAS technology attracted many potential customers across industries. Partners BizGarden and CERVI ROBOTICS established a joint venture company where the know-how was parked. The company will further develop the autonomous hangar technology and services and introduce them to market. DRONHUB INNOVATIONS Sp.z o.o.
Prime Contractor(s)
Subcontractor(s)
Status Date
Updated: 26 July 2018
-
Created: 12 May 2016