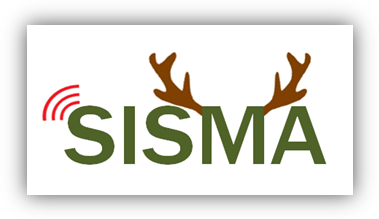 Objectives of the service
The smart-herding solution is a suite of cost-effective tools scalable and adaptable to any large terrestrial animals, and to specific regional context to facilitate herd management and cope with the future. The service provision model has been designed considering priority needs, economic issues, and technical capacities of the customers/users.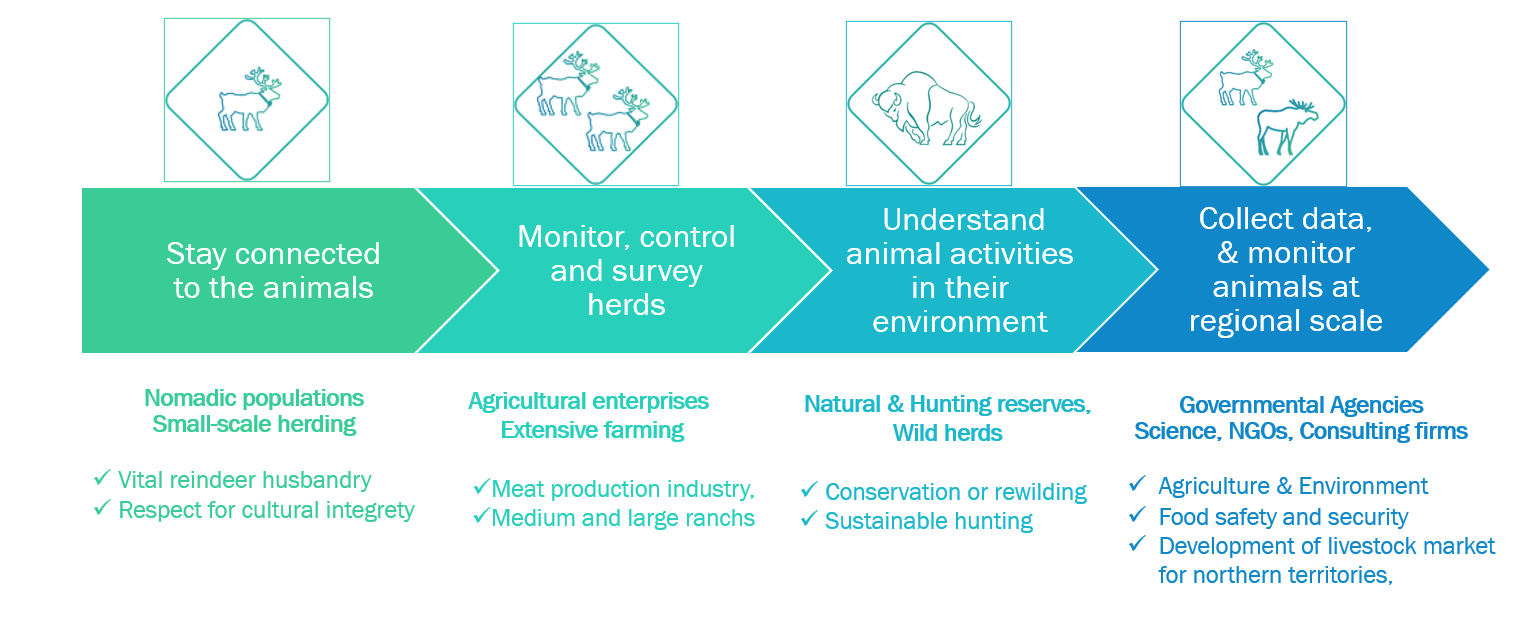 The territory of demonstration is reindeer herding in Russia. Venison meat from reindeers is an important part of the diet of rural communities in Russia and is important to economic livelihood. 2/3 of the reindeer population is in Russia, maintained under the control of man throughout the animal production cycle. But venison production has declined dramatically in the past 30 years for both domestic and wild livestock. Collecting pastoralism data and transforming them into actionable information can hopefully reverse this trend contributing to sustainability and economic viability of this industry.
Traditional management has reached its limits in an isolated and ever-changing environment. Segregation and dispersion are more and more observed. Local population expects up-to-date information to change their deadlines and tactics in managing herds over large breeding areas. This demand for agility is increasing because the herds themselves are in decline and that their seasonal movements change quickly.
Users and their needs
The herding challenge is important and requires managing the mobility of animals to leverage different expectations along user segments:
For nomadic population and small-scale herding. To enable people meet them and receive materials (food, shelters, medicine, …)
For agricultural enterprises, outdoor farming. To keep reindeers safe in numbers
For natural and hunting reserves, wild herds. To organize counting campaigns, anti-poaching inspections
For government agencies and science. To reduce neighboring conflicts, to plan and manage land use to develop more productive ecosystem
The needs for this market are important:
in quantity of data > large herds need to be monitored to limit losses as well as to study, protect, and understand their behaviors, and interaction with their environment
in terms of price > need for more affordable satcom tags and services to equip a significant number of animals
for value-added services > be able to locate but also to get easy to use data on the mobility on the mobility and behavior of the species in their natural environment and landscape.
Service/ system concept
The smart-herding solution is a suite of cost-effective tools scalable and adaptable to any large terrestrial animals, domestic and wild species (e.g., herbivores), and to specific regional context and risk-based management issues.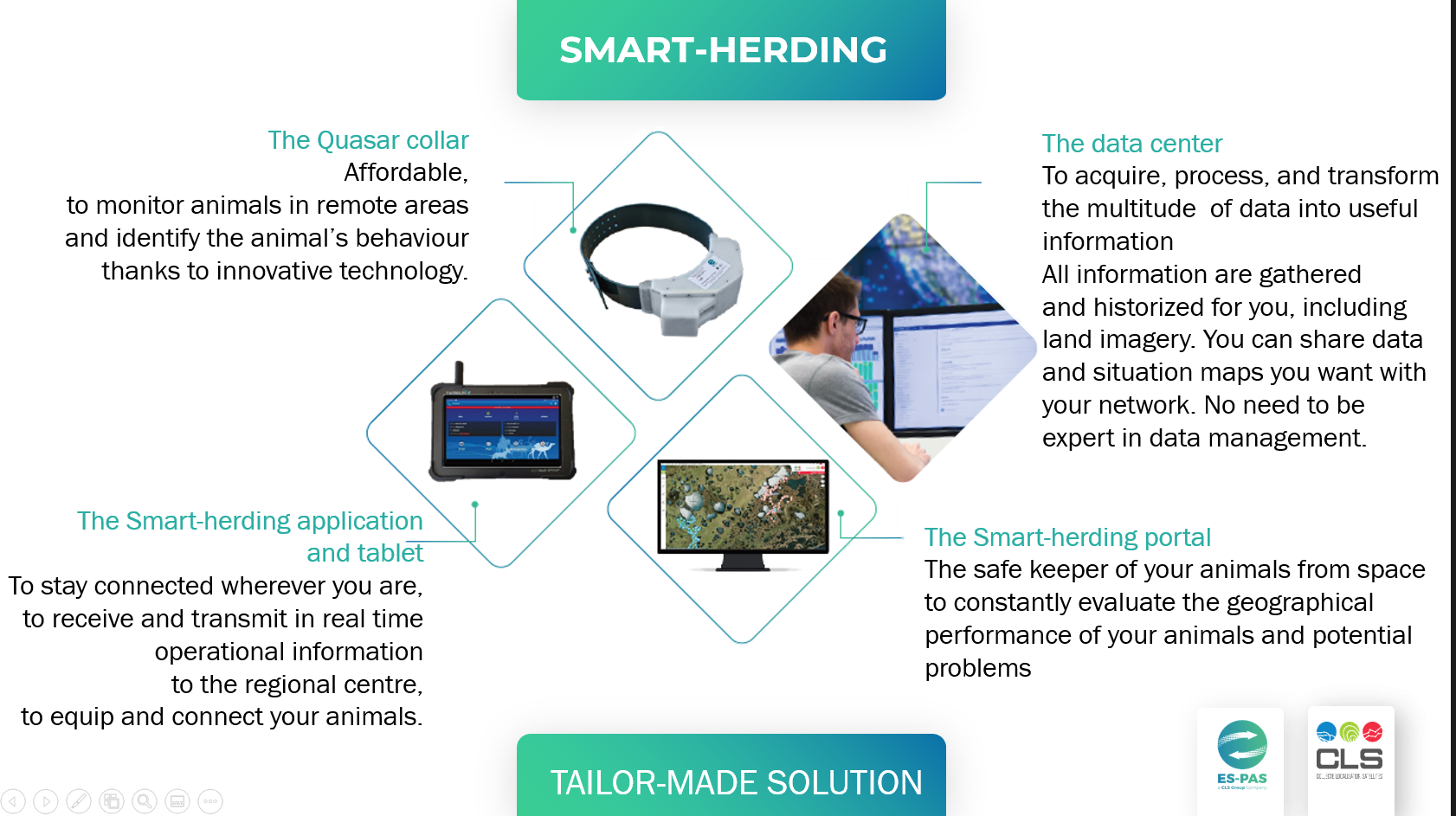 The pilot -demonstration service has validated and proven the availability and fitness for use of:
The Quasar collars: robust and easy to use, affordable and scalable for monitoring reindeers, horses, elks, deers, yacks, bisons, cows ….in their environment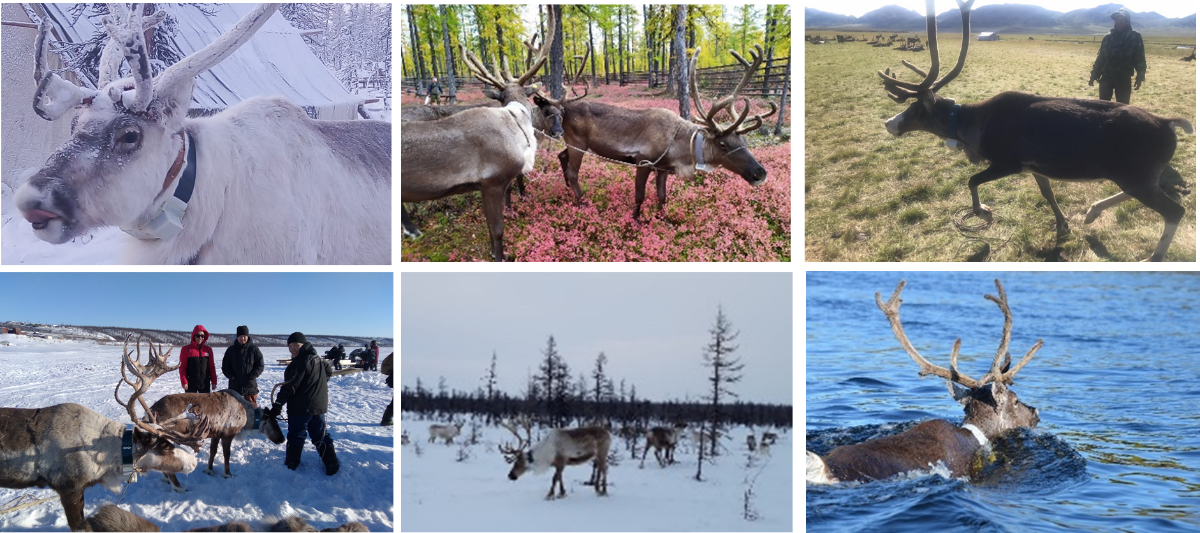 The data centre: continuous acquisition and processing of all monitoring data, and generation of the crucial pastoral information for monitoring and managing herds remotely (demonstration of scalability for 200 animals, and adaptability to 14 regional contexts)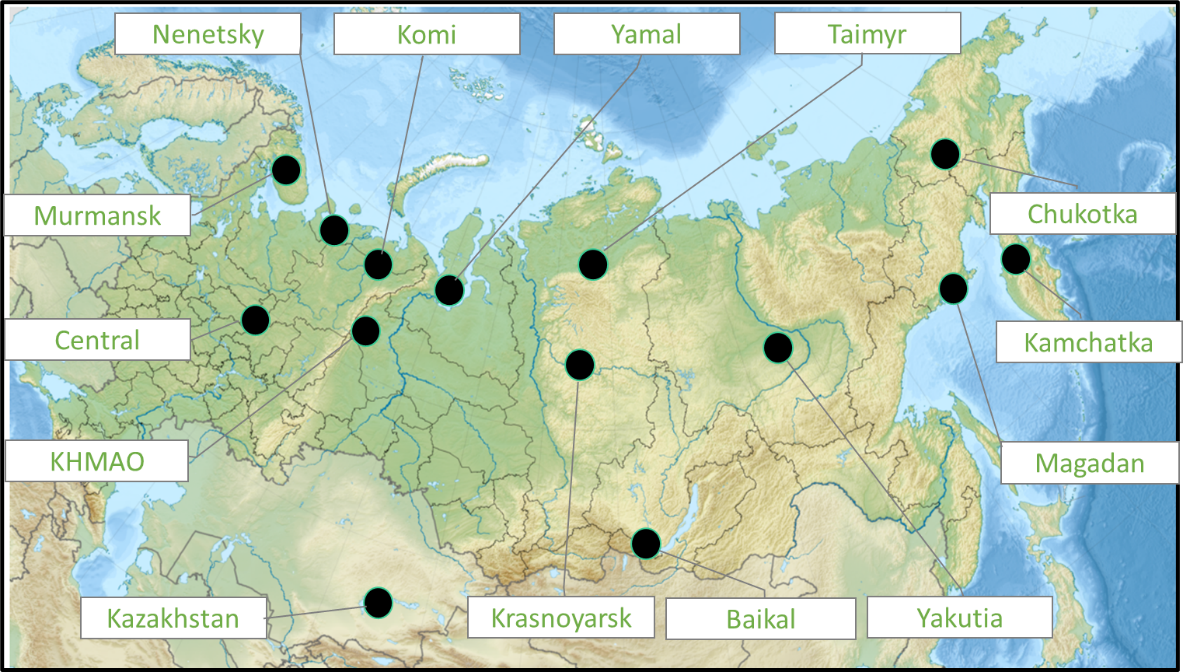 The user interfaces: once in the hands of users, configured, and optimized for their regional context, they empower the utility of data for decision making or for better understanding, a common operating picture as well as a 360° watch to adapt management strategies to climate change and different territories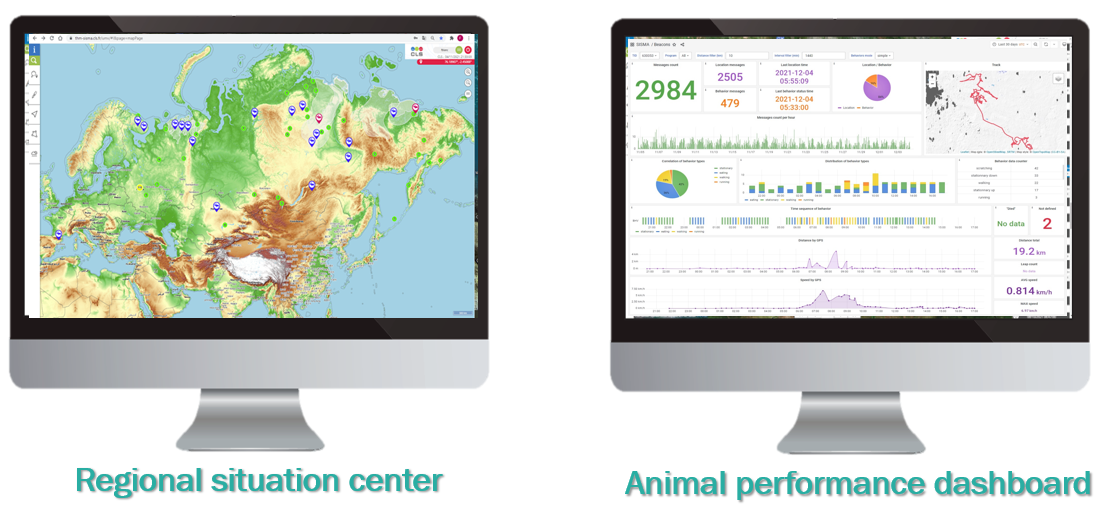 Space Added Value
The use of satellite technologies is necessary for these large and isolated territories (with low population density and poor terrestrial communication networks).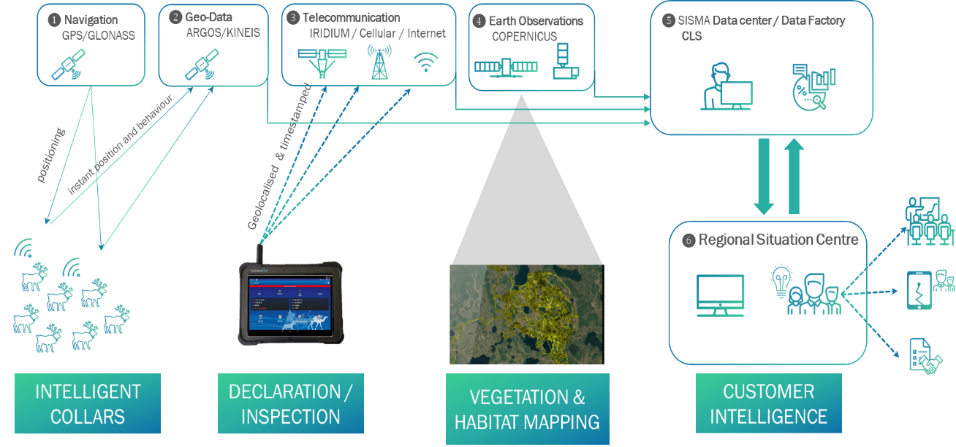 The smart-herding system architecture is connected to four space systems as detailed below:
Navigation system. GNSS everywhere to get continuous and referenced timing and positioning of collars (e.g., Galileo, GPS, GLONASS)
Geo-data satcom services. ARGOS/KINEIS for global IOT connectivity and collect data from the collars' fleets (e.g. animal ID, time, position, activity, speed, direction of movement and behaviour state indicator)
Telecommunication system. When the stakeholders are in white areas, they can communicate with the tablet using Iridium, elsewhere using standard cellular or internet connection.
Earth observation systems. Sentinel-2/Copernicus seamless imagery at start to end with added value mapping of the herds' habitat and changing conditions, referential or seasonal or yearly production
Current Status
SISMA 2 (Space Innovative System to Monitor Animals) demonstration project which is succeeding to the SISMA1 feasibility study, started on 1st April 2019 and ended on 31 January 2022.
It has been delayed because of the strong impact of the COVID sanitary situation during the years 2020 and 2021, but successfully conducted thanks to the project partners, the pool of scientists and users who have significantly contributed to the implementation and use of the solution at such a large scale.
The pilot -demonstration service has run over a 10-month period, from April 2021 till January 2022. The Russian scientists helping us have validated the performance and utility of the collars and solution. Products and services have been commercialised in parallel of the demonstration.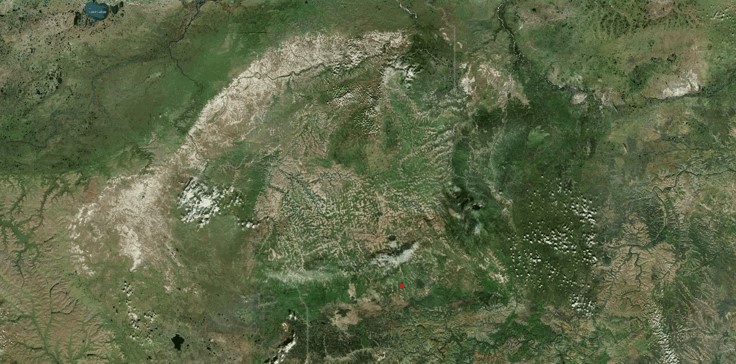 Prime Contractor(s)
Subcontractor(s)
Status Date
Updated: 03 February 2022
-
Created: 03 February 2022