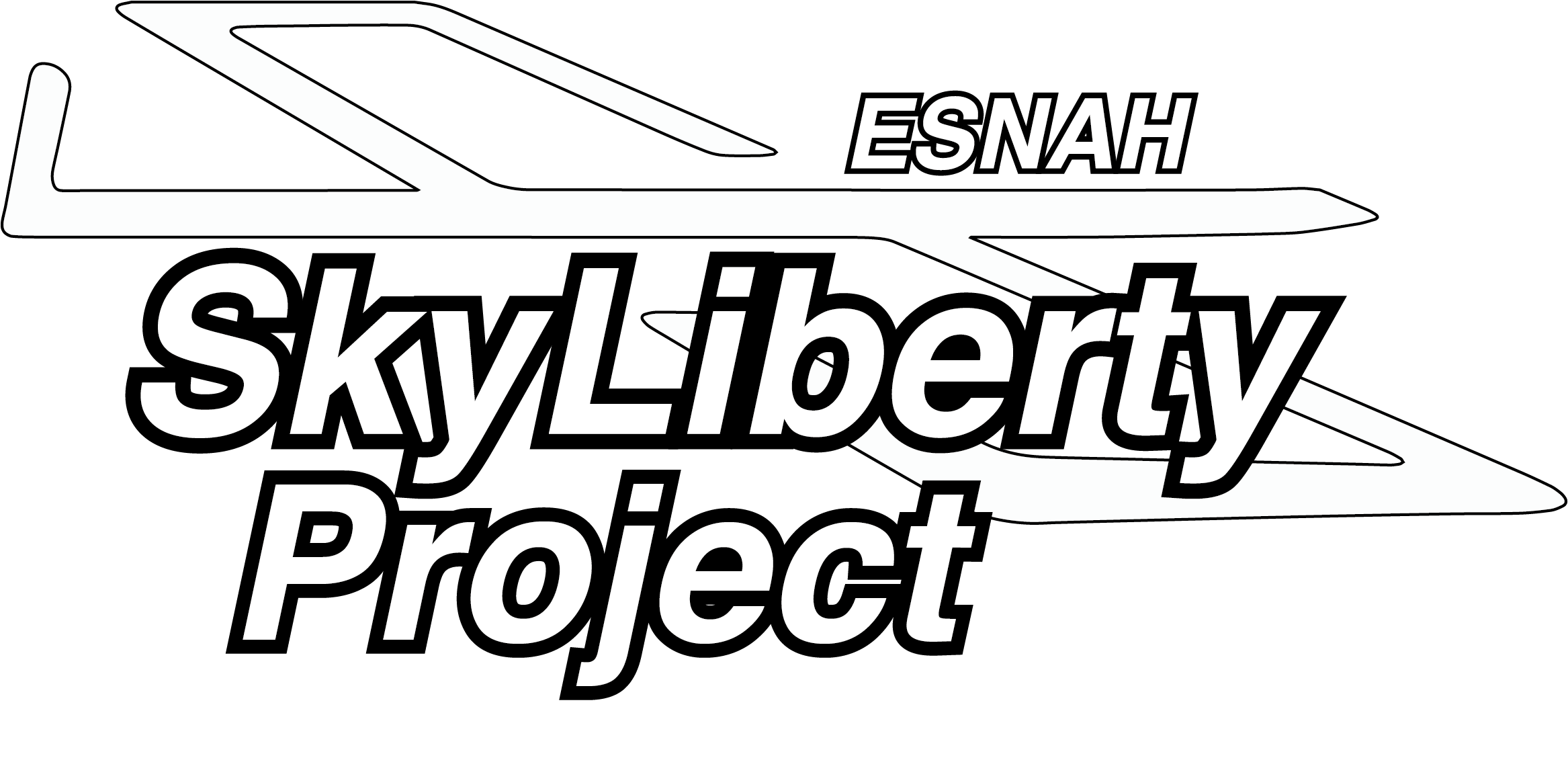 Objectives of the service
The objectives of the SkyLiberty demonstration project are to develop, qualify and validate an end-to-end service centred around an aeronautical software application able to:
Improve flight safety by providing to pilots reliable data and tools compliant with all safety recommendations currently in force
Provide a single comprehensive application with a rigorous methodology for navigation preparation.
Contribute to the reduction of fuel consumption for light aircrafts and be engaged in sustainable development of aviation.
Users and their needs
The SkyLiberty service users (and customers) belong primarily to the following two categories:
General aviation pilots (student pilots and private pilots). Ultimately, SkyLiberty could also be used by commercial pilots.
Aviation Training Operators (ATOs) and flying clubs.
The preparation of a flight navigation is often quite long and difficult for pilots who have to find out all relevant information in order to perform a safe and efficient flight. The various information required to prepare and select the best flight route includes airspace status and activation, meteorological context, topography to name a few. Pilots will then confront these data to their type of license, experience and qualifications. Obviously, such a work is of course more complicated for low experienced private pilots than for confirmed professional pilots.
Nowadays, a lot of technologies have emerged in aeronautics such as geo-localization systems, smartphones and tablets, which bring a number of benefits (e.g. easy access to data, automated routing) to ease flight preparation. At the same time, such tools also come with potential hazards. For instance, pilots can rely too heavily on such navigation technologies, which for some of them, display ground speed (the speed of the aircraft related to the ground) instead of indicated airspeed (the speed of the aircraft in the air mass) which can stall the aircraft.
Pilots therefore need:
An intuitive and easy but reliable access to navigation (aeronautical, geographical, meteorological and aeronautical regulations) data.
A system compliant with all national authorities associate to airspaces where pilot may have to fly
A real-time solution provided at an acceptable cost
The SkyLiberty service also targets a second category of users including Aviation Training Organisations (ATOs) and flying clubs. Indeed, SkyLiberty offers as a service the possibility to track the position of any aircraft of the fleet in real time as well as to communicate with an inflight aircraft. This allows for instance to track student pilots during their mandatory solo navigations, better adjust aircraft bookings, and provide accurate statistical data about the aircraft utilisation (e.g. to plan maintenance slots for instance).
Service/ system concept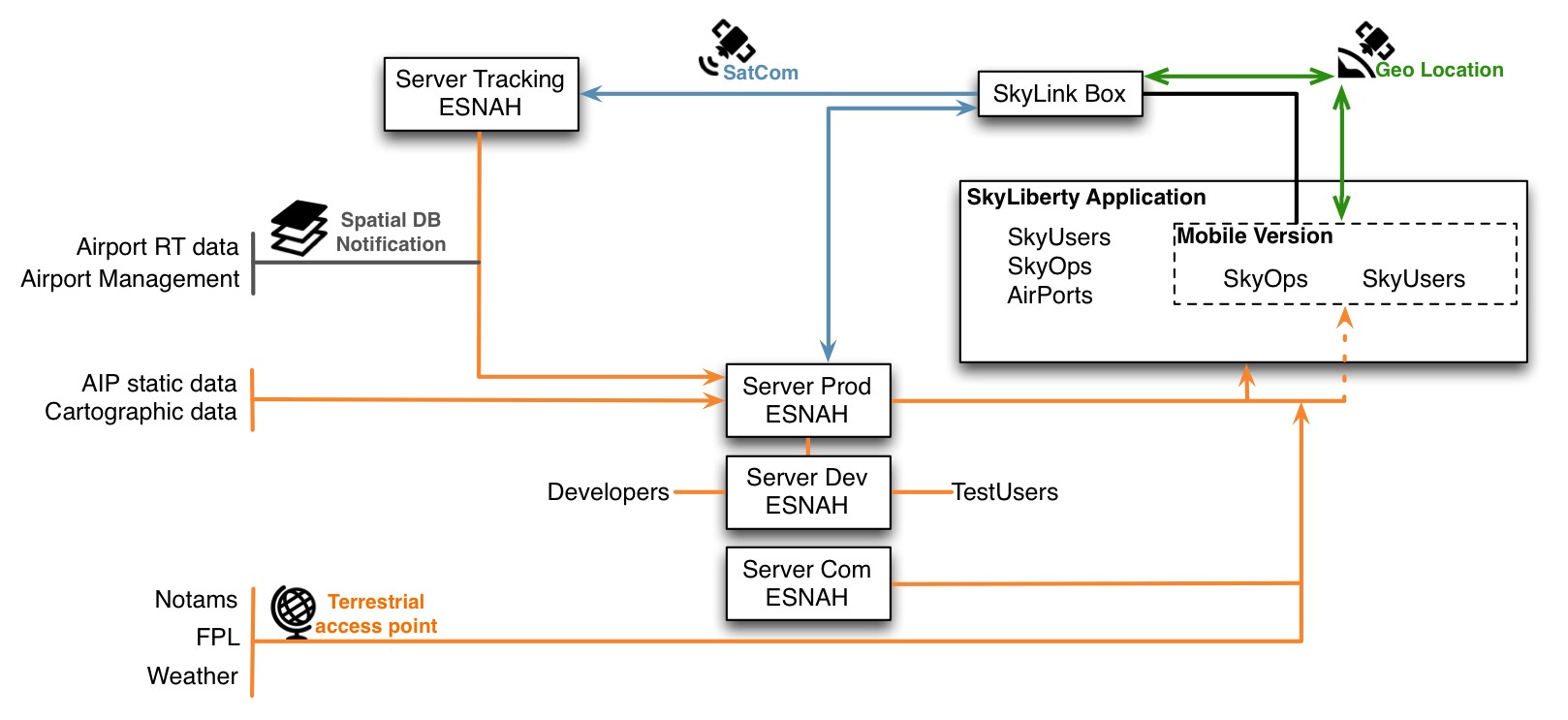 SkyLiberty relies on 2 main components: the SkyLiberty software application as well as an electronic device named SkyLink.
The application offers different services to the following five stakeholders:
➡ For pilots, several modules of the application can support the end-to-end management of each flight:
Flight preparation: management of flight license and medical certificate validity, visualisation of Aeronautical Information Publications (AIP), weather assessment, aircraft status assessment, flight planning, collection of handling information, community knowledge and sharing information, etc.
Flight execution: navigation aid, weather assessment, real-time aeronautical information, fuel flow management, etc.
After the flight: logbook management, aircraft flight book management, aircraft statistical data compilation, payment, experience sharing, etc.
The modules are independent but can offer more functionalities when pilots buy several modules.
➡ For aircraft operators: ESNAH will provide a complete tool for aircraft fleet management and flight data analyses. The service will offer operators the possibility to anticipate maintenance and share important information concerning aircraft status and operability among pilots.
➡ For airport operators: SkyLiberty contributes to EASA's (the European Aviation Safety Agency) safety reports and safety culture. SkyLiberty services aim to reduce light aircraft runway incursions and will improve and facilitate light aircrafts integration into traffic of large airports.
➡ For aviation institutions: the SkyLiberty web interface is a connecting tool between the flight safety manager of a flight school and national institutions (for instance for handling pilot anonymous incident reports).
➡ For general people: SkyLiberty offers several services to passenger using light aircraft transport for leisure or business (e.g. real time following flight for friends and families).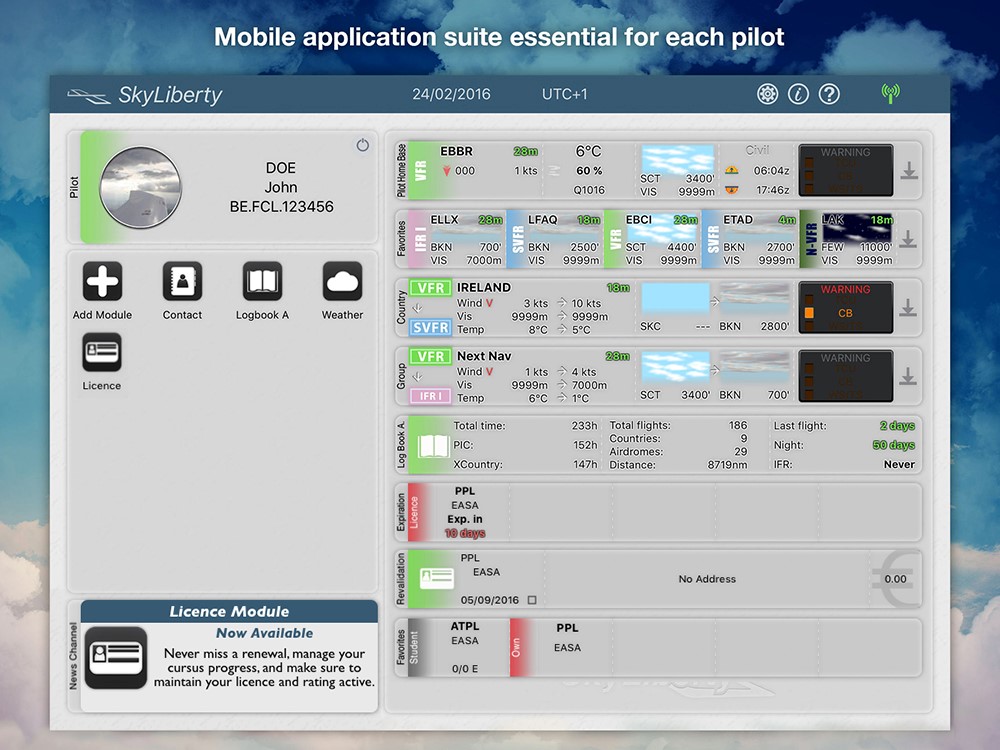 SkyLiberty Application Homepage
The supporting electronic device (SkyLink), is extending the SkyLiberty software solution and allows:
Aircraft operator (e.g. flying clubs, Aviation training Organisations) to receive real-time information and communicate with an inflight aircraft.
To send flight notification to the families and relatives of passengers.
Perform smart tracking of any aircraft equipped.
Provide reliable statistical data about the flown aircraft to pilots.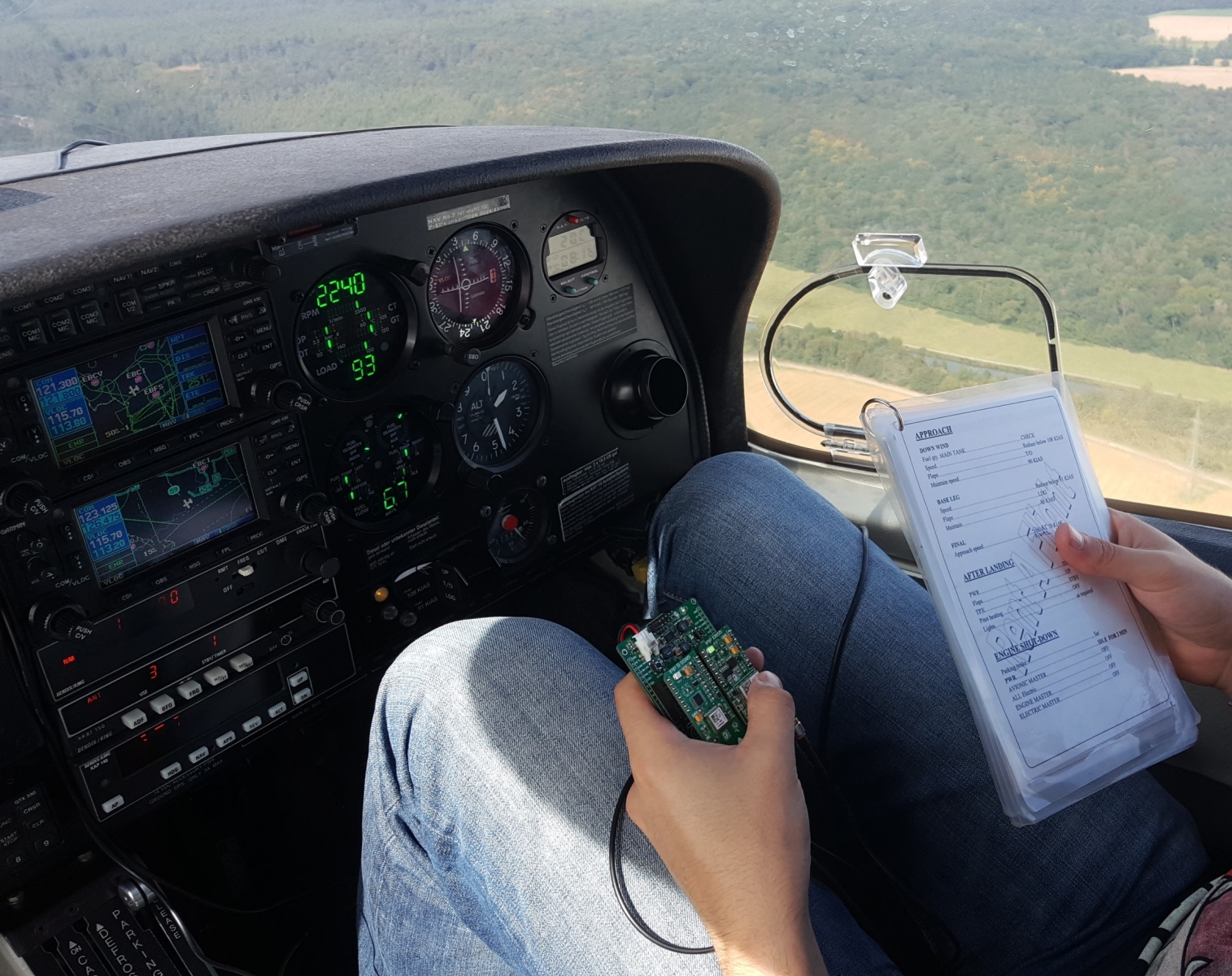 SkyLink Device - Prototype during Flight testing
Space Added Value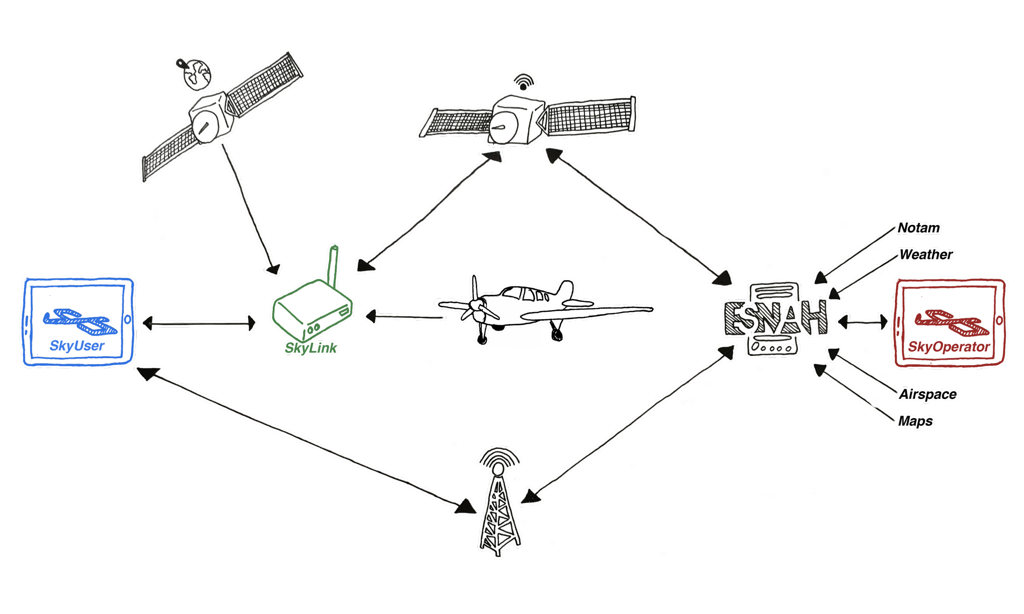 ➡ SkyLiberty requires a high quality of geolocation system. Data are used for avoiding the airspace infringement, detect runway incursion, provide a reliable real time following flight and can be used in high-precision navigation competitions.
➡ Above 2000 feet, the GPRS network is not available for pilots who can therefore no longer obtain real-time data during the flight. SkyLiberty offers to use Satellite communication to allow internet connection and share real-time information according to the services proposed.
Weather satellite imagery provide pilots with a clear visualisation of the enroute weather which is the most dangerous environmental factor during the flight.
Current Status
The Final Review meeting was successfully held on 25 May 2018 and marked the end of the SkyLiberty demonstration project.
The trials performed during the project demonstrated that the installation and the utilisation of the SkyLiberty application and its associated services by an aircraft operator for the booking, monitoring and management of a fleet of light airplanes was very smooth and effective. Based on the user feedback collected, ESNAH stabilized and improved the applications and after almost 2 months of intensive use, all these users declared to be very satisfied with the services offered. The community of pilots using SkyLiberty is increasing every day. On the Final review day, SkyLiberty had already more than 1000 users.
The SkyLiberty service demonstration allowed ESNAH to reach the following points:
Every defect report is seen before flying (increasing by 80% the consulting of defect report during pre-flight checklist)

The delay of flight plan due to refuel pending is reduced by 30% (10 min versus 45min)

The reliability of the weight and balance before flight is improved of about 62%
SkyLiberty Project has decreased by 40% the effort from the operator to keep the documentation up to date

The effort from the operator to manage flight log has decreased by 60%

ESNAH has developed a routing algorithm able to reduce the fuel consumption up to 34% for light aircraft

The weather consultation during long flight (more than 2h) increased by 84%
This positive commitment of the operator and feedback from pilots has allowed ESNAH to move further and start the integration of the SkyLink device into the dashboard of the planes and its connection to the primary bus bar and the avionic bus bar.
Although originally developed to meet aviation needs, the flexibility of SkyLiberty has allowed to expand to other areas, such as the maritime environment for boat tracking (IAP Profumo project) or the domain of food transportation.
Prime Contractor(s)
Status Date
Updated: 07 February 2020
-
Created: 06 September 2016