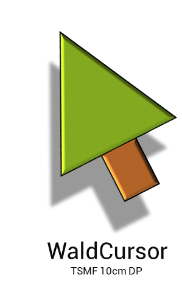 Objectives of the service

Climate change provides many new challenges for forests and forestry. Long dry periods combined with an increase in extreme weather events call for new solutions in forestry operations.
Combining easy to handle possibilities of remote sensing for forestry and features for geocoded digital forest-management, the WaldCursor offers a clever digital assistance for proper information based quick decisions in the field as well as in the office. WaldCursor is an app and cloud-based portal for forest owners and forestry operations. The portal facilitates steady monitoring of forests using satellite imagery, analysis supported by artificial intelligence, and easy-to-handle tools for georeferenced memos and areas of special interest or actions to follow. Within the WaldCursor the analysis of satellite data can be combined with locally provided drone data for detailed analysis. Thus, the WaldCursor forestry portal assists individual foresters and owners efficiently and cost-effectively and provides a solid record for decision making.
Users and their needs
The Tama WaldCursor is initially aimed at professional forestry operations as well as forestry owners, both in combination with their service providers.
While developing the WaldCursor through the Tama Situation Map Forestry 10CM pixel resolution Demonstration Project (TSMF_10CM DP) we took special care in developing "must-have features" of our target user groups:
Easy to use digital information portal

Access to satellite imagery even for sat-newcomers

Automated analysis of remote sensing data

Change detection and reliable phytosanitary alarm services

Usage of self-created drone imagery

Integration of various sensors
Service/ system concept
The WaldCursor portal offers users timely, accurate and comprehensive information about their forestry resources and enable their field teams to take swift action. According to our design-ins with various stakeholders we focused on features for geocoded digital forest-management which will be used on a daily basis and while taking care of the forest. Thus, also small and medium forestry businesses get an opportunity to use satellite imagery and more remote sensing data on an easy-to-handle daily basis. The WaldCursor portal puts users in a position to create, share as well as store current and geocoded information about the actual state of their forests.
Employing the WaldCursor, users can easily navigate in their geospatially represented forest. The implemented features set includes a broad set of capabilities:
Upload of property boundaries

Upload of multiple thematic layers such as permanent details like maintenance roads

Set geocoded Memos while in the field as well as in the office

Set geocoded Dockets while in the field as well as in the office

Share Dockets with team members and partners

Obtain phytosanitary alarms

Monitor time series of satellite imagery of the property ("my flipbook")

Include geospatially correct highest resolution imagery from drones

Extract elevation of their vegetation

Use in daily operations, phytosanitary care and ongoing inventory taking
The Tama WaldCursor provides three easily accessible user interfaces.
For mobile use an App (PWA technology) which is very easy to install on smart phones

For office use a browser-based system login and, for drone service providers,

A browser-based system login for drone data upload
The WaldCursor services become available by three software modules, all running in the cloud
Agent S, visualising and analysing Sentinel-2 imagery

Agent A, visualising and analysing drone imagery

Services Center, providing various digital capabilities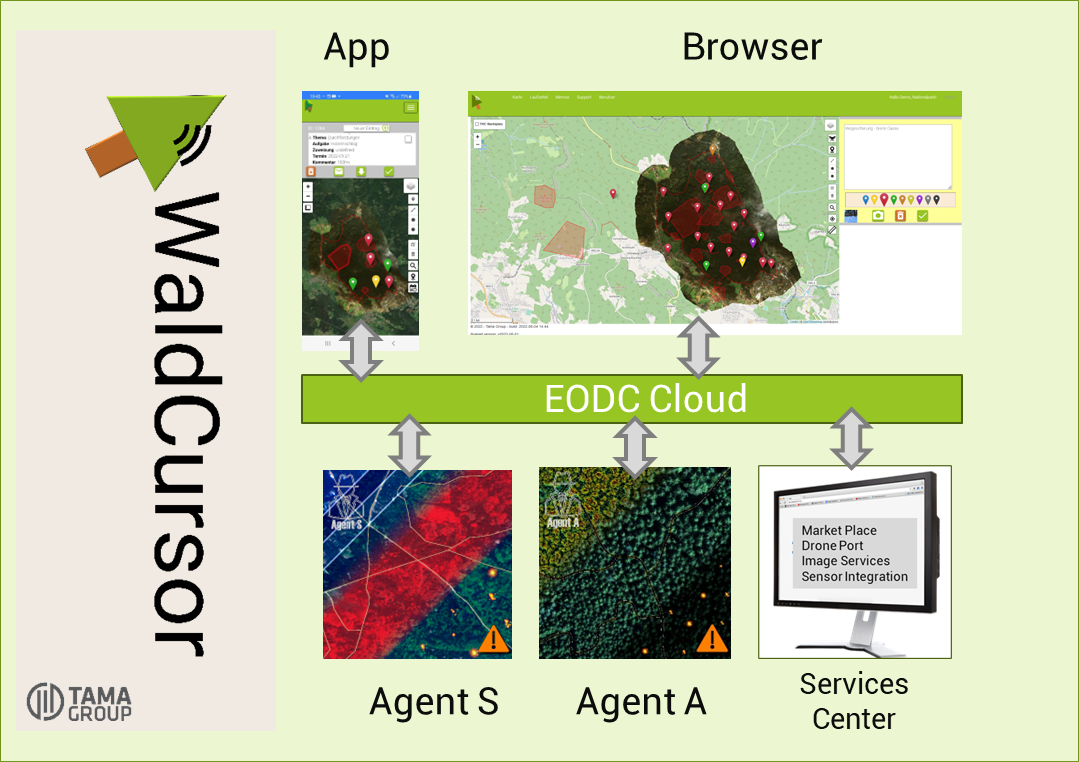 Space Added Value
The Tama WaldCursor makes intensive use of two kinds of space-based assets. First of all, remote sensing imagery from Sentinel-2 satellites becomes available directly to smartphones and offices of foresters and forestry owners. This remote sensing data builds the base layer of all other information layers in the system such as a field data and AI based analytics.
In addition to remote sensing satellites, the WaldCursor benefits strongly from GNSS data. In most cases in forestry, even 10m level accuracy of the local position as provided by commercial smart phones allows the users to make intensive use of the portal for visualization, analytics, alerts and guidance. This can be seen as strong upgrade as compared to todays' methods which are mostly built on ground-based information gathering.
Current Status
The WaldCursor forestry portal started commercial operations in April 2022. Interested parties may contact us for a test account by info@waldcursor.com.
By the way: The word "cursor" is originally a latin word, meaning "running". Many of our target users consider themselves as "wood runners", or WaldCursor. Accordingly, our product will be found on www.waldcursor.com.
Prime Contractor(s)
Status Date
Updated: 25 October 2022
-
Created: 19 May 2022