Objectives of the service
The key tasks of the project were to:
identify the User Needs in the oil, gas and mineral exploration areas, with a focus on the airborne survey element
identify the User Needs in the oil and gas production area, with a focus on the monitoring of oil and gas pipelines
understand the current State-of-the-Art in these areas
investigate the regulatory, financial and technical aspects pertaining to the feasibility of using small unmanned aircraft, with a satellite communication data relay link, flying Beyond-Line-Of-Sight using precision satellite navigation, to perform geophysical surveys and oil and gas pipeline and installation monitoring.
focus on the work necessary to introduce Unmanned Aircraft in:

oil, gas and mineral geophysical survey work
routine, daily, monitoring oil and gas pipelines
routine monitoring of oil, gas and mineral installations

consider in detail the important non-business aspects of this proposed service, including regulatory issues, the importance of public opinion and the possible advantages of an ecologically superior solution
identify the business opportunities and risks for all participants in the Service Chain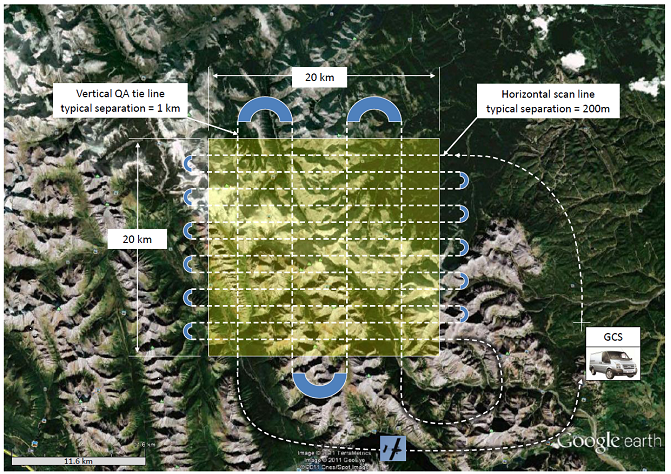 Users and their needs
The End Users in this feasibility Study are the large oil, gas and mineral exploration and production ("E&P") companies such as:
Oil and gas E&P
BP
Exxon
Royal Dutch Shell
Statoil
Mining E&P
Anglo American
BHP Billiton
Rio Tinto Zinc
Xstrata
Royal Dutch Shell is involved in this Feasibility Study as a User.
Shell GS-P&T oversee the oil and gas exploration and production activities for Royal Dutch Shell. The corporate name has changed to Shell Global Solutions - Projects and Technology Upstream or Shell GS-P&T for short.
Shell GS-P&T has a solid foundation, built by the best project and technical teams in the oil and gas industry. Shell GS-P&T provides technical services, technology capability and major project delivery in both Upstream and Downstream activities. Shell GS-P&T harnesses leading capabilities and provides solutions for technological challenges associated with assets and projects. Its activities include subsurface expertise and deployment, under which Geomatics falls. The Geomatics Department focuses on remote sensing, cartography, GIS services and geodetic integrity.
Service/ system concept
Airborne survey work and the airborne monitoring of pipelines is performed by manned aircraft and manned helicopters. One reads routinely of unmanned aircraft being used on military operations. Why not use them in oil, gas and mineral exploration and production work? Unmanned aircraft:
can routinely fly closer to the ground at night to get better quality geomagnetic data
can follow a very precise flight path, day after day, and night after night, at low level, using computer control and precision satellite based navigation
have lower operational costs, since a pilot is not carried in the aircraft
are more environmentally friendly, since they use less fuel per km travelled
Space Added Value
Using broadband satellite communication for command and control of the UA together with precision satellite navigation, UA's can be operated over a large area without the need for a terrestrial communication network with coverage in the whole operational area, or ground based navigation systems. This increases the operational flexibility considerably and has the potential to reduce the cost of the operations.
For monitoring services, the ability to access the payload data in near real-time can increase awareness and reduce response time considerably.
Together UAV's and space assets enable a wide range of services.
Current Status
Progress Meeting 1 at Inmarsat in London
Work Package 1 on morning of Thursday 11 August 2011
Work Package 2 on morning of Friday 12 August 2011
Work Shop 1 at Inmarsat in London
Consolidated User Needs on afternoon of 11 August 2011
Work Shop 2 at Shell in Rijswijk in the Netherlands
Consolidated User Needs on Thursday 17 November 2011
Mid-Term Review Meeting at ESA ESTEC
Work Package 3 on Friday 18 November 2011
Work Shop 3 at Sander Geophysics Limited in Ottawa
Overview and discussion of Economic and Non Economic Viability on Thursday 9 February 2012
Progress Meeting 2 in Ottawa
Work Packages 3, 4 and 5 on Friday 10 February 2012
Significant contributions to this Feasibility Study has come from the involved users. This information has been used to define the User Requirements, a system to satisfy those requirements, and to identify the Proof of Concept tests.
One key outcome of the Proof of Concept tests is that interference between the low gain satellite communications antennas and other nearby antennas and sensors is a serious problem in small unmanned aircraft. The problem has been solved using both internal funding and funding from other sources.
Final Project Meeting
In addition to simply identifying issues arising out of the Proof of Concept tests, we also solved the issues using internal funding and funds from other sources. This leaves us with confidence that we can move on to the proposed Demonstration Project with all the major issues having been resolved during the Feasibility Study.
Conclusions:
The UASatCom Feasibility Study has concluded that:
The use of unmanned aircraft in both Geophysical Survey and Pipeline Monitoring services is technically feasible.

The regulatory constraints that existed a few years ago are being resolved, opening up the opportunity to use unmanned aircarft in the post-2015 timeframe.

The commercial case for the introduction of this disruptive technology based on the use of unmanned aircraft in GS and PM services is compelling.
The next step is to gather the evidence, already requested by potential service users, to justify the findings of this Feasibility Study.
We have submitted an Outline Proposal for a follow-on, User driven, SURMON Demonstration project as the next crucial step towards the roll out of pilot GS and PM services.
A copy of the non-confidential UASatCom Feasibility Study Final Report is now available.
Prime Contractor(s)
Subcontractor(s)
Status Date
Updated: 04 October 2012
-
Created: 15 February 2014