***CLOSING DATE IS TENTATIVE***
OPPORTUNITY
Tourism is a large contributor to many national economies; according to statistics prior to the pandemic, the sector would directly contribute on average with 4.4% of Gross Domestic Product (GDP), and 21.5% of service exports in Organisation for Economic Co-operation and Development (OECD) countries [OECD Tourism trend Policies, 2020].
Due to the COVID-19 pandemic, the actions and countermeasures being undertaken to limit its spread, have altogether triggered an unprecedented crisis in the tourism economy, whose impact is spreading throughout the entire tourism ecosystem and beyond, with foreseen long-lasting societal and economic effects. Beyond the tangible and short-term consequences to the tourism sector, the pandemic is expected to have a knock-on effect on travellers' behaviour. Travellers will need to be reassured of safety during travels as well as at their destinations. To accomplish this, a concerted set of actions involving both private and public sector has to be undertaken to elevate new safety, health and hygiene standards, and give visibility of well-thought processes to objectively assess those. 
Despite the challenges, such crisis creates the opportunity to rethink tourism and promote a structural transformation of this sector towards a stronger, more sustainable, and resilient tourism economy. Connectivity and digital transformation are required for the sector to initiate such a purposeful innovative journey while responding to the COVID-19 challenges. Initial indications are that the current crisis is accelerating the digital transformation of the sector. Digital solutions are being developed to create live tourism experiences and will be increasingly deployed to support virtual experience for remote destinations. 
In this context, ESA in cooperation with the World Tourism Forum Lucerne (WTFL) is planning to issue an Announcement of Opportunities (AO) for the development of space-based services enabled by innovative digital solutions to support tourism and travel industry in their transition to the new normal.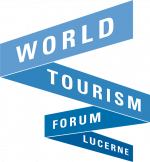 About World Tourism Forum Lucerne (WTFL)
The World Tourism Forum Lucerne (WTFL) is the leading interactive platform in the industry, where CEOs, Ministers, Academia, Finance, Start-Ups, Next Generation and Young Talents become a strong community addressing the future challenges of the travel, tourism and hospitality industry and shape a more sustainable future. The WTFL work is focused on four core pillars: Innovation, Sustainable Development, Talent and Diversity.
KEY FOCUS AREAS
Examples of focus areas relevant to the AO are potential space technologies to accelerate good practices towards sustainable development that will help the tourism sector reach the Agenda 2030, such as:
Use of digital and connectivity solutions to help the sector embrace new business models required in post – COVID 19, focusing on: 
Shift towards unmanned transportation, increased use of automation and robots
Support rural tourism by promoting remote experiences
Provide always-on/ everywhere connectivity to travellers
Support traveller's experience sharing and active engagement with rural communities
Seamless travel:
Technology and services to ensure transparency and traceability according to relevant protocols (including border controls) and enable efficient implementation of new regulations.
Safe travel:
Applications and services to help tourism sector become more resilient to natural/man-made disasters and health issues. Catering for new customers' behaviours, the sector needs to embrace new solutions and business models to promote the safety of the destination. This is expected to be largely supported by seamless (always-on) connectivity and digitalisation. Always-on connectivity will re-ensure travellers of assistance for unforeseen circumstances; digital solutions will be required to provide factual evidence of safety of local destinations including social distancing; fast response tools and services have to be further developed in order to respond to various types of emergencies (including medical). New solutions are also required to monitor spread of new diseases at various scales - from regional/ cities to touristic resort settings. 
Guide investments and measuring impact  
Public and private investments need to support the tourism sector and keep on innovating and transforming. Major investments will be needed to make structural and physical changes to address health requirements and respond to changed travel behaviours.
Measure the net impact of tourism - focusing on rural tourism (tourism as a catalyst to sustainably and responsibly support rural community's upliftment) as well as investments and planning, including tourism seasonality, trends monitoring, managing and mitigating risks. 
VALUE OF SPACE 

Satellite Earth Observation (SatEO)  
SatEO data (both SAR and optical) can be used to monitor and plan infrastructure (e.g. buildings, road network, parking lots, airports) as well as identifying visitors' patterns. SatEO can also be used to monitor land cover changes over time (e.g. in both rural and city level, wild habitats, forest, land, water, etc.). 
Global Navigation Satellite Systems (SatNav) 
SatNav is essential to track and trace tourists and search and rescue teams. SatNav can also enable visitor flow-monitoring and location-based services to geo-localise points of interest in the tourist maps and to enable geo-fencing and time-fencing features. In addition, GNSS receivers and sensors can be installed in the tourist sites to be used as complementary ground surface deformation measurement points to EO data.
Satellite Communications (SatCom) 
SatCom is essential to ensure global communications for any of the above data services enabled by SatNav whenever the terrestrial communications are absent or not reliable. SatCom may be used also to provide broadband Internet access via WiFi hotspots to enable mobile immersive applications.
It is mandatory to develop solutions based on at least one space asset. If relevant, other technologies such as Augmented/ Virtual Reality, Artificial Intelligence/ Machine Learning, can be integrated in the end-to-end solution.
WHAT WE OFFER
We offer funding and support to companies, both for business case assessment and for the development of new, space-based services addressing the tourism sector. Our offer includes:
Technical & commercial guidance;
Access to our network and partners;
Use of the ESA brand for your service;
Zero-equity funding.
WHAT ARE WE LOOKING FOR?
Motivation, business experience and domain expertise are all important features. We want to hear about your ideas that involve utilisation of either space technology or space data. 
We welcome any ideas from businesses of any size, such as start-ups and SMEs to develop their ideas for new business applications. Newcomers and organisations, we've worked with before are both welcome!
For this call, companies residing in the following Member States will be eligible to apply: Austria, Belgium, Czech Republic, Denmark, Estonia, Finland, France, Germany, Hungary, Ireland, Italy, Luxembourg, the Netherlands, Norway, Poland, Portugal, Romania, Spain, Sweden, Switzerland and the United Kingdom. 
Economic Operators, intending to respond to this AO are requested to inform their National Delegation of their intention to submit a proposal as soon as possible, prior to the submission of the Outline Proposal.
WEBINAR
Speakers: Davide Coppola, Mina Syriou (ESA) and the invited speakers (Martin Barth - CEO WTFL, Alfred Schumm - WWF, Martina von Münchhausen - WWF)
More information will be available soon.