THEMATIC CALL FOR PROPOSAL
Thematic call in the frame of the standard call for proposal AO/1-10494.
APPLICATION ROUND 4 DEADLINE: 31/03/2023
APPLICATION ROUND 5 DEADLINE: 31/10/2023
APPLICATION ROUND 6 DEADLINE: 31/03/2024
The Thematic Call for proposals targets the development of space-based services for supporting the digital transformation of the energy utilities sector and enabling the just transition to green energy across business sectors and society. This can help to support interoperability within the sector and the sector's connectivity with other sectors, especially where critical infrastructure may be used or developed.
Increased urbanisation globally has led institutions and companies to address climate-related problems by dramatically decreasing and mitigating carbon use. The need for ensuring security of energy supply in times of growing energy consumption, energy price volatility, but also the increasing awareness and international commitments for climate change, have led to the creation of an ambitious set of targets and support programmes in Europe.
The energy sector is at the start of a pathway of exponential improvements: digital solutions and enhanced connectivity are fuelling these trends and can play an even greater role through influencing of consumers and business decisions, providing factual based evidence to support policy, decision making and green investments, and overall enabling purposeful transformation of the energy sector and its transition to circular economy.
Examples of possible use cases are provided below in the Scope.
The topics of interest, indicated in the Annexes available in this webpage, have been derived after several interactions with key stakeholders of the sector, including:
Electric Power Research Institute (EPRI)
The UK Department for Digital, Culture, Media & Sport (DCMS)
The UK Department for Business, Energy & Industrial Strategy (BEIS)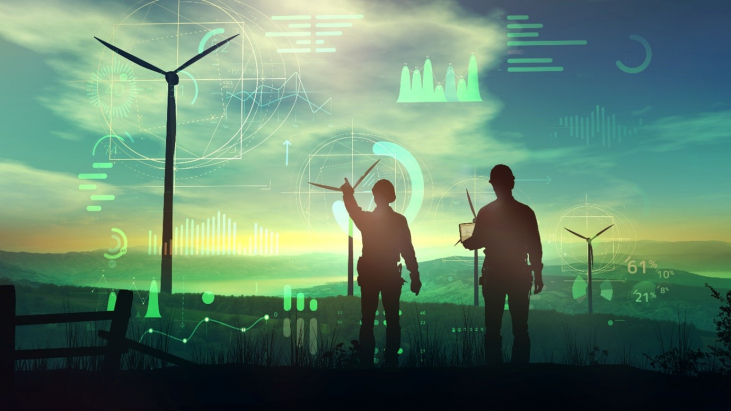 SCOPE AND VALUE OF SPACE

The Thematic Call aims at developing sustainable services leveraging different space assets, including hybrid 5G-satellite communication networks, to address current priorities in the energy sector. The Thematic Call's focus is on (but is not limited to) the following areas of interest:
Net positive environmental impact, social acceptance, circular economy of renewable sector
A holistic approach of considering the environmental impact throughout the lifecycle of renewable energy and its supply chain is required to prove positive net environmental impact. Among other technologies, digitalisation and Satellite communication (SatCom) can help collect and analyse data throughout whole project lifetimes, track and increase transparency to supply chains, get insights on the use /reuse and repurpose of assets and energy infrastructure, and derive lessons learnt on the most needed innovation to improve operational efficiency and performance.
Monitoring existing renewable capacity: increasing efficiency of green renewable energy and safety of operations
Digitalisation will deliver enhanced intelligence, increased resiliency, significantly improved efficiency, and safety of operation across the grid. Through the application of Edge and Internet of Things (IoT) devices, utilities companies can seamlessly measure, monitor, and manage the status of the infrastructure they use. For example, Satcom-supported IoT data collection and ancillary data from satellite Earth Observation (SatEO) can be used to monitor onshore wind and solar installation sites and assess key factors like degradation, cleaning, and necessary replacements. This can help to enable predictive maintenance and ease site operation and management.
Supporting plans for renewables deployment: planning and bankability of green renewable energy
Mapping out suitable areas for solar and wind energy deployment and analysing it with existing georeferenced energy industry/infrastructure can help estimate the range of likely costs of, and storage potential from, solar and wind deployment for developers and consumers (large scale, commercial and domestic rooftop). This creates a holistic view of economic value of solar and wind energy deployment, with a potential for spin-off services in the domains of energy infrastructure planning (e.g.: where to best deploy green powered electrical vehicle charging points and new grid connection points to optimise grid stability) and green financing (demand for independent solar and wind development financing by matching energy generators with corporate and household consumers).
Smart energy systems and digitalisation of the utilities infrastructure
With the trends towards low-cost renewables, power transmission becomes increasingly important to supply areas of high-power demand including large cities and industrial regions from areas with abundant renewable energy resources. Modernising the energy network to ensure continuity and security of supply and quality of service is imperative to enable steady growth in adopting green energy across business sectors. Space, as well as 5G and other innovative technologies, can accelerate the grid modernisation by enabling real-time collection and analysis of large amount of data from a range of sources that may be linked to the grid, such as renewable power plants, transmission lines, and mitigate the intermittency of renewable generation by improving grid balancing services.
To achieve the objectives relevant to this Thematic Call, the proposed services will rely on space assets such as Satellite Communication, Satellite Navigation and Satellite Earth Observation. Technologies such as 5G, Augmented/Virtual Reality, Artificial Intelligence/Machine Learning, cyber secure digital technologies, robotics, uncrewed/remotely-piloted transportation systems (such as Remotely Piloted Aircraft Systems, Unmanned Surface Vehicles, etc.) can be used if relevant to the identified use cases.
Additional details and more specific Use Cases are in the Annexes available for download on this page.
WHAT ARE WE LOOKING FOR?
The Thematic Call offers the opportunity to companies to bring forward their business propositions, which will leverage on space assets to support the digital transformation of the energy utilities sector and fostering the just transition. The exploitation of connectivity using 5G is encouraged.
Funded participation is open to any company and/or organisation, be it as group of users, public body or non-governmental organisation, residing in any of the ESA Member States that are participating to the programme as specified in the Letter of Invitation in esa-star (https://esastar-publication-ext.sso.esa.int/ESATenderActions/details/6900).
Economic Operators, intending to respond to this Thematic Call are requested to inform their National Delegations of their intention to submit a proposal as soon as possible, prior to the submission of the Outline Proposal.
Contact information can be found under: National Delegations.
As part of this activity, during the implementation process of the technical solution, the selected companies will be given the opportunity to come and test their applications in the ESA-ECSAT 5G/6G Hub. Based at ESA's European Centre for Space Applications and Telecommunications (ECSAT) in Oxfordshire, UK, the centre provides a converged satellite and 5G terrestrial network and state-of-the-art equipment. The Hub is a centre of excellence supporting the digital transformation of business with integration of satellite with terrestrial telecom networks. More information is available at the link https://artes.esa.int/esa-5g6g-hub.
HOW TO APPLY
Step 1: Activity Pitch Questionnaire

The Activity Pitch Questionnaire allows you to present your business idea in a reduced, standardised pitch. It helps us to quickly assess your activity and decide on the way forward.

Download the Activity Pitch Questionnaire.
Prepare your pitch and optionally consult with an ESA Business Applications Ambassador.
Submit your pitch as instructed in the Activity Pitch Questionnaire, through the form online.

Upon submission of an Activity Pitch Questionnaire:

We may share the submitted Activity Pitch Questionnaire with National Delegations for coordination purposes. 
We will assess your pitch.
We will inform you about the results and next steps.

Note: 

Before Full Proposal submission (Step 3), you must obtain authorisation from the National Delegations of the countries in which your and your partners' organisations reside. We recommend liaising with the National Delegations as early as possible. 
For Italian entities, it is NOT required to contact the National Delegation (ASI), because ESA has been delegated by ASI to interface with the Tenderer in the whole stage of the bidding process. 

Step 2: Outline Proposal

If we accept your Activity Pitch Questionnaire, we will invite you to prepare an Outline Proposal for a Feasibility Study or Demonstration Project. 

Download the Outline Proposal Template for a Feasibility Study or Demonstration Project from the Documents webpage.
Prepare your proposal, elaborating on your pitch.
Submit your Outline Proposal for evaluation, within 1 year from APQ submission. 

Upon submission of an Outline Proposal: 

We may involve external experts in the proposal evaluation to coordinate activities within ESA Member States and the European Union.
We may ask you to address clarification points originating from the Outline Proposal evaluation.
If all clarification points are sufficiently addressed, we will prepare a project dossier and request approval from our Steering Board, which meets quarterly.
We will inform you about results and next steps.

Step 3: Full Proposal

If we invite you to submit a Full Proposal:

Upon submission of a Full Proposal:

An independent board will evaluate your proposal against criteria set out in the tender documentation.
We may ask you to address clarification points identified during proposal evaluation and invite you to a negotiation meeting.
Upon successful negotiation, we will send you a contract for signature and agree the project kick-off.
WEBINAR
Round 1 webinar:
11:00 CET, 23 February 2022
Speakers

Davide Coppola (ESA)
Mohammad Lari (DCMS)
Laura Schade (BEIS)
Round 2 webinar:
Round 3 webinar:
15:30 CET, 11 January 2023
External speaker:
- Mark McGranaghan (EPRI)
- Laura Schade (BEIS)