Objectives of the service
The "Autonomous Drone Services in the CBRNe operations" (AUDROS) is feasibility study funded in the frame of "Integrated Application Promotion (IAP)" programme jointly by the European Space Agency (ESA) and the European Defence Agency (EDA). The project consortium consisted of four partners: BizGarden (CZ), GINA Software (CZ), VVU - Military Research Institute (CZ) and Cervi Robotics (PL).
In the last few years the RPAS technology developed very fast from expensive special purpose equipment to an affordable mass-produced leisure time equipment (a flying camera with high quality video and photo capturing). Now the technology is being introduced to all kind of industries where the potential of affordable, reliable and versatile RPAS enables new services and service provision alternatives.
The project's objective was to validate the effectiveness of the use of RPAS technologies supported by space technologies for reactions on rising danger of CBRNe issues. Further on, a business proposal was designed which the findings on technological and technical level transferred into a business proposal creating a real opportunity for a sustainable service in the market.
Users and their needs
The study gave the team the possibility to work closely with user groups relevant for the technological design and development and for the future business development. The results of AUDROS have been shaped in close cooperation with:
Potential final users from defence and civil protection forces (border police, fire brigades etc.)
Established companies in the defence industry (private and state owned companies providing RTD and/or direct delivery of certified equipment and systems);
Private companies in different industries as security, transportation, mining, energy production, health and others;
Institutions influencing the legislative framework (Civil Aviation Authorities)
The RPAS technology is at present level of development determined by the energy management. Regarding the battery maintenance and charging the user requirement varied for different service types. Therefore, battery charging and management was set as an UR which also defines the first milestone during the customer decision process.
Onboard charging
Onboard charging with fast response – permanent standby mode
Offboard charging
For the further business design this product lines have been chosen:

User Requirements have been merged in four areas respecting the technical solution:
UR's regarding MODIFICATIONS of open platform RPAS – the Off the Shelf RPAS;
UR's regarding INTEGRATION of certified special purpose RPAS with hangar technology;
UR's regarding HANGAR functions and properties;
UR's regarding user INTERFACE.
The findings were base for the definition of several types of services with a high business potential. The RPAS-HANGAR system attracts users through improved functionality, reliability and availability. For further development the most promising solution have been chosen to be further analysed and developed as they represent real business opportunities with immediate sales potential.
Industrial customers potentially use the PRAS system with the hangar to improve or replace the already used services based on imagery provided by RPAS. The installation of hangar is mainly solving their needs of:
Lower service or operation costs at higher performance;
Combination of services provided by one RPAS-hangar system;
Automation of tasks and reporting;
Response on CBRNe threats caused by industry.
Industrial clients do not have military specific requirements and expect or accept:
Acceptable price and ideal price/performance ratio;
Use of standard off-the shelf sensors;
Solution based on off-the-shelf RPAS;
User specific communication and frontend solution.
Potential scope of delivery/participation on value chain is development and delivery of hangar with participation on integration of certified RPAS and certified communication and command technologies.
Highest demands are laid on:
Resistance and endurance (most demanding environment – temperatures, sand dust, vibrations etc.;
Integrity and reliability;
Integration of anti-jamming and anti-spoofing provisions and technologies.
Service/ system concept
The RPAS-Hangar system is part of the particular service value chains in industry and security operation where it gathers data provided in real time or nearly real time to the commanding dispatch. Part of the data is gathered for further processing by other systems.
The schematic positioning of the technology in the value chains is shown in the tables:
High Level architecture Civil protection service
High level architecture for Industry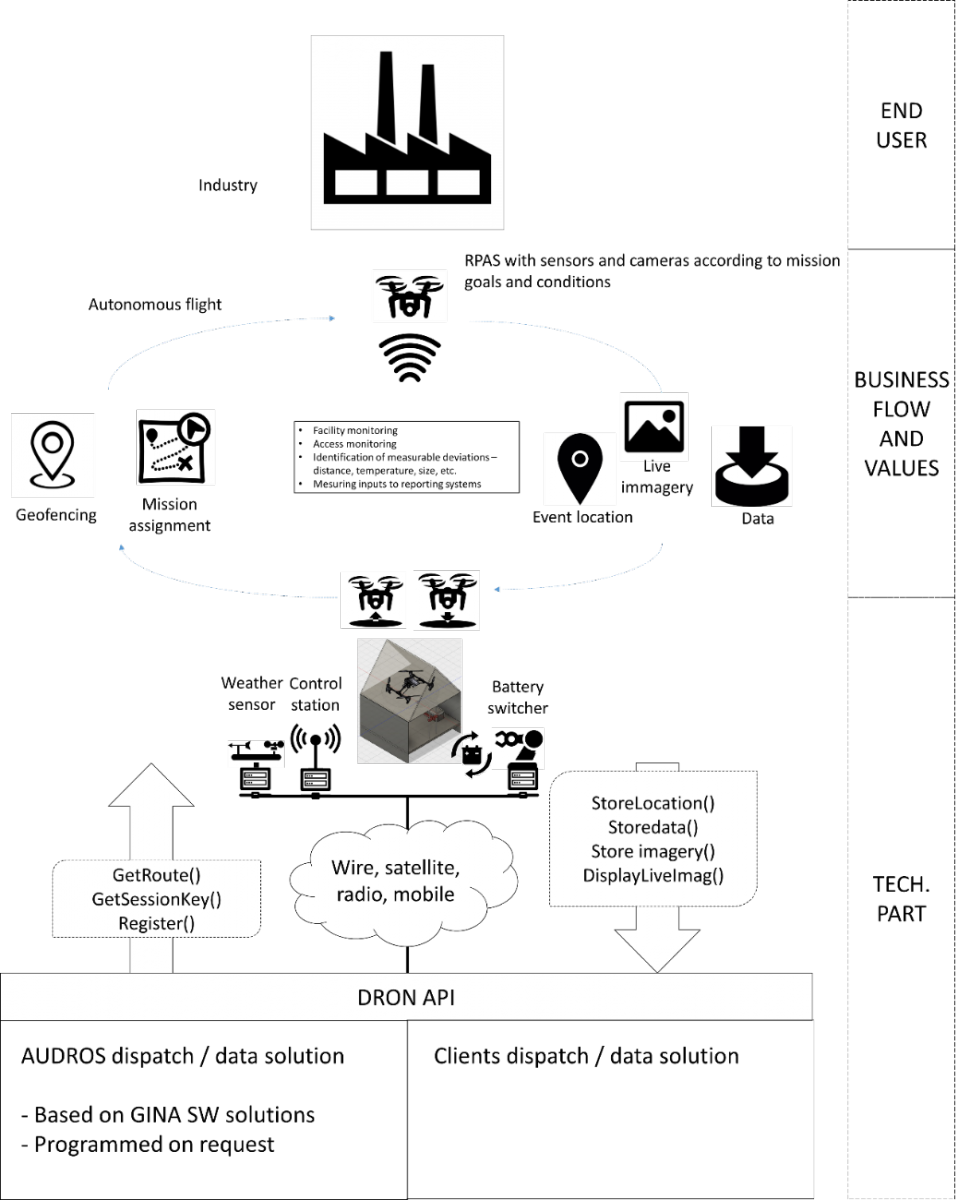 The presented service and System architectures show the general overview which needs to be specified in detail for each particular solution, which will be developed for the particular clients' case.
The RPAS Hangar system allows two versions of battery maintenance and charging. This allows to offer specific version according to user scenario, optimisation of price and costs and adaptability of the system to most of the RPAS on the system, simply a high grade of scalability of the product and service..
on-board charging is used for services:

with min. 40 minutes stop between missions during which the batteries are charged on the RPAS (automatic cable connection for charging/data transfer);
where RPAS is kept in permanent standby mode to be ready for immediate mission start on command (typical for RPAS capturing mission) off-board charging is used for services which require permanent availability of RPAS with only short maintenance stops for battery swap.

Important part of the system is the management of the RPAS-Hangar system with status reporting and processing of collected data.
The RPAS-Hangar system for the proof of concept activities during the study was programmed by Cervi-Robotics team. This includes all hangar systems and also RPAS flight programmes and plans. The main hangar subsystems are:
heating,
air conditioning,
battery swap,
battery management and charging,
mechanical operations of the hangar incl. starting/landing platform management,
precise start/landing routines (systems include hangar and RPAS based parts).
The collected data (measured radiation and gas concentration data) have been during the flight transferred to hangar and further to GINA Central, which is a Geo Information Assistant system used by fire brigades, civil protection forces, international NGO's to manage teams in the field during all kind of disastrous events and to share actual information. The data have been after processing displayed in near real-time to GINA connected devices. This initial integration with existing system demonstrated the ability to provide critical data to users.
For quotations or technology layout proposal of the service optimised for your use case contact the DronHub team through https://dronhub.eu/.
Space Added Value
Satellite Earth Observation (SatEO): Designed systems cover an important component use combination of in-situ and SatEO. This applies for service as meteorological information and forecast to analyse possible situation development. Also available near real time Earth observation satellite imagery is used to visualise the situation and provide best available data to command.
Satellite Navigation (SatNav) is a crucial component to autonomous drone services and rescue team management in the field. Navigation systems is implemented in wide range in the targeted services.
Satellite Communication (SatCom) is a communication system that can be used as part of the drone hangar to secure data transfer to remote dispatch/command.
Current Status
The feasibility study was started in January 2018 and has been completed successfully with the Final Review held in December 2018. The study was initiated within a cooperation between the European Space Agency (ESA) and the European Defence Agency (EDA) to investigate solutions proposed by Industry to assess the viability of services addressing the user needs in the field of CBRNe countermeasures. ESA and EDA project managers were jointly managing the study progress and the results have been introduced to EDA members and representatives.
The result of the study is the definition of an RPAS-Hangar system enabling fully autonomous BVLOS RPAS services equipped with payloads allowing monitoring of CBRNe related data - visual day and night detection of persons and equipment, search and mapping of radiation sources and pollution and search and mapping of CWA/TIC pollution.
The RPAS-Hangar system was tested during the study. It was equipped with light weight sensors for radiation and gas (TIC, ammonia) and the concept was proven during outdoor flights on the facilities of project partner VVU s.p. (Military Research Institute, state enterprise). Potential users and stakeholders have been invited and participated to the PoC.
The technical layout of the RPAS-Hangar system allows modifications to scale up the market. Concept of the hangar is adaptable to different open platform MOTS RPAS and to special purpose RPAS with total take-off weight up to 25 kg. This allows to use solo or combined payload with up to 9 kg.
The final conclusions are that the Audros Service (RPAS-Hangar) is feasible both technically and commercially, and the plan is to go forward with a Demonstration project and introduce the service and technology to market in coming months.
European Defence Agency was represented by: Mr. Shahzad Ali, European Defence Agency, Rue des Drapiers, 17-23, B-1050 Ixelles, Belgium
DOWNLOAD THE LEAFLET
Prime Contractor(s)
Subcontractor(s)
Status Date
Updated: 02 April 2019
-
Created: 16 August 2018