Objectives of the service
Planning outdoor activities is a complex undertaking and requires a broad set of skills, especially when users want to explore and discover new places that they have not visited before. Accurate and reliable route descriptions, topographic maps and weather forecasts are critical information for undertaking safe and enjoyable trips. However, it is often burdensome for users to find and combine relevant content and some users have difficulties interpreting information correctly with regard to their level of experience and fitness. Although there are many tools in the market, there is no one-stop-shop solution that provides all relevant information for outdoor enthusiasts in one place. The integration of the developed value-added weather services into the existing Outdooractive platform closes this service gap. The fully integrated solution combines maps, elevation profiles and route descriptions with high resolution micro-local weather forecasts, snow coverage maps, weather-based recommendations and warnings, outdoor routing features and navigation guidance support in novel ways. Step by step, the new services will be made accessible for users on the Outdooractive platform through web interfaces and native mobile applications for iOS and Android to provide advanced decision support for planning and undertaking outdoor activities.
Users and their needs
Outdoor enthusiasts share a passion to frequently spend time planning and undertaking outdoor activities, ranging from hiking and biking to mountain climbing and ski touring. In addition to end users in the business to consumer (B2C) market, the service offering also targets travel operators that organize outdoor trips and multi-day itineraries for people who prefer assistance or guidance on tour. To meet user needs and expectations, the consortium worked closely together with the Alpine Clubs of Germany, Austria and South Tyrol as business to business (B2B) customers and distribution partners for the B2C target user community. In addition, existing users of the Outdooractive community were contacted to participate in the evaluation trial phase in the second half of the project. The results show that outdoor enthusiasts have the following user needs for planning and undertaking outdoor activities in complex terrains:
Finding relevant information from different sources
Combing information and applying it in a personal context
Making spatio-temporal decisions on appropriate routes and suitable times
The core challenges for the development and the operation of the MVP (Minimum Viable Product) was to provide a great user experience and high quality information that could meet users' expectations with regard to accuracy, reliability and relevance.
Service/ system concept
The set of value-added weather services is provided to outdoor enthusiasts and travel operators through the freemium business model of the Outdooractive platform. While basic services are offered for free to attract new users, advanced value added services are only accessible with B2C membership subscriptions for end users or a Software as a Service (SaaS) licence for B2B customers.
In the background, MetGIS acts as a 24/7 service provider and delivers the required weather and snow cover information through APIs. A snow processor module developed by DLR/DFD detects snow coverage. Users access the weather-based route recommendation service through web based user interfaces and mobile applications for Android and iOS.
All information that is required for enabling users to better understand the weather conditions along a route as they are expected to develop over the span of a day or multiple days are visualised in a spatio-temporal context, using maps and elevation profiles of the selected routes. The powerful recommendation and decision support features enable users to easily identify outdoor activities with suitable weather conditions in certain geographic regions and time frames and guide users on tour when unexpected weather changes occur along their route.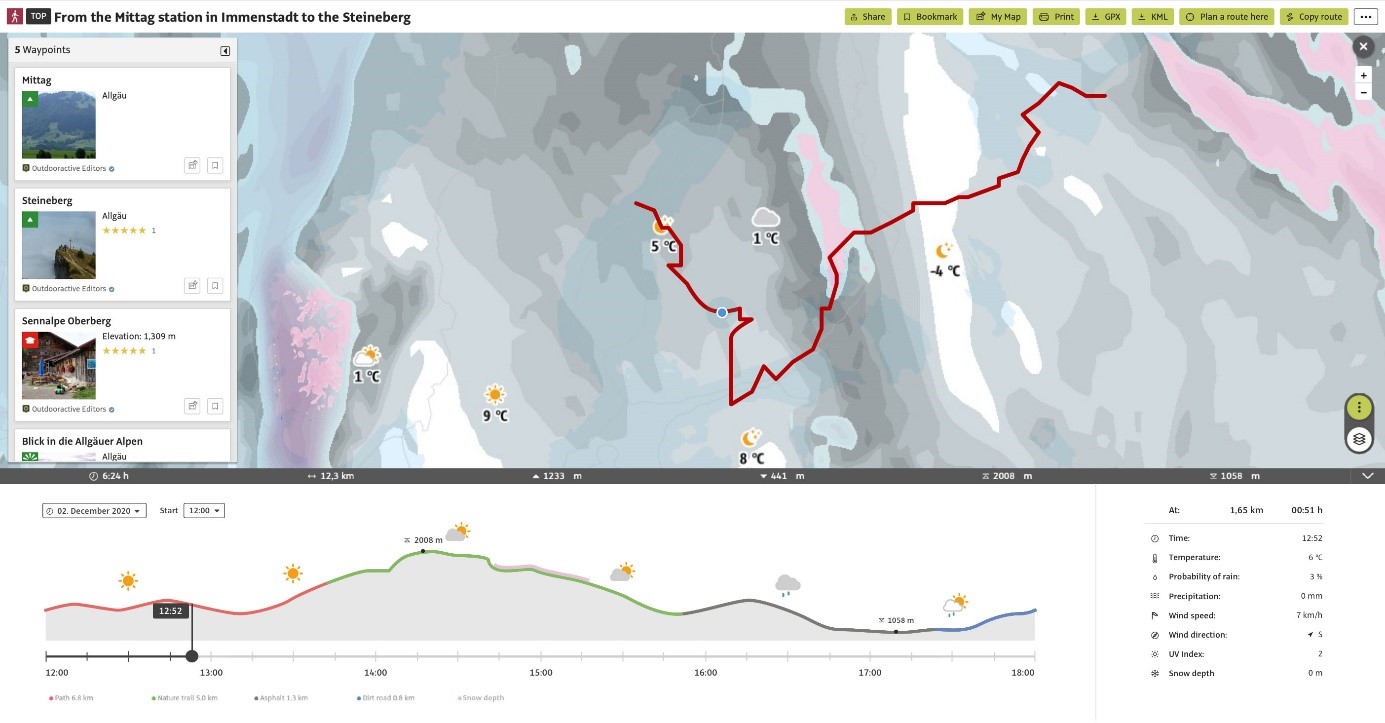 Figure 1: Snow cover and weather integration on tour detail page provides detailed information on what snow cover and weather conditions to exepct on tour at a certain time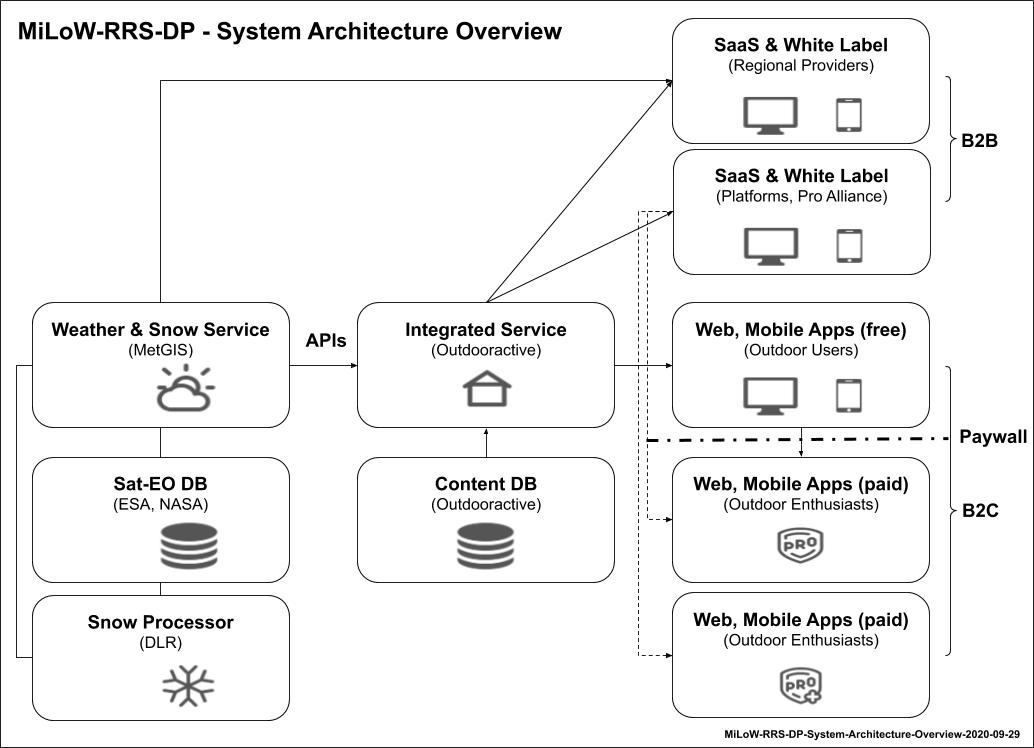 ,
Figure 2: System Architecture Overview (Image credit: Outdooractive GmbH, Project : MiLoW-RRS-DP)
Space Added Value
Personalised and context-aware decision support services for outdoor activities require knowledge about the current position of users along the route and the weather situation in their vicinity. Global Navigation Satellite System (GNSS) capabilities (GPS, A-GPS, GLONASS, Beidou and Galileo) incorporated in end user devices are critical success factors for identifying users' location. Especially in remote rural or mountainous areas, satellite based positioning technologies provide more reliable and accurate location information than mobile network based methods.
Earth observation data from meteorological satellites and services provided by the National Oceanic and Atmospheric Administration (NOAA) are used to obtain global weather data model parameters ranging from atmospheric pressure, cloud coverage and temperature to precipitation. In combination with high resolution digital elevation models derived from Advanced Spaceborne Thermal Emission and Reflection Radiometer (ASTER) data, the effect of the terrain and elevation on local weather conditions can be better modelled and predicted to generate highly accurate and reliable micro-local weather forecasts that account for the added value of the proposed service. Snow cover information for large areas is detected from Landsat and Sentinel-2 multispectral Earth Observation (EO) based data that provide higher resolution than offered by the Moderate Resolution Imaging Spectroradiometer (MODIS) sensor.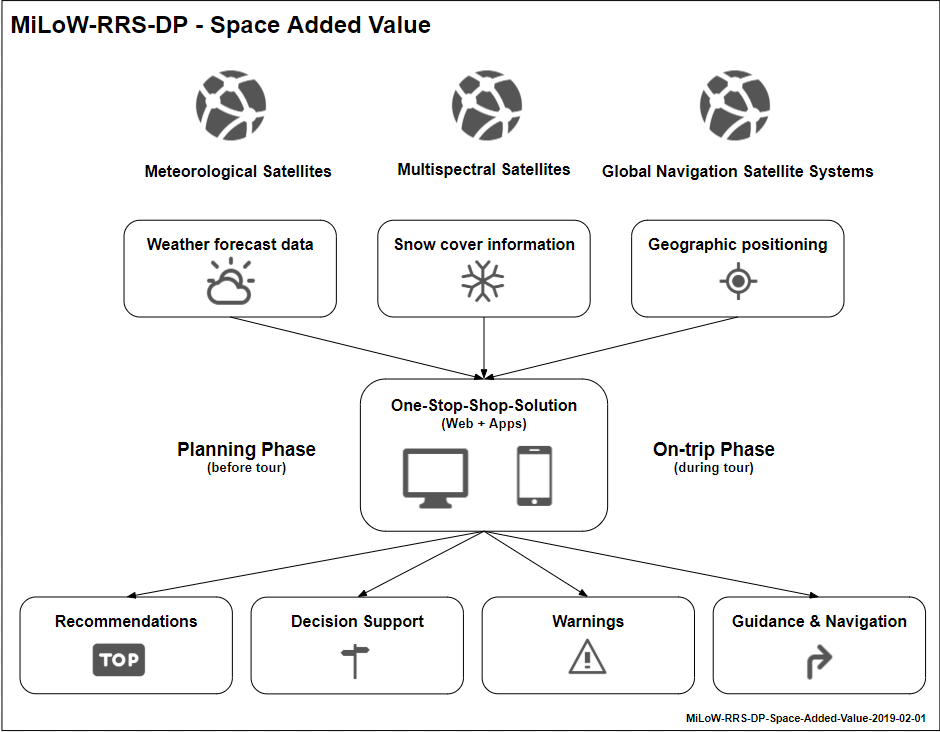 Figure 3: Space Added Value (Image credit: Outdooractive GmbH, Project : MiLoW-RRS-DP)
Current Status
Following an ESA Kick-start study, Outdooractive, MetGIS and DLR/DFD developed a Minimum Viable Product (MVP) for weather-based tour planning in this demonstration project.
The project started on 1 July 2018. After a successful demonstration with members of the Austrian (ÖAV) and the German (DAV) Alpine Clubs in the Chiemgau mountains from 27-28 September 2019, a first MVP service installation was set up for pilot customers Flims-Laax and Davos in May 2020.
The integration of the MVP into the Outdooractive platform will continue after the end of the project in October 2020. The step-by-step commercial roll-out of the developed services will start in Q4/2020. In order to address service gaps identified during the pilot activities, Outdooractive and MetGIS are planning to extend the project and collaborate with Swiss company ExoLabs on the development of additional value added services that address snow height detection, climatologies and radar-based short-term weather warnings.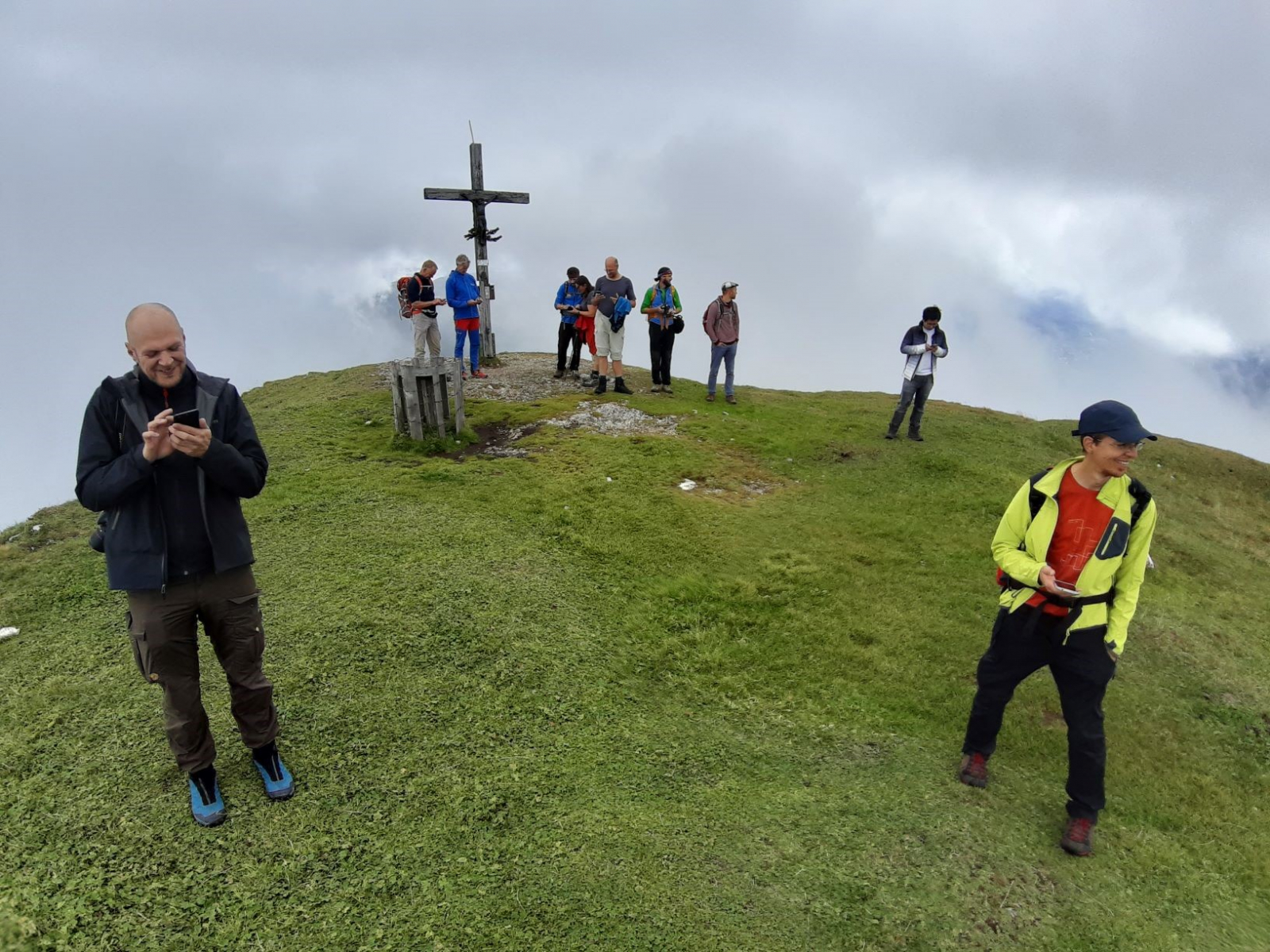 Figure 4: Evaluation of the MVP with pilot users in the Chiemgau mountains in Austria (Image Credit: MetGIS GmbH)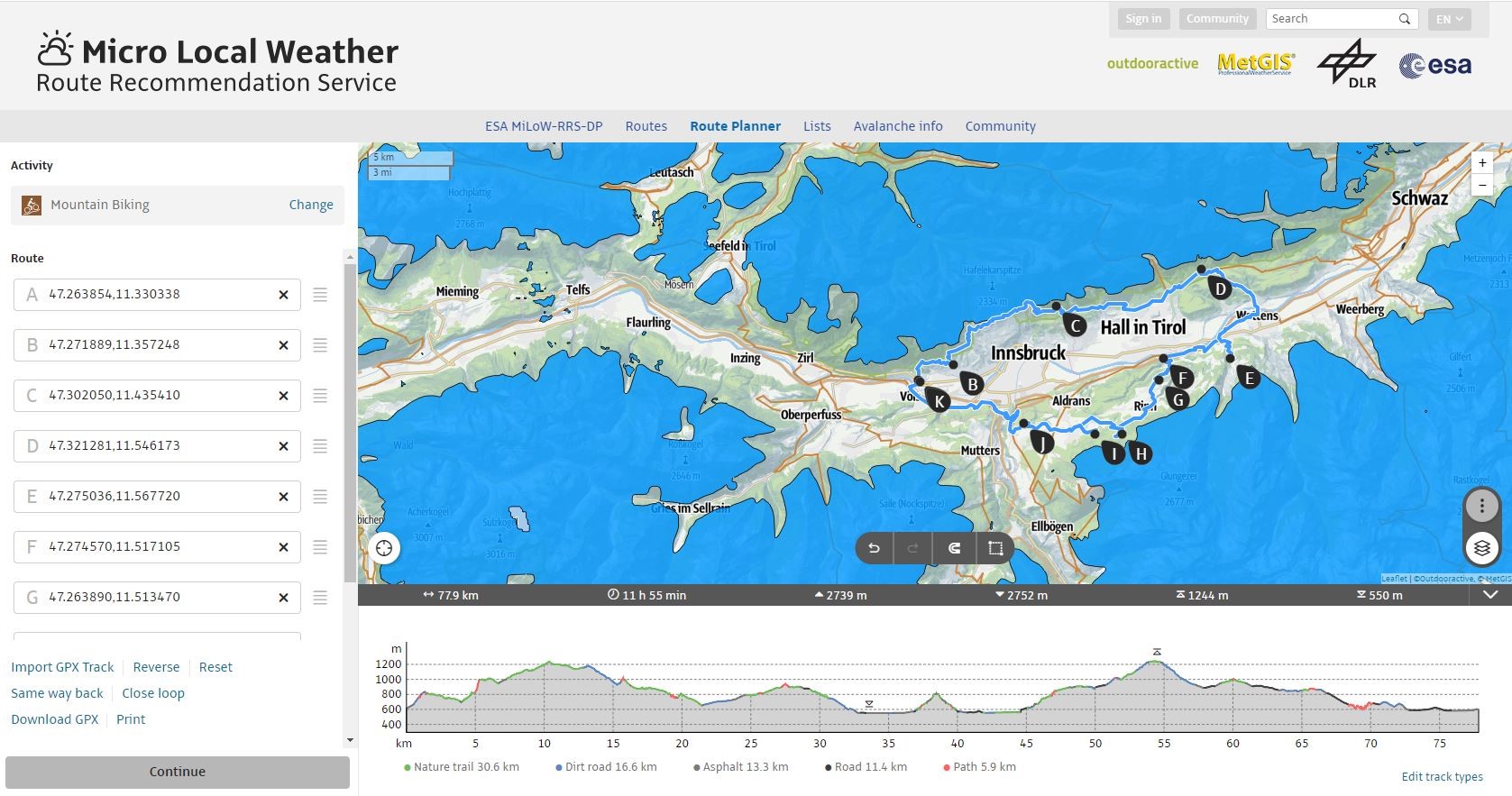 Figure 5: Snow cover map service integration into tour planning process provides added value for users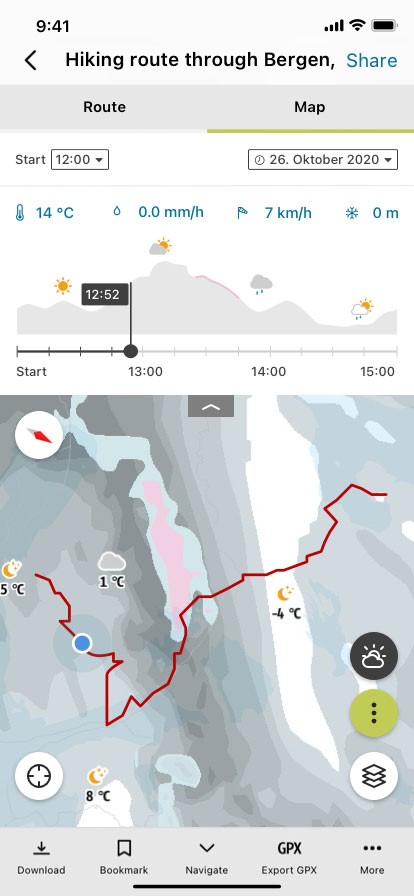 Figure 6: Snow cover and weather integration on tour detail page in native mobile apps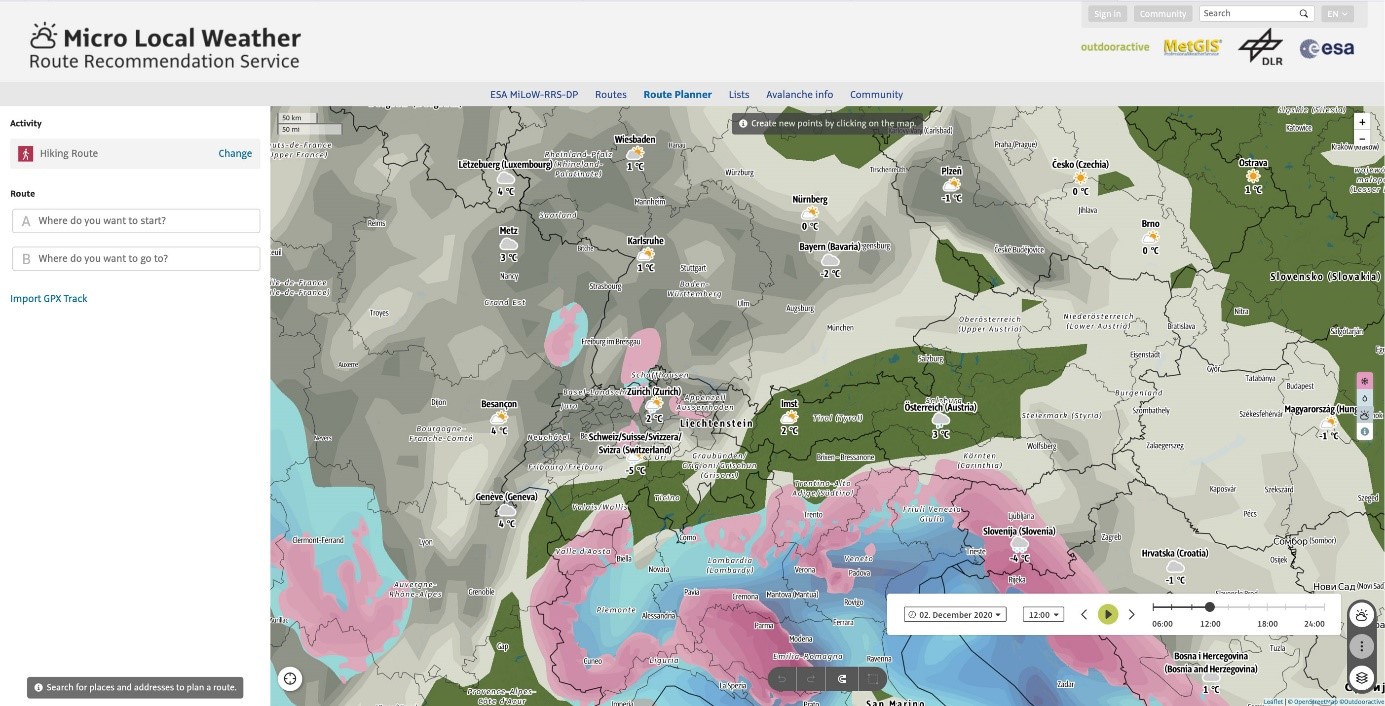 Figure 7: Animated weather map integration into tour planning process provides weather context for decision-making
Prime Contractor(s)
Subcontractor(s)
Status Date
Updated: 04 December 2020
-
Created: 27 September 2019