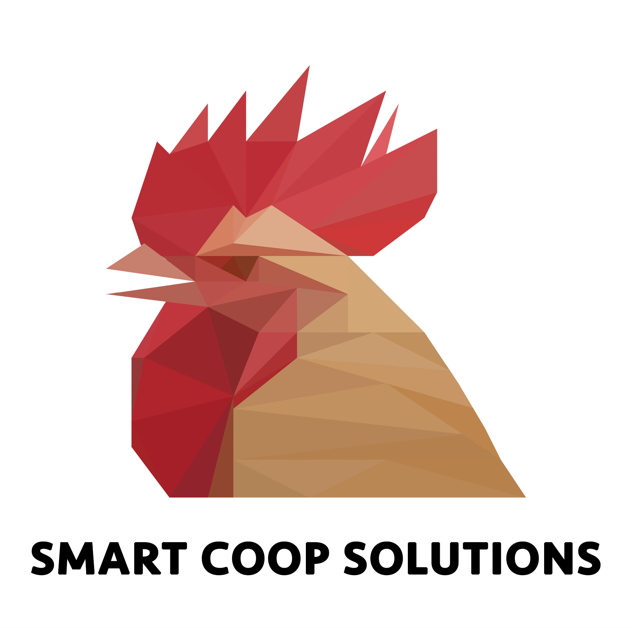 Objectives of the service
Organic poultry farming requires that animals have free range, i.e. farmers allow their chickens to roam freely outside during the day in a suitably large area. A mobile chicken coop can easily move the brood across a larger area reducing both the impact of chicken droppings that can contaminate the ground and deteriorate the vegetation around the coops. However, the farmer must visit the coops regularly to check on the animals, their health, the condition of the coops, and the status of their water and feed. When managing such coops in remote locations where organic farming is most likely to occur, this is a time-consuming effort for the farmer.
The SCS supports animal welfare and provides a new layer of food production traceability from coop to consumer. The SCS is an Internet of Things (IoT) based sensing service enabling the organic farmer to monitor and maintain mobile chicken coops remotely and to guarantee suitable coop conditions for animals.
Users and their needs
SCS addresses manufacturers of mobile chicken coops. Mobile coops are attractive to organic farmers because they allow extensive livestock management even on fallow land. Intelligent chicken coops will help the farmers to implement an overall quality and quantity management system. The second target market is livestock farmers and especially poultry farmers. A farmer's daily job is a race against the clock: countless tasks, lack of information and administrative burden. They need to comply to animal welfare regulations and organic certification requirements. Moreover, the checks of the coop conditions, their cleaning and the refilling of water and fodder and the collection of eggs are time consuming. Furthermore, it is in their interest to enable transparency of all livestock farming activities.
The farmers' needs include among other things:
Less time actively spent commuting to and controlling the coops;
Less time spent on documenting, digitalising and reporting to the specific institutions;
Fast identification of possible issues to be able to timely react;
Less use of medication and fewer losses due to improved animal welfare;
High transparency and traceability of produce to ensure customer trust, loyalty and justify an upper price range.
Service/ system concept
SCS is a control room in the farmer's pocket. Relevant data is recorded and available in real-time. This information is not only necessary for better planning but it can provide also an indicator about the health of the chicken.
With the data, combined with location information and with EO imagery the farmer gets the necessary information required to fulfil documentation requirements for organic certification organisations but also animal welfare control.
SCS is an ultimate time saving technology.
Further details of the service delivery and system are confidential.
Space Added Value
Three space technologies are used in the project:
Location information derived from GNSS.
Satellite communication where poor terrestrial communication networks exist. This is still the case in many rural areas where many farms are located but can help farmers expand their business.
EO imagery for regular monitoring of agricultural areas and the environmental impact.
Current Status
The project was successfully accomplished in February 2019.
Prime Contractor(s)
Subcontractor(s)
Status Date
Updated: 18 February 2019
-
Created: 18 February 2019