Critical infrastructure refers to systems and assets which are vital to the running of a country. These systems are considered so vital that their incapacity would have a debilitating impact on security, the economy, public health or safety. With this considered, there is plenty of potential for space data to help enable the maintenance and protection of these systems. Here, we shine a spotlight on the role satellite technology plays in the safety and security of critical infrastructures, as well as potential areas for innovation and current technology already making a difference.

Why Does Space Data Matter in the Safety and Security of Critical Infrastructures?
Critical infrastructure services are relied upon for many. This means the safety and security of these are imperative. These services must be able to operate, even in remote locations, regardless of conditions. An overview of localised conditions and changes throughout vast land areas or cities over time is vital in the continuous maintenance and operation of these services. This is only possible as a result of satellite technology.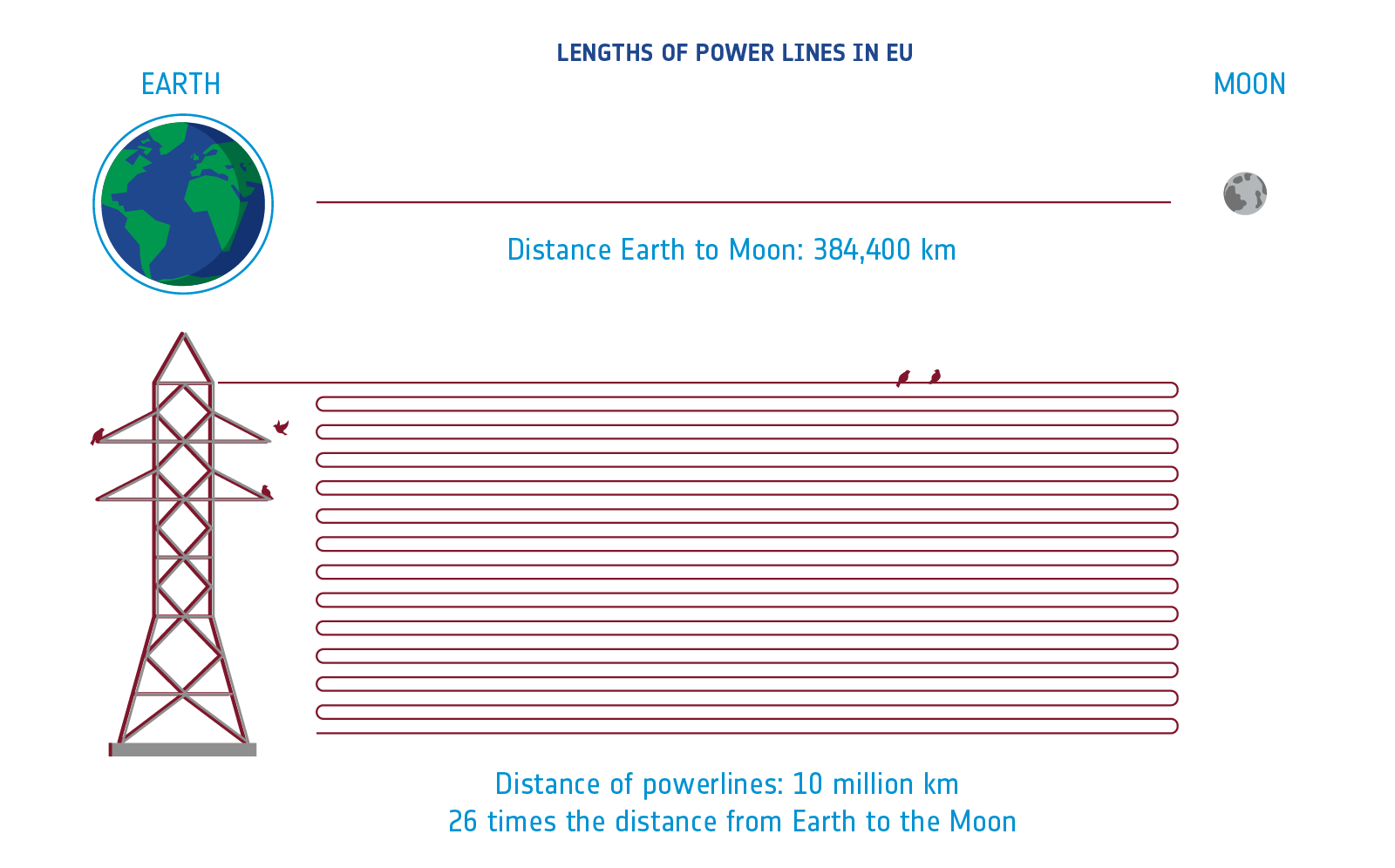 Potential Uses of Space Data in the Critical Infrastructure Sector
So, how could innovative space technology be applied for the safety and security of various critical infrastructures? Here are a few examples:
Seawater Desalination Monitoring
Today, there are over 15,000 desalination plants in the world. These are used to offer an alternative water supply sourced from the sea. The plants work to remove the salt from sea water and make it drinkable. These plants discharge generated waste back into the sea. This discharge, also known as brine, has a high salinity level as well as a high concentration of other suspended particles. This can have a negative impact on the water quality surrounding the discharge point.
Earth orbiting satellite imagery can help reduce the environmental impact of these plants by monitoring seawater quality – allowing us to take preventative actions against ecological and biological impacts.
Renewable Energy Forecasting
With such a strong push towards eco-friendly energy, it's vital to know how much energy will be produced from renewable sources to ensure we reduce fossil fuel usage as much as possible. The weather plays a huge role in the level of energy produced from renewable sources. This is where Earth orbiting satellite data can be utilised for maximum effect. Highly accurate weather forecasting will help solar, wind and hydro energy output predictions.
Power Line and Pylon Monitoring
When a pylon or power line is interfered with, it can cause a great amount of disruption and even potential danger to those nearby. Fallen trees, human interference, snow and pylon displacement are all common cause factors which require attention. There are 10 million kilometres of power lines in the EU, making it difficult to spot disruption before it's too late. With the introduction of Earth orbiting satellite monitoring, hazards can be resolved swiftly and even proactively prevented.

Gas and Oil Pipeline Monitoring
85% of the natural gas used in Europe comes via pipelines. Any major issues encountered need to be resolved as quickly as possible. The ability to prevent issues before they occur will be invaluable. Pipeline damage is usually caused as a result of construction activity and ground movement. Satellite imagery will be able to monitor these and send warnings to the user so preventative action can be taken. Additionally, sensors on the pipes themselves could regularly send data reports and communications to satellites, allowing for a better understanding of their condition.
Search and Rescue Emergency Services
In the event that a person is missing in remote areas, such as at sea or in mountainous regions, satellite data will enable a fleet of drones to quickly search a large area and locate the missing person. Satcoms will allow for communications while Earth orbiting maps with GNSS (Global Navigation Satellite Systems) will help search difficult terrain with ease.

Bridge Stability
Long span bridges are vital in transport networks. Due to the high volume of people and vehicles which use these each day, their safe and continuous operation is imperative. Earth orbiting satellite imagery will enable accurate assessment of the stability of the ground surrounding bridges. The assistance of GNSS will help in the monitoring of structural integrity of bridges.
Rail Networks
Rail network infrastructures are highly valuable assets. Any downtime can cause huge disruption. Earth orbiting imagery can help detect movements in terrain which could potentially lead to landslides. GNSS data can also measure local ground stability. This technology enables preventative and precautionary action from rail network operators, ultimately protecting passengers as well as minimising disruption.
Dangerous Goods Monitoring
When dangerous goods are transported via unpowered assets like rail tank cars, satellite technology will allow for the monitoring of the critical parameters to ensure their safety. GNSS and satcom tech will allow for location tracking and communication with shipping companies to help with loss prevention and the mitigation of any potential issues. Companies will be aware of the exact condition of their goods at all times.
Road Condition Monitoring
Earth orbiting satellites can enable the monitoring of road conditions in less populated areas, notifying local authorities of any dangerous and unusual events such as fallen trees, large potholes, sinkholes or landslides. This will enable for quick resolutions and safety precautions to be put in place.
Telemedicine and Remote Care
Hospitals have an ongoing struggle concerning the balance of patient wellbeing and available bed space. With the use of satellite technology, doctors will be able to carry out remote health check-ups and diagnostics. This could have many applications as well as an abundance of benefits which reach beyond simple bed availability. The ageing population can be monitored in the comfort of their own home and without the need of disruptive visits to the hospital. Healthcare professionals will save both time and money as a result of these innovations. Satcoms will be the main enabler of this form of technology.
How is Space Data Currently Being Used in the Safety and Security of Critical Infrastructures?
There are plenty of businesses already making use of space innovations to drive forward the critical infrastructure sector. Here are a few of the brands currently being supported by ESA-BA for this.
Maintenance and Recovery of High Voltage Electricity Transport System – GridWatch
GridWatch is offering a two-pronged approach to their business – offering insights to those in charge of the maintenance of power infrastructures and those in charge of network operations and energy dispatching.
The company use satellite data to continuously monitor the status of pylons and alarm those responsible of any anomalies. This reduces the need for site inspections and increases knowledge of pylons.
The business can also provide accurate information on line transmission capacities. This helps support energy dispatch operations and reduces the risk of lines overloading. This technology will decrease the possibility of power line outages and enables the regularity and predictability of energy coverage.
Satellite Monitoring of Hazardous Goods – SaMoLoSa
The SaMoLoSa project tracks and monitors the critical parameters of hazardous goods transported via unpowered assets – like rail tank cars and intermodal tank containers. This technology will be notified of key stakeholder needs and will monitor these required parameters to ensure a safe and reliable journey. This information will offer more than simple loss control. The volume of information offered will aid in the optimisation of business logistics while also identifying areas for improvement in a business supply chain.
Pipeline Integrity Management – Orbital Eye
Orbital Eye looked to make use of space assets for the monitoring of the integrity and safety of gas & oil transmission pipelines. The integration of space services and technologies enabled improved effectiveness of monitoring and inspection as well as increased safety and a reduction in operating costs for pipeline operators.
This technology enables:
· Detection of third party interference
· Identification of ground elevation changes like erosion or landslides
· Monitoring of pipeline conditions
· Guidance of ground staff to exact location of issues encountered

Automated Urban On-Demand Courier Service – TeleRetail
TeleRetail is looking to develop an automated delivery service to aid urban logistics. The self-driving courier robots aim to fulfil rapidly growing demand for cost effective, energy preserving, space efficient urban and sub-urban logistics services. The business will rely upon satellite asset tracking, GNSS satellite navigation and nanosatellite imagery technology for its autonomous driving and on-board sensors.

Structural Health Monitoring of Bridges – GEOSHM
GEOSHM is a company which looks to offer necessary data in real time for bridge owners and operators to better understand the maintenance needs and operational insights of their assets. The company uses GNSS and Earth orbiting satellites to deliver performance data and information which can be recorded and tracked by operators.

How Can ESA-BA Help Your Business?
The European Space Agency are offering support and funding to businesses looking to help aid the safety and security of critical infrastructures. We offer more than just funding, here's how we can help enable growth for your business:
Zero-equity fully funded activities up to €250K per project
Technical and commercial guidance
Access to our vast network and partners
Use of the ESA brand for your service
Find out more and apply to our current critical infrastructures funding opportunity here.
Last updated at 18 June 2018 - 13:44